Replace your Teeth with Affordable Dental Implants in Croatia
Dental implants are the best ways to replace missing teeth. This treatment has become popular amongst all those who are dealing with tooth loss. If your teeth are damaged and unhealthy due to age or any other factor, the closest way you can get natural and healthy teeth is through dental implants. These are frames or posts positioned surgically beneath your gums into the jawbone. If you are planning to get this treatment done abroad in low cost then Croatia is one of the cheapest place to get dental Implants . Here you will learn why you should get dental implants in Croatia.
How to Identify the Best Centers for tooth Implants in Croatia
Croatia is home to many high-end dentistry clinics. So, you will have plenty of choices to find the best centers for tooth implants in Croatia. When you contact these centers check what cosmetic dentistry procedures they are offering, their setup and the cost. In addition, you must ensure that the center has the right certificates and accredited.
| | |
| --- | --- |
| Dental Clinics | Location in Croatia |
| | Zagreb |
| | Matulji |
| |  Split |
What is the Average Dental Implants Cost in Croatia
The cost of dental implants in Croatia depends on what you want to choose. The average cost is around $800. The cheapest dental crowns price is $150 and can go as high as $1800. The price depends on the number of the tooth you are going dental implants for.
| | | |
| --- | --- | --- |
| Implants Types | Croatia Costs   | United States Costs   |
| Single Implants | $150 | $1,400 - $4,000 |
| All on 4 | $5,000 | $10,000 – $20,000 |
|  All on 6 | $7,000  | $20,000 – $30,000 |
|  All on 8 | $9,000  | $30,000 – $50,000 |
What Packages are Available for Dental Implants in Croatia
The dental implant packages in Croatia include the dentist's consultation charges, X-ray, anesthesia, pain reliever, hygiene and post dental implant care. Are you searching for all-on-4 or all-on-6 dental implants solution? Do you want partial reconstruction or total reconstruction? It is advised to go through the package brochure vividly to find out the discount it offers, and the expenses included in it.
Find the Tooth Implants Best Dentist in Croatia
It is important for you to know about the training and experience of the dentist in Croatia who you are considering for your dental treatment procedure. Know about his practical didactic training experience along with surgical training after you confirm his board certification.
Dental Care Reviews in Croatia
You should also search for the patients who went for the same treatment with your chosen center. Through their reviews and testimonials, you will learn about their experience. You can also speak with a few of them and gather data supporting the treatment or check the before and after pictures.
Before and After Tooth Implants in Croatia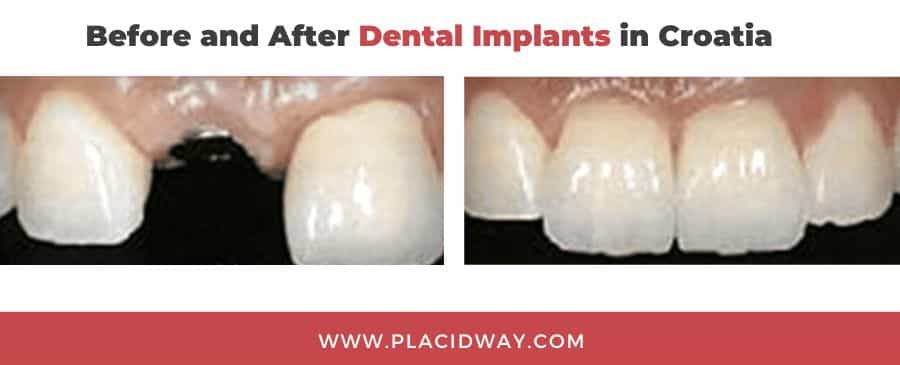 What Questions to Ask before dental Implants in Croatia
It is very important to know whether the dentist performing the dental implant is qualified enough to handle all the major and minor complications associated with the procedure. You can inquire for the patient testimonials who underwent for similar procedure before. You should also verify whether the clinic has a good reputation in implant planning tomography or imaging. You can the following questions to him:
Are there any serious complications related to this procedure?

Is the hospital affiliated to execute the procedure?

What are your areas of training and experience?

How many similar cases have you handled in the past?

Do you have the license to execute such procedure?
Dental implant in Croatia is a good choice for the affordability and good doctors. Let your dentist determine the best implant type and material for your specific situation.