Dental Implants in Croatia
Bring Your Smile Back With Croatia Dental Implants
Are you hesitant to smile because you have missing teeth? Dental implants in Croatia provide a permanent solution to your missing teeth, helping you bring back your confident smile. One of the significant advantages of getting dental implants in Croatia is the affordability. While dental implants can be quite costly in more developed countries, Croatia offers high-quality implant procedures at a fraction of the price, making it accessible to everyone.
What's more, choosing Croatia Dental Implants gives you a unique opportunity to combine dental treatment with a memorable vacation experience. As you embark on your journey to better oral health, you can also indulge in the breathtaking beauty of the Adriatic Sea and explore the charming old town of Zagreb. Croatia offers a perfect blend of top-notch dental care and the chance to create lasting memories, making it a popular destination for dental tourism.
You deserve the best dental care and a vacation, so keep reading this guide to learn more about how Croatia can bring your smile back with dental implants. Don't let missing teeth hold you back any longer – discover the wonders of Croatia's dental expertise while enjoying the beauty and culture this stunning country has to offer.
• Clinic: Croatia Dental Care, Dentivo, Dental Centar Zupa, B. Dent, and Dentech Dental Centar.
• Location: Croatia
• Procedure: Dental Implants
• Package Price: $566
• Cost in Other Countries: $2,500 - $3,500
• Doctor: Dr. Ervin Marusic, Dr. Andrea Burazin Kurti, Dr. Jelena Bursic Kadic, Dr. Ivan Luksic, Nika Boca Borovic, and Elizabeta Brkljaca Vuletic.
• Top Tourist Attractions: Plitvice Lakes National Park, Diocletian's Palace, Krka National Park, and many more.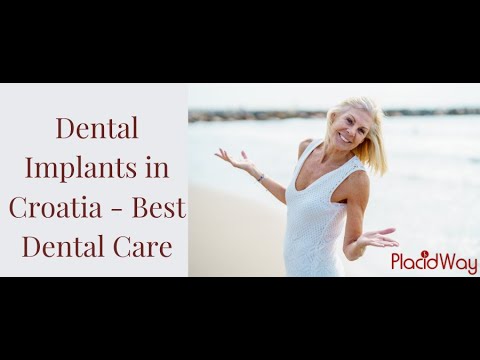 ---
Best Packages for Dental Implants in Croatia
Discover the best packages for dental implants in Croatia and embark on a journey to restore your smile while enjoying the beauty of this picturesque country. Croatia has become a renowned destination for dental tourism, offering comprehensive packages that cover everything from initial consultations and diagnostic exams to the implant procedure itself and post-operative care. These all-inclusive packages not only provide exceptional dental care but also often include accommodation arrangements, airport transfers, and the opportunity to explore Croatia's cultural treasures, making it an affordable and enriching experience for international patients seeking dental implant solutions.
---
Croatia Dental Implants Prices - Tooth Replacement Price Comparison
When exploring Croatia Dental Implants Prices, you'll find a compelling tooth replacement price comparison that makes it an excellent choice for dental treatment. Croatia offers a cost-effective alternative to many Western European and North American countries, with dental implant prices averaging significantly lower while maintaining exceptional quality. The affordability factor is striking, with potential savings of up to 70% compared to countries like the United States or the United Kingdom. This favorable cost advantage, coupled with the expertise of Croatian dentists and state-of-the-art facilities, positions Croatia as a top destination for dental implant procedures, providing patients with outstanding value for their investment in restoring their smiles and oral health.
Dental Implants Centers Cost Comparison in Croatia
| Provider | Procedure | Price |
| --- | --- | --- |
| Dentivo | Dental Implants, Dentistry | $568 |
| B.Dent | Dental Implants, Dentistry | $566 |
| Dentech Dental Centar | Dental Implants, Dentistry | $803 |
Dental Implants Cost Comparison in Croatia

| Country | Procedure | Price |
| --- | --- | --- |
| Canada | Dental Implants, Dentistry | $3000 |
| United States | Dental Implants, Dentistry | $3500 |
| United Kingdom | Dental Implants, Dentistry | $2500 |
---
Dental Clinic Croatia for Tooth Replacement
Choosing a dental clinic Croatia is a smart decision for several compelling reasons. Beyond the undeniable cost savings it offers, Croatia has a longstanding reputation for welcoming international patients, attracting visitors from across Europe and even North America in search of top-notch dental treatment. What makes Croatian clinics particularly attractive are their affordable all-inclusive package prices, experienced dentists who provide a professional and personalized approach to your care, state-of-the-art facilities equipped with the latest dental technology, and the use of premium dental implants such as Nobel Biocare. Moreover, the pleasant and comfortable treatment environment ensures a stress-free experience. If you're considering dental care in Croatia, here is a list of our recommended clinics to help you make the best choice for your dental health needs.
---
Videos to Watch for Dental Care in Croatia
If you're a fan of visual content, we've got you covered with a selection of informative videos about dental care in Croatia. Dive into these videos to discover essential insights such as the top-rated clinics and dentists in the country or unravel the secrets behind the affordability of dental care in this picturesque destination. Whether you're planning a dental journey to Croatia or simply curious about the exceptional dental services it offers, these videos are your gateway to valuable information and a captivating visual experience.
---
Dental Care Croatia Reviews from Real Patients
Explore dental care in Croatia through the eyes of satisfied patients by checking out dental care Croatia reviews. These firsthand accounts offer valuable perspectives on the quality of dental treatments, the professionalism of dentists, and the overall patient experience in Croatia. Reading reviews can help you gain confidence in your decision to choose Croatia for your dental needs, as you hear from individuals who have benefited from the country's affordable and high-quality dental care. Whether it's dental implants, cosmetic procedures, or general dental services, these reviews provide valuable insights into the positive experiences of those who have entrusted their smiles to Croatian dental professionals.
---
Top Asked Questions about Dental Implants in Croatia
What else would you like to know about dental treatment in Croatia? Who are the best dentists and clinics, what is the average price of dental implants? We know you are looking for the answers to these questions. That's why we have answered for you to read and find out.
What are dental implants, and how do they work?
Dental implants are artificial tooth roots surgically placed into the jawbone. They serve as a stable foundation for replacement teeth, mimicking natural teeth in appearance and function.
How much do dental implants cost in Croatia compared to other countries?
Dental implants in Croatia are notably more affordable than in many Western countries, with potential cost savings of up to 70%.
Is the quality of dental care in Croatia on par with Western standards?
Yes, Croatian dental professionals adhere to high international standards, and many clinics use top-notch equipment and materials.
How long does the dental implant procedure take?
The timeline varies based on individual cases, but it typically involves a few visits over several months, allowing for healing and integration with the jawbone.
Are there age restrictions for getting dental implants?
No, there's no specific age limit for dental implants, as long as the patient has good overall health and sufficient bone density.
Do dental implants require special care compared to natural teeth?
Dental implants require regular oral hygiene, like natural teeth. Brushing, flossing, and routine dental check-ups are essential for their maintenance.
Is it possible to combine dental treatment with a vacation in Croatia?
Absolutely! Many patients opt for dental tourism in Croatia, taking advantage of the opportunity to explore the country's stunning landscapes and cultural attractions while receiving dental care.
These frequently asked questions can serve as a starting point for your journey to understanding dental implants in Croatia and making an informed decision about your dental health.
---
Best Dentists in Croatia for Dental Implants
When it comes to dental implants, Croatia boasts a roster of highly qualified specialists who excel in the field of implantology. These experts, working in the country's top clinics, bring with them years of valuable experience and a commitment to providing personalized care with empathy and precision. To ensure your utmost comfort and confidence, many dentists in Croatia offer the convenience of video consultations before your trip. This allows you to address any concerns, discuss treatment options, and establish a rapport with your chosen dentist even before stepping into the clinic. Take a closer look at the profiles of these esteemed dental professionals to get better acquainted with their expertise and dedication to your oral health.
---
Why Choose Croatia Dental Tourism?
As you consider your dental treatment options, allow us to present seven compelling reasons why choosing Croatia for your dental needs can be a game-changer for your oral health and overall well-being.
1. Quality without Compromise: Croatia takes pride in offering dental services that meet or even exceed international standards. With state-of-the-art equipment and highly skilled professionals, you can expect the same level of quality care as you would in more expensive Western countries.
2. Cost-Efficiency: One of the most appealing aspects of dental tourism in Croatia is its cost-effectiveness. You can enjoy significant savings, often up to 70%, on a wide range of dental procedures, including dental implants, without sacrificing quality or safety.
3. Experienced Specialists: Croatian dentists and oral surgeons are renowned for their expertise. Many have years of experience and are continuously upgrading their skills through ongoing education, ensuring you receive top-notch care.
4. Advanced Technology: Croatian dental clinics are equipped with the latest dental technology, making your treatment more precise, efficient, and comfortable. From digital imaging to cutting-edge surgical techniques, you'll benefit from the best.
5. Dental Tourism Perks: Why settle for just dental treatment when you can pair it with a memorable vacation? Croatia's stunning landscapes, rich cultural heritage, and pleasant climate offer the perfect backdrop for an enjoyable dental tourism experience.
6. Accessibility: Croatia is well-connected to major European cities, with several international airports and efficient transportation networks, making it easy for patients to reach their chosen dental destination.
7. Personalized Care: Croatian dental professionals take a patient-centric approach, ensuring that your unique needs and concerns are addressed with care and empathy. They prioritize your comfort and well-being throughout your dental journey.
Intrigued? Explore the world of Croatia Dental Tourism and discover the perfect blend of top-quality dental care and a memorable vacation in a country that is as beautiful as it is committed to your oral health.
Dental Tourism in Croatia - One of The Cheapest Destination in the World with Beautiful Places
Once you visit Croatia, it will charm you with its rich history, friendly people, and plenty of beaches on the extraordinary Adriatic Sea coast. What can you do in Croatia during your dental treatment stay? We recommend these places to visit:
Dubrovnik - a Unesco World Heritage Site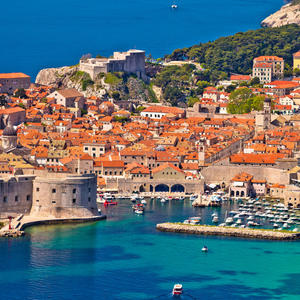 Heavenly Waterfalls in Plitvice Lakes National Park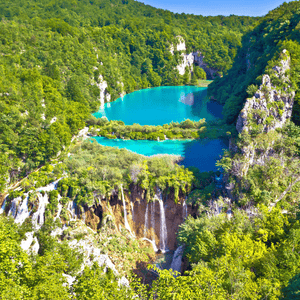 Croatia's capital Zagreb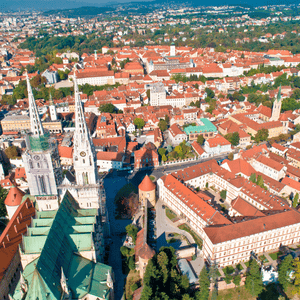 The vibrant old town of Split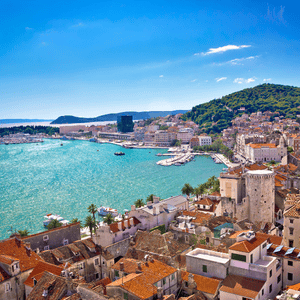 ---
Book Your Consultation for Dental Implants in Croatia at PlacidWay!
Don't delay your journey to better dental health any longer. Book your consultation for Croatia dental implants with PlacidWay today! Our world-class clinics and renowned dentists are ready to provide you with the exceptional care you deserve, helping you regain your confidence to smile. Contact our dedicated PlacidWay team for more information, and let us guide you on the path to a brighter, healthier smile. Your dental wellness is our priority, and Croatia offers the perfect backdrop for both top-quality dental care and a memorable experience.
---