Dental Veneers in Zagreb Croatia
Be Proud to Smile after Dental Veneers in Zagreb
With Dental Veneers in Zagreb, Croatia, you too can have that brilliant Hollywood Smile you've been dreaming of for a long time. Highly experienced dentists at luxurious clinics offer cost-effective smile restoration in the capital of Croatia.
Numerous patients from various places across Europe and the USA have undergone teeth reconstruction at affordable cost, combined with a memorable holiday in one of the most beautiful European cities.
If you're looking for great quality coupled with a pocket-friendly price to repair misshapen, discolored, cracked, or chipped teeth, read our guide to explore your options in Zagreb for teeth veneer procedure.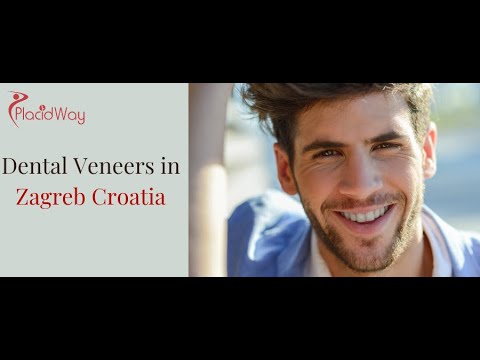 ---
Comprehensive Dental Veneers Packages in Zagreb Croatia
Dental clinics in Zagreb offer exclusive packages for teeth veneers and other cosmetic dentistry at affordable costs. The packages can help you save thousands of dollars on treatment back home and include the following benefits
All hospital fees
Pre and post-operative consultations
All medical fees
Post-surgery garment
Contact our Customer Care Team to book a special package deal for teeth veneers in Zagreb.
---
Cost of Dental Veneers in Zagreb Croatia
Dental Veneers cost in Zagreb is only $377 at a reputable clinic. The prices can go above $1,300 in Switzerland, $4,200 in Germany, and over $600 in the UK. Patients from these European countries prefer taking a short flight to Zagreb for a dental veneer procedure to save thousands on the same quality of treatment at home.
Zagreb offers not only cheap and effective veneers but also a unique holiday during your stay. Let's have a look at the price table below for more details:
Dental Veneers Centers Cost Comparison in Zagreb, Croatia
| Provider | Procedure | Price |
| --- | --- | --- |
| B.Dent | Dental Veneers, Dentistry | $377 |
Dental Veneers Cost Comparison in Croatia

| Country | Procedure | Price |
| --- | --- | --- |
| Germany | Dental Veneers, Dentistry | $4213 |
| Switzerland | Dental Veneers, Dentistry | $1300 |
| United Kingdom | Dental Veneers, Dentistry | $600 |
---
Top-Rated Clinic in Zagreb for Teeth Veneers
The best clinic in Zagreb offers top-notch services to international patients. The clean and sterilized environment, very affordable prices, and kind and dedicated team of dental specialists at the clinic provide high standards of care you sometimes cannot receive in your home country.
Dental veneer treatment at B. Dent clinic in Zagreb is quick, minimally invasive, and long-lasting. Here is what our top provider in Zagreb offers to foreign patients:
Professional individual approach
Lifetime warranty on dental veneers

Equipped with the latest top-notch technology

Communication in English

Dentists use premium dental implants Nobel-Biocare
---
Dental Work in Zagreb Video to See
If you want to know more about best dentists in Croatia for teeth veneers, watch our video in the link below.
---
FAQs on Dental Veneers in Zagreb Croatia
Considering Zagreb dental veneers? Find more information about the price and clinics in the following answers.
What is the price for Dental Veneers in Zagreb, Croatia?
Show More
The average price for Dental Veneers in Zagreb, Croatia starts at $301. Some clinics also offer international travelers packages that include a comprehensive range of healthcare services for international patients such as diagnostic needs, physician consultations, insurance and billing assistance, travel and accommodations, language interpretation and cultural mediation services. The price varies depending on the complexity of the dental treatment or procedure, the materials and equipment use, the doctor and clinic that you choose and many other factors. After the first consultation the dentist will be able to tell you the final cost. Taking care of your teeth is crucial, as they are the one that help you eat and speak. Left untreated, teeth problems can lead to serious health issues such as respiratory conditions and even cardiovascular diseases. If you do not know how to choose the best dentist for Dental Veneers in Zagreb, Croatia, here are some questions that will help you: What are the advantages and disadvantages of Dental Veneers? What about the risks and complications? Are you certified? Are you a member of any Dentistry association or society? How many years of experience do you have performing Dental Veneers? How often have you performed Dental Veneers? What if something goes wrong during Dental Veneers procedure? What if I am not happy with Dental Veneers results? Croatia has become one of the top choices when it comes to dental care. More and more dental tourists choose Croatia for its affordable prices, highly trained dentists and modern dental clinics fitted with high class equipment and laboratories. Below you can find some of dentist in Zagreb, Croatia that offer most affordable price for Dental Veneers.Find out more about the best dentists in Zagreb, Croatia! Contact us and choose the best dental specialist!
Which are the most trustworthy Dental Veneers clinics in Zagreb, Croatia?
Show More
Top-Rated Dental Clinics in Zagreb, Croatia There are quite a few world-class reliable Dental Veneers clinics in Zagreb, Croatia that offer premier dental care for affordable prices. These top-notch centers offer their medical tourists all-inclusive Dental Veneers packages that mainly include transportation to and from the airport/hotel and excellent accommodation options. The only thing patients have to do is get to Zagreb, Croatia to undergo the procedure. Dental Veneers Price in Zagreb Croatia Dental Veneers are one of the most popular dental tourism procedures. Prices for dentistry in international patients' home countries are pretty expensive. Significantly higher than they would pay for the same procedure at one of the top clinics in Croatia. Even when you add on the cost of flights and accommodation, these prices can still represent a considerable saving compared to undergoing Dental Veneers at home, plus you get to enjoy a nice vacation in the bargain. Contact our team for up-to-date prices on dental veneers in Zagreb and other dental procedures. Advantages of Dental Clinics in Zagreb Besides the unbeatable prices, the best dental clinics in Zagreb, Croatia also offer the following advantages to their patients: Affordable package deals Cutting-edge technology Safe dental work Billingual medical staff High standards of dental work performed Board-certified, experienced, and renowned dental specialists. Top Questions to Ask Clinics in Zagreb To ensure that your final decision is the best for you, here are some questions you should ask each Dental Veneers clinic before going to Zagreb: What national or international accreditations does the dental clinic hold? Are the dentists board certified? How many Dental Veneers does the clinic carry out each year? What information can you provide regarding the center's and dentist's success rates? Can I speak to past patients from my country to learn about their Dental Veneers experience with the clinic? What are safety and quality measures practiced at the clinic? What is the level of fluency in English of the dentists, dental assistants, and support staff at your clinic? Do you have a dental laboratory on-site? If not, which dental laboratories do you use and why? Choose Your Dental Veneers Clinic in Zagreb, Croatia Today! Know more about the most trustworthy Dental Veneers clinics in Zagreb, Croatia! Contact us and choose the dental tourism option that's best for you!
---
Highly Experienced Dentists in Zagreb for Dental Veneers
The best dentists in Zagreb attend national and international congresses and training in dentistry. This helps them apply global trends in dental work and produce high-quality results for their patients. They approach each patient with kindness and care.
Zagreb dentists are committed to professionalism and aim to solve the most complex dental cases in minimum time. They will help you achieve a new, shiny and healthy smile by using the highest quality materials and focusing on your well-being.
Let's meet top 2 dentists at our recommended clinic in Zagreb and their credentials:
Bio Dr. Andrea Burazin Kurti attended the Faculty of Dental Medicine in Zagreb. She graduated in 20...
Dr. Jelena Buršić Kadić attended the Faculty of Dental Medicine in Zagreb where she gra...
---
Why Choose Zagreb for Teeth Veneers?
Veneers are up to 80% cheaper in Zagreb than in more developed countries. Patients from the UK, Germany, Spain, and even the US travel to Croatia's beautiful old town of Zagreb to save money on affordable smile reconstruction. They receive top-notch dental care at an accredited clinic from certified and highly skilled dentists.
Moreover, you'll experience a soothing vacation in Zagreb and visit its historical sites, museums, romantic streets, local restaurants, and much more. It is easy to travel to Zagreb since its main airport Zagreb Franjo Tudjman Airport is well-connected to other European and American cities.
Get your gorgeous, new smile in charming Zagreb while exploring its top attractions, such as
Zagreb Cathedral,

Museum of Contemporary Art,

Maksimir Park,

Trg Bana Jelacica, the city's main square.
Zagreb - The Capital of Croatia
---
Booking Dental Veneers in Zagreb Croatia Through PlacidWay
Now that you know why Dental Veneers in Zagreb are a perfect choice to improve your smile, you can easily book your dental trip today by contacting us via email, call, or chat with our Customer Care Team.
If you want a free quote, just fill out the form on your right.
---