Dentures in Croatia
Get Affordable False Teeth in Croatia - Best Dentures Option
If you are looking for affordable dentures in Croatia, you will be happy to know that there are a number of options available. One of the most popular choices is to go to a private dentist, as they usually charge much less than what you would pay in other countries.
Dentures are one of the most popular methods of tooth replacement, and they have been used for centuries. In recent years, advances in dental technology have made dentures more comfortable and natural-looking than ever before. If you're considering dentures, it's important to know that there are different types available, and each has its own benefits and drawbacks.
Full dentures are the most common type of denture, and they are used to replace all of the teeth in either the upper or lower jaw. They are made of a hard plastic base that is fitted over the gums, and they have artificial teeth attached to the base. Full dentures can be further divided into two subtypes:
Conventional full dentures are made after the teeth have been removed and the gums have had time to heal. This can take several months, during which time the patient will be without teeth.
Immediate full dentures are made in advance and can be placed immediately after the teeth are removed. The advantage of immediate dentures is that the patient does not have to be without teeth during the healing process. However, they may require more frequent adjustments and may not fit as well as conventional dentures.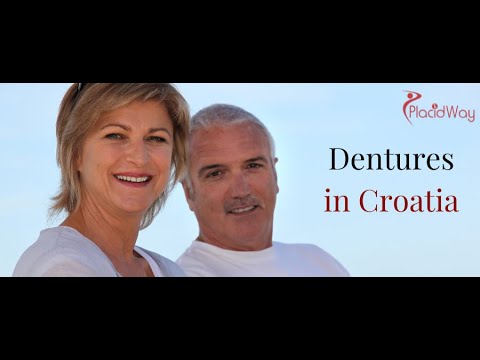 ---
All-Inclusive Dentures Packages in Croatia
If you're looking for an all-inclusive dentures package in Croatia, there are many options to choose from. These packages typically include everything from the initial consultation to the final fitting, and they can be a great way to save money on the cost of your treatment.
Dental clinics in Croatia offer a wide range of denture options, so you're sure to find a package that's right for you. Whether you're looking for full dentures, partial dentures, or implant-supported dentures, you can find an all-inclusive package that meets your needs.
When complicated and untreated dental problems lead to the loss of several teeth, the ideal prosthet
---
How much Dentures Cost in Croatia?
The cost of dentures in Croatia varies depending on the type of denture you choose and the complexity of your treatment. However, you can expect to save a significant amount of money on the cost of your dentures when compared to prices in other countries.
Full dentures start at around $863, while partial dentures start at around $554. Implant-supported dentures start at around 1,200, but the final cost will depend on the number of implants you need.
Dentures Centers Cost Comparison in Croatia
| Provider | Procedure | Price |
| --- | --- | --- |
| Dentivo | Dentures, Dentistry | $554 |
| B.Dent | Dentures, Dentistry | $863 |
| Dentech Dental Centar | Dentures, Dentistry | $574 |
Dentures Cost Comparison in Croatia

| Country | Procedure | Price |
| --- | --- | --- |
| United Kingdom | Dentures, Dentistry | $1900 |
| United States | Dentures, Dentistry | $1500 |
---
Top Dental Clinics in Croatia for Dentures
There are many top-rated dental clinics in Croatia that offer high-quality dentures at an affordable price. Here are some of the best:
Top Center
Croatia Dental Care, located in Split, Croatia, offers local and international patients cutting edge technology, highly professional team of experts and excellent dental treatments and procedures. The clinic will impress at first sight with its luxurious and modern equipment, and highly sophisticated technology and materials. The dental experts working at Croatia Dental Care are dedicated to their profession and really know how to make this experience a pleasant one.
Top Center
Dentivo, located in Matulji, Croatia, is a dental surgery center, with its own dental laboratory, equipped with the latest technology and following the global trends in the field of dental diagnostics and therapy. We use the best materials from famous international brands by following the latest developments and advances
Top Center
Dentech is a reputable hospital in Split, Croatia. The experienced medical team provides high-quality services for Dental Implants, Dental Veneers, Dental Bridges, Dental Crowns, and Dentures.
---
Watch Video Related to Dental Treatments in Croatia
Watch this video to learn more about dental treatments in Croatia:
---
Dental Work in Croatia Reviews
Croatia is a popular destination for dental tourism, and there are many satisfied patients who have had their dentures done in the country. The quality of dental care in Croatia is high, and the prices are very competitive when compared to other countries.
---
FAQs about Dentures in Croatia
Read on to find answers to some of the most frequently asked questions about dentures in Croatia:
Can I get my dentures done in Croatia even if I don't live there?
Yes, you can get your dentures done in Croatia even if you don't live there. There are many dental clinics in Croatia that offer treatment to international patients.
---
Best Dentists in Croatia for Dentures
There are many great dentists in Croatia who can help you get the perfect dentures. Here are some of the best:
---
Explore Croatia After Getting New False Teeth
Croatia is a beautiful country with a lot to offer visitors. After you get your new dentures, you'll be able to enjoy all that Croatia has to offer without worrying about your teeth. Take a look at some of the top attractions in Croatia:
1. Plitvice Lakes National Park
2. Dubrovnik Old Town
3. Diocletian's Palace
4. Hvar Island
5. Rovinj Old Town
---
Book Consultation for Dentures in Croatia at PlacidWay
If you're interested in getting dentures in Croatia, the first step is to book a consultation with a dental clinic. During your consultation, the dentist will assess your needs and recommend the best treatment option for you.
To get started, simply contact us and we'll match you with a reputable dental clinic in Croatia

---