Yıldıray Yuzer, Surgeon, General Practice - Istanbul, Turkey
Abide-i Hürriyet Caddesi 166
Istanbul, Turkey
Speciality:
Surgeon, General Practice,
Focus Area:
Yıldıray Yuzer | Istanbul | Turkey | Organ Transplant Doctor | General Surgery Specialist | General Surgeon
---
About - Yıldıray Yuzer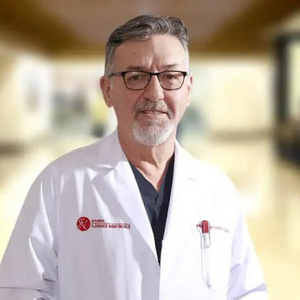 Between 1978 – 1984, Prof. Yıldıray Yüzer, M.D. has been attending Ege University Faculty Of Medicine at the Department Of General Surgery, and succesfuly graduated as a General Surgery Physician. Dr. Yüzer begin his clinical practice at Izmir Menemen Bölge Hospital, Compulsory Service, from 1986 to 1988.
Further experience of Dr. Yuzer include yeras between 1988 and 1993, working as a General Surgery Chief Assistant at Euft. Some of the hospitals where Dr. Yildiray has developed his skills and faculty knowledge is a world-recognized Istanbul Florence Nightingale Hospital, one of the most prominent healthcare institutions in Turkey.
Dr. Yüzer has been working since 2012 as a general physician and organ transplant surgeon in Organ Transplant Center, a branch of ISTANBUL FLORENCE NİGHTİNGALE HOSPİTAL.
His dedication to work and over 30 years of clinical experience provide a high success rate of surgery to local and international patients. He speaks both Turkish and English.
Education
Specialty:
Organ Transplantation

General Surgery
Work Experience:
2012, Istanbul Florence Nightingale Hospital, General Surgery / Organ Transplant Center

1993 - USA Memorial Sloan Kettering Cancer Center

1988 – 1993, Euft, General Surgery Chief Assistant

1986 – 1988, Izmir Menemen Bölge Hospital, Compulsory Service

1978 – 1984, Ege University Faculty Of Medicine, Department Of General Surgery

Prices
| Group Florence Nightingale Hospitals Prices in Istanbul Turkey | Prices | Enquire |
| --- | --- | --- |
| Direct Hair Implantation (DHI) in Istanbul, Turkey | $3550 | Enquire |
| Follicular Unit Extraction FUE in Istanbul, Turkey | $2000 | Enquire |
| Breast Augmentation in Istanbul, Turkey | $4300 | Enquire |
| Tummy Tuck Surgery in Istanbul, Turkey | $5000 | Enquire |
| In Vitro Fertilization (IVF) in Istanbul, Turkey | $3500 | Enquire |
| Egg Freezing in Istanbul, Turkey | $400 | Enquire |
| Sleeve Gastrectomy in Istanbul, Turkey | $5000 | Enquire |
| Gastric Balloon in Istanbul, Turkey | $3000 | Enquire |
| Neck Lift in Istanbul, Turkey | $3000 | Enquire |
| Knee Surgery in Istanbul, Turkey | $14000 | Enquire |
---
Group Florence Nightingale Hospitals reviews
Tamer

First of all, hello to everyone, I have been postponing my nose surgery for years because of hearsay news and the videos I watched. A short time ago, a friend of mine had an operation at Florence nightingale hospital in dilitepe. Mr. Gaffar did his surgery without bruising, pain and cuts, and I was very surprised, he said that he did not feel any pain even when removing the tampons Taking this information as a reference, I went to the hospital and was examined on Friday, and he gave detailed information about what we would do, both aesthetically and in order to breathe correctly.

Google

Nov 29 2022

zulal

Hello, we had my baby born here last week. The hospital staff is very respectful and helpful, the nurses on the delivery floor, the nurses are very good, the delivery room doctors are very successful. We do not only recommend as a pediatrician. If possible, contact your own doctor immediately. The doctor who constantly rebuffs his ego is really annoying. Thanks for everything.

Google

Dec 08 2022

Kübra

For rhinoplasty, Prof. I had surgery on my teacher Gaffar Aslan in December 2021. He is an amazing doctor. He got a much nicer nose than I expected and my breathing problem got better. I stayed one night in the hospital. From my point of view everything was perfect. I am glad that my doctor and my paths crossed, I would recommend him to everyone

Google

Dec 09 2022

yummy

Endless thanks to our Neurosurgery teacher prof dr cetin evyaoglu and his team, he successfully performed my lumbar hernia operation and brought me back to my normal life...as a doctor, I am grateful for his scientific and compassionate approach... dr Uğur DOĞANÇE

Google

Dec 15 2022

gican

After the first surgery I had due to breathing problems I had before, I had to have a second surgery after the infection developed in my nose, and my nose collapsed due to the doctor. After living without a nose for 1 year, I was examined by Gaffar Hodja upon his recommendation. Although my nose is very bad and the operation is difficult, cartilage was removed from my rib and a new nose was built in the operation performed by Gaffar teacher :) After this operation, I have been living my life for 8 months without any problems.

Google

Dec 16 2022

Nora

I chose it for birth and I never regret it. I cant thank my doctor Aykan OzCelik and his valuable team enough. I would like to thank all the employees who helped with their prenatal support, during and after the birth Despite my first birth and cesarean section, I walked out of the hospital on the 2nd day. In case of a pregnancy again, I will go to the doctor and hospital without fear.

Google

Oct 12 2021
---
General-Medicine Related Packages
PlacidWay.com provides information and travel related services. We do not provide health care services. We provide information solely for informational purposes and do not endorse any particular health care provider or facility or any particular health care service or treatment. We are not affiliated with any health care provider or service and we are not responsible for any health care service. Please consult with your own domestic licensed health care provider before seeking the services of any health care provider you learn about via our site.
---