Bayindir Healthcare Group
Experience Excellence in Healthcare at Bayindir Hospital Sogutozu, Ankara, Turkey
Kizilirmak Mah. 1443 Cad. No:17, Sogutozu, Istanbul,Ankara, Turkey

Specialty:

Anti Aging, Cancer Treatment, Cosmetic/Plastic Surgery, Dentistry, ENT, Executive Healthcheck, Eye/Lasik Care, General Medicine, General Surgery, Gynecology Treatment, Heart Care/Surgery, Laparoscopic Surgery, Neurology, Obesity/Bariatric Surgery, Organ Transplant, Orthopedic/Knee Surgery, Pediatric Treatment, Radiology/CT Scans, Rehabilitation, Skin Care, Spine Care/Surgery, Sports Medicine, Stem Cell Therapy, Urology, Vascular Surgery

Focus Area:

Anti Aging, Cancer Treatment, Cosmetic Plastic Surgery, Dentistry, ENT & Executive Healthcheck, Eye Lasik Care, General Medicine, Stem Cell Therapy, Urology & Vascular Surgery
Bayindir Healthcare Group Profile Overview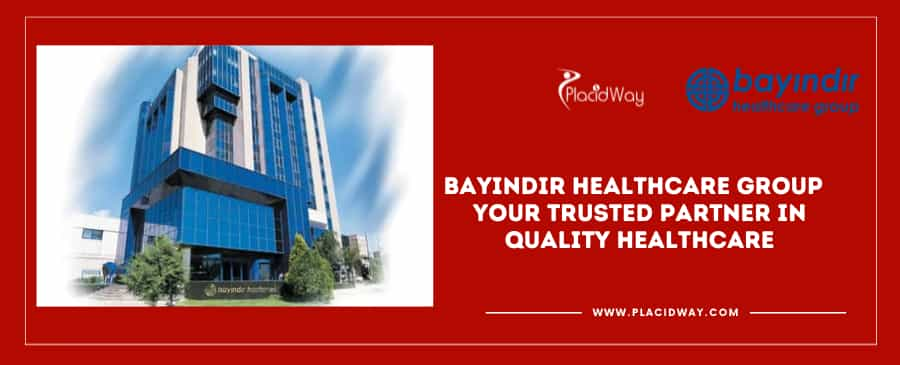 Welcome to Bayindir Healthcare Group - Your Trusted Partner in Quality Healthcare
Since 1992, Bayindir Healthcare Group has been dedicated to delivering exceptional healthcare services rooted in ethical conduct and patient rights. Backed by Turkey's esteemed Is Bank, we offer comprehensive medical care across all specialties, backed by three decades of excellence.
With a global approach, our legacy includes the renowned Bayindir Sogutozu and Kavaklidere Hospitals in Ankara, complemented by the Bayindir Medical Center in Istanbul since 2009, and Bayindir Icerenkoy since 2010. Our footprint extends through Bayındır Dental Clinics and advanced facilities across the healthcare spectrum.
Achieving the prestigious Joint Commission International (JCI) accreditation in 2006, our commitment to patient-centric, evidence-based, and high-quality services has led to consistent re-accreditations in 2009, 2012, 2015, 2018, and 2021. Our excellence is underlined by consistently surpassing 96 points in Turkish Ministry of Health Quality Standards assessments.
Internationally, we participate in RIQAS, CAP, and MLE'S external quality control programs, reaffirming the reliability of our lab results annually. Our breakthroughs include Turkey's first private hospital Bone Marrow Transplantation Unit at Bayindir Hospital Sogutozu.
Elevate Your Health with Bayindir Healthcare Group
Experience 30 years of excellence with Bayindir Healthcare Group. Rooted in ethical values and patient rights, we offer comprehensive healthcare services across specialties.
✓ Internationally Accredited: Our hospitals in Ankara and Istanbul hold JCI accreditation, reflecting our commitment to patient-centric care.
✓ Leading Specialists: From Bone Marrow Transplants to Cardiology, Neurology to Dentistry, our experienced physicians ensure top-tier medical expertise.
✓ Global Collaboration: Through Eurasia Medical Days, we share knowledge with physicians from 35+ countries, enriching healthcare practices worldwide.
✓ Seamless Experience: Our International Patient Center provides tailored services, including consultations, insurance, accommodation, and post-treatment support.
Choose Bayindir Healthcare Group for exceptional healthcare – where expertise meets compassion.
Our Specialties at Bayindir Healthcare Group in Ankara, Turkey
Bone Marrow Transplantation & Hematology

Medical Oncology

Orthopedics & Traumatology

ENT & Cochlear Implant Surgery

Gynecology & Obstetrics (Gyneoncologic Surgery)

Plastic and Reconstructive Surgery

Cardiology

Cardiovascular Surgery

Interventional Radiology and Radiology

Neurosurgery

Neurology

General Surgery (Oncologic & Bariatric Surgery)

Pediatric Surgery

Pediatrics & Pediatric Cardiology

Gastroenterology

Dental Care & Implantation

Urology (Male/Female)
Global Collaboration
Bayindir embraces international collaboration through Eurasia Medical Days since 2006, sharing expertise with physicians from Central Asia, Balkans, Africa, and the Middle East. Our commitment extends to hosting observers from Central Asia, enriching their skills across key departments.
International Patient Center
Since 2010, our International Patient Center has catered to global patients, offering tailored packages for a comfortable healthcare journey. Services include consultations, insurance coordination, accommodation arrangements, transportation, visa assistance, interpretation, and post-treatment follow-ups. Our world-class experts provide care in your language, ensuring a home-like experience.
Why Choose Bayindir Healthcare Group
Unparalleled healthcare quality

Evidence-based medicine

Ethical principles

Patient and family rights upheld

Consistently updated medical practices

State-of-the-art facilities

Trusted reference center with experienced staff
Experience exceptional healthcare with Bayindir Healthcare Group – your partner in wellness.
Book Appointment
Bayindir Healthcare Group in Ankara, Turkey, is a leading medical institution renowned for excellence. With state-of-the-art facilities and expert medical professionals, they offer comprehensive healthcare services, including cutting-edge CT imaging technology, ensuring accurate diagnoses and personalized care. Your well-being is their priority at Bayindir Healthcare Group.

---
---