Gastric Sleeve Surgery in Merida, Mexico
Remove Excess Fat with Best Gastric Sleeve Surgery in Merida, Mexico
If you've been struggling to shed those stubborn pounds and are looking for an effective and affordable solution, look no further than Gastric Sleeve Surgery in Merida, Mexico. Achieving a slim and attractive body is a common aspiration for many, but for some, it can be a challenging journey. The good news is that this surgery offers a safe and reliable path to weight loss with an impressive success rate. What's even more enticing is that the cost of the procedure is remarkably affordable, making it accessible to a wide range of individuals. With this surgery, you can embark on a transformative journey towards a healthier and more confident you.
The Gastric Sleeve Surgery in Merida, Mexico, is not only a cost-effective option but also a top-quality solution. Obesity is a global concern, and this procedure has become a beacon of hope for those seeking a sustainable way to address excess fat. Under the guidance of skilled surgeons and with the use of advanced medical technology, this surgery has garnered a reputation for its remarkable results. You can trust that your safety and well-being are the top priorities during this transformative experience. Say goodbye to excess fat and hello to a more vibrant and fulfilling life with this incredible opportunity in Merida, Mexico.
Choosing the right path to a slimmer and healthier you is essential, and the Gastric Sleeve Surgery in Merida, Mexico, provides a compelling option. Don't let obesity hold you back from living your best life. With this surgery, you can achieve your dream body while ensuring your health and safety are well taken care of. Experience the joy of a transformed physique and newfound confidence, all at an affordable price that won't break the bank. Say yes to a brighter future with this life-changing procedure in beautiful Merida, Mexico.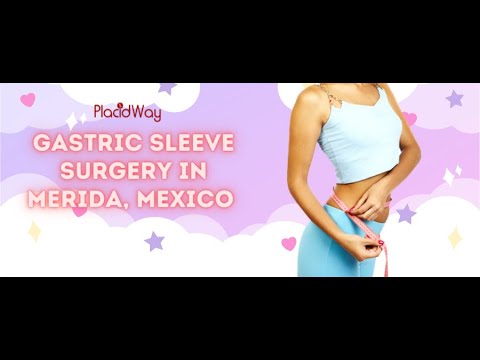 ---
All-Inclusive Package for Gastric Sleeve Surgery in Merida, Mexico
Searching for best price is indeed very crucial, especially, if you are a person who is very calculating about money. If you live in the US or Canada, and are looking for information on the Cost of Sleeve Gastrectomy, then you will be surprised at the prices ranging from $18,000 to $19,500. Numbers that certainly make you think twice before making a decision. This turned significant with Merida, Mexico; where in this city, the Cost of Gastric Sleeve in Merida, Mexico is only in the range of $4,500. Yes, you read correctly, the price is of course 50% - 75% cheaper than the US and Canada.
Get the best package for gastric sleeve surgery in Merida, Mexico at Bypass Gastrico Merida clinic t
Hernia Clinic provides a cheap package for Gastric Sleeve in Merida, Mexico. Get top treatment free
---
Cost of Gastric Sleeve in Merida, Mexico - VGS Price Comparison
The Weight Loss Surgery Package that we offer is the best choice that we have selected. This is to ensure that you get the best package that provides maximum benefits. Of course, at a price that won't burn your wallet, with just $4,500. Not infrequently in one Obesity Package, you will get attractive inclusions offers such as hotels, VIP rooms, spas, and so on, which will offer you the most comfortable experience while undergoing the Gastric Sleeve Package in Merida, Mexico.
Sleeve Gastrectomy Centers Cost Comparison in Merida, Mexico
| Provider | Procedure | Price |
| --- | --- | --- |
| Bypass Gastrico Merida | Sleeve Gastrectomy, Obesity/Bariatric Surgery | $5100 |
| Hernia Clinic Mexico and Bariatric Center | Sleeve Gastrectomy, Obesity/Bariatric Surgery | $4500 |
Sleeve Gastrectomy Cost Comparison in Mexico

| Country | Procedure | Price |
| --- | --- | --- |
| United States | Sleeve Gastrectomy, Obesity/Bariatric Surgery | $18000 |
| Canada | Sleeve Gastrectomy, Obesity/Bariatric Surgery | $19500 |
---
Top Bariatric Center in Merida, Mexico for VGS
Of course, you need to find a clinic that understands your needs, and listens to everything you want. The Sleeve Gastrectomy Center in Merida, Mexico delivers more than you'd expect. Most patients are amazed by the complete health facilities available at the Obesity Clinic in Mexico, even their laboratories are also on par with those in the USA and Canada. It is undeniable that Mexico has become a major destination for patients from all over the world, so their experience in serving patients from abroad, especially American and Canadian can be said to be No.1 in its class.
Top Center
Bypass Gastrico Merida, located in Merida, Mexico, offers a wide range of obesity and diabetes using cutting-edge technology. The health professionals here are known to treat patients from all over the world at affordable prices.
Top Center
Hernia Clinic provides best Obesity Surgery in Merida, Mexico. Book online now Gastrointestinal Surgery, Intragastric Balloon Surgery, Metabolic and Bariatric Surgery at Hernia Clinic.
---
Videos Related to Vertical Gastric Sleeve Surgery in Merida, Mexico
According to research, audiences can retain 95% more information with videos than just reading. Today the world has entered the video era. You as a patient sometimes prefer to get information directly via video, especially to see the overall quality of service, clinical appearance, and reviews from patients in the form of videos. We will compile to you Gastric Sleeve Videos in Merida, Mexico, where all the videos you need for additional references are available. You will also be able to get better insight before making a decision.
---
Gastric Sleeve Surgery Merida, Mexico Reviews
There is a saying that what other people feel or experience, you will most likely experience it too! This is the role of Gastric Sleeve Testimonials in Merida, Mexico, where you as a patient can get the reviews you need with a rating of 1 - 5 stars. As a result, you will be able to know the experiences of patients undergoing Bariatric Surgery at certain clinics. Don't get yourself lost without knowing the latest information. Read our carefully compiled reviews of real patients from top clinics.
---
FAQs about Sleeve Gastrectomy in Merida, Mexico
Do not make your choice carelessly, especially if it is related to the choice to get Gastric Sleeve Surgery that suits your needs. Each patient needs their own treatment according to their condition. That's why you need to know the Gastric Sleeve Q&A in Merida, Mexico so you don't get lost in getting the information you need. You will certainly be able to get accurate information and meet what you need at this time.
What is Sleeve Gastrectomy, and how does it work in Merida, Mexico?
Sleeve Gastrectomy, commonly known as gastric sleeve surgery, is a weight loss procedure available in Merida, Mexico. During the surgery, a large portion of the stomach is removed, reducing its size to limit food intake. This results in weight loss by helping patients feel full sooner while eating less.
Who is a suitable candidate for Sleeve Gastrectomy in Merida, Mexico?
Candidates for Sleeve Gastrectomy in Merida should typically have a body mass index (BMI) of 40 or higher, or a BMI of 35-39.9 with obesity-related health conditions. However, individual candidacy is assessed by a medical professional to ensure the procedure's suitability.
What are the potential benefits of Sleeve Gastrectomy in Merida, Mexico?
Benefits of this procedure include significant weight loss, improvement or resolution of obesity-related health issues, enhanced quality of life, increased mobility, and reduced risk of certain diseases like diabetes and heart disease.
Are there any risks or complications associated with Sleeve Gastrectomy?
As with any surgical procedure, there are potential risks and complications, such as infection, bleeding, or leaks at the surgical site. It's crucial to discuss these risks with your surgeon in Merida, Mexico, and follow their post-operative instructions carefully.
How long is the recovery period after Sleeve Gastrectomy?
Recovery times vary, but most patients can return to light activities within a few weeks. A full recovery may take several months. Your surgeon in Merida will provide specific guidance on post-operative care and follow-up appointments.
What dietary changes are necessary after Sleeve Gastrectomy?
After Sleeve Gastrectomy in Merida, Mexico, patients will need to follow a modified diet plan, gradually introducing solid foods. Portion control and avoiding high-calorie, high-sugar foods are essential for long-term success.
How much does Sleeve Gastrectomy cost in Merida, Mexico?
The cost of Sleeve Gastrectomy in Merida can vary, but it is generally more affordable than in many other countries. The price often includes the surgery, hospital stay, and follow-up consultations. However, exact costs may depend on factors such as the medical facility, surgeon's expertise, and any additional services required. It's advisable to obtain a detailed cost estimate during your consultation.
---
Best Bariatric Surgeons in Merida, Mexico for VGS
Sleeve Gastrectomy Surgeons in Merida, Mexico are experts in their fields who are not only experienced in terms of skills and abilities, but are also reliable in communicating with any patient problems. The approach taken is to understand what you need. It is not difficult for them to understand what patients need considering that Gastric Sleeve Doctors in Merida, Mexico are mostly certified and have the best portfolio serving local and overseas patients.
Dr. Rodolfo Aparicio Ponce is a highly qualified laparoscopic and bariatric surgeon based in Merid...
---
Why Choose Sleeve Gastrectomy Surgery in Merida, Mexico?
When it comes to choosing a path towards transformative weight loss and improved health, Sleeve Gastrectomy Surgery in Merida, Mexico, stands out as a compelling option. Here, we present five compelling reasons why you should consider this procedure in this beautiful Mexican city.
Affordable Excellence: Merida, Mexico offers world-class medical facilities and skilled surgeons at a fraction of the cost you might find in other countries. Experience top-quality healthcare without breaking the bank.
Experienced Surgeons: Merida boasts a pool of experienced and highly trained bariatric surgeons who specialize in Sleeve Gastrectomy. They are dedicated to providing safe and successful weight loss journeys.
Picturesque Recovery: Merida's serene and picturesque surroundings make for an ideal environment for post-surgery recovery. Enjoy a peaceful ambiance and mild climate as you heal and regain your strength.
Comprehensive Support: The medical teams in Merida prioritize patient care and support throughout the entire journey. From initial consultations to post-operative care, you'll receive personalized attention every step of the way.
Proven Results: Sleeve Gastrectomy in Merida, Mexico, has a track record of delivering remarkable results, helping patients achieve substantial weight loss and improved overall health. Join the countless success stories and embark on your own transformative journey.
Visit Merida, Mexico for Sleeve Gastrectomy Surgery
Merida is the vibrant capital of the Mexican state of Yucatan. It is known for its rich Mayan and colonial heritage. A growing number of medical tourists visit Merida annually for quality medical care and to indulge in a peaceful getaway. Merida is the Cultural Capital of the Yucatan Peninsula and one of Mexico's most beautiful colonial cities. There are numerous things to do and see in Merida, including the following places:
Walk Paseo Montejo and see its beautiful buildings, vibrant cafes and colorful shops.
Explore Monumento a la Patria.

Have lunch at a local restaurant.

Visit the Parroquia Santa Ana (Parrish/Church of Saint Ana)
Visit the Palacio Municipal (Municipal Palace) - one of the best colonial buildings in Merida's Central Plaza.
---
Book Consultation for Gastric Sleeve Surgery in Merida, Mexico – Begin Your Journey Today!
Start your journey to get Gastric Sleeve Surgery in Merida, Mexico which gives you satisfying offers, as well as the opportunity to vacation in the best tourist attractions in this city. In 2017, more than 228,000 USA patients sought Gastric Sleeve Surgery, while for the World-Wide 580,000 patients sought a similar procedure. You can see how high the enthusiasm of patients for this procedure and show that this procedure can be the best way to overcome their obesity problem. PlacidWay will always be your best partner to find the right Weight Loss Surgery in Merida, Mexico, both in terms of price, package options, and clinic options. Contact us now by pressing the button below:
---