Liposuction in Thailand
Why Should I Consider Lipo Thailand?
A perfectly slim body sometimes can't be reached only with a strict diet and exercise. This is why more people like you find solution in lipo surgery. Today, we'll explore Liposuction in Thailand as a popular choice to reshape specific body parts.
Thousands of American, British, and Australian patients consider undergoing Thailand liposuction and pay over 50% less than they would at home. Let's see the benefits you'll gain with lipo Thailand:
More proportional body shape thanks to highly skilled plastic surgeons

Comfortable accommodation in world-class facilities

Fast recovery in warm Thai climate

Exotic vacation in one of the most beautiful countries in the world

Significant savings with all-inclusive packages
---
Affordable Liposuction in Thailand Packages
If you choose some of our packages for liposuction in Thailand, you'll pay between $1,160 and $2,750. Mostly, these packages include:
All related surgical costs: surgeons, anesthesia, equipment, hospital stay, and nursing care.
X-Rays, laboratory works
Pre-surgical evaluation and post-surgical medication and follow-up
Medical attention and security 24/7
A night stay in the hospital
All this clubbed with airfare and additional tourist tours in Thailand is more practical than paying only for the surgery in western countries. Find out more about our top package deals in the links below.
---
How much does Liposuction cost in Thailand?
Wondering about liposuction cost Thailand? The cost of liposuction in Thailand starts at $1,650 but doesn't exceed $4,750 in our partner clinics. This is the total opposite for North America, Australia and UK where lipo surgery cost over $5,500.
Although prices may vary depending on the body areas treated, the average liposuction in Thailand cost remains at least 40% less.
Now that you know liposuction costs in Thailand, it is easier to plan your budget. And see the prices in the following table to know more.
Liposuction Centers Cost Comparison in Thailand
| Provider | Procedure | Price |
| --- | --- | --- |
| Bangkok Plastic Surgery Clinic | Liposuction, Cosmetic/Plastic Surgery | $1900 |
| DGB Plastic Surgery Clinic | Liposuction, Cosmetic/Plastic Surgery | $3000 |
| Dr Siripong Plastic Surgery | Liposuction, Cosmetic/Plastic Surgery | $4750 |
| Siam Clinic Phuket | Liposuction, Cosmetic/Plastic Surgery | $1150 |
Liposuction Cost Comparison in Thailand

| Country | Procedure | Price |
| --- | --- | --- |
| Australia | Liposuction, Cosmetic/Plastic Surgery | $5500 |
| Canada | Liposuction, Cosmetic/Plastic Surgery | $5500 |
| United States | Liposuction, Cosmetic/Plastic Surgery | $7000 |
| United Kingdom | Liposuction, Cosmetic/Plastic Surgery | $6550 |
---
Best Clinics for Liposuction in Thailand
Thailand offers high-quality medical facilities and medical team expertise that matches US and European standards. Many Thailand clinics are accredited by the JCI and ISO Accreditation for the continual efforts to pursue excellence in quality care and patient safety.
By traveling to Thailand for liposuction, you also have the chance to enjoy a pleasurable holiday before your procedure. Clinics are located in beautiful surroundings where you'll feel comfortable and relaxed.
Get started now by reading the profiles of top-rated clinics in Thailand:
---
Best Liposuction Surgery in Thailand Video
If you want to understand lipo surgery in Thai clinics more, we suggest you watch our video below.
---
Liposuction Reviews in Thailand by PlacidWay Patients
---
FAQ about Liposuction in Thailand
Discover liposuction in Thailand prices and lipo clinics in Bangkok to know your options and plan your trip to Thailand accordingly.
How much is Liposuction in Bangkok, Thailand?
Show More
How much is Liposuction in Bangkok, Thailand? Thai capital Bangkok has emerged as one of the most popular destinations in the map of medical tourism and the average cost of liposuction treatment in Bangkok is around $1,160. If you are looking for an approximate cost, we must tell you that there is no standardized price and hence it is hard to get an estimate. However, you can choose from plenty of world class clinics that provide similar treatment through different packages. Factors That Affect the Price of Liposuction Surgery in Bangkok, Thailand If you have just decided to get your liposuction treatment from Bangkok, we recommend you to keep an eye on the associated factors as it can affect the cost of treatment. Associated factors include; Area of treatment Body type Physical condition Age Quality of materials Previous surgeries Experience of the cosmetic surgeons Facilities What Should Be Expected From the Liposuction in Bangkok, Thailand? Bangkok is known as a hub of medical tourism and it's home to numerous top clinics where you can get an opportunity to receive treatment from world-famous doctors and experienced medical staffs at the clinics. In addition, patients can save money as the cost is cheaper than in other countries. How Much Can You Save By Receiving The Treatment In Bangkok, Thailand? In general, liposuction surgery costs more than $10,000 in the top countries whereas the same liposuction treatment ranges from $1,650-$2,700 in Bangkok, Thailand. Cost efficiency is important, and patients can save hundreds of dollars by getting treatment in Bangkok, Thailand. Approximate Cost of Different Cosmetic Surgery Solutions in Bangkok, Thailand Tummy Tuck $3,700 Other Costs to Consider If you are planning to get your liposuction treatment from Bangkok, Thailand, you should be careful about other expenses as it can affect the cost of liposuction treatment. It is suggested to consider other expenses before booking an appointment. Other expenses include; Hotel and accommodation Foods and drinks Cost of transportation Travel insurance The above-mentioned expenses can affect your cost of Liposuction in Bangkok, Thailand and you can get free quotations anytime that will help you to get an idea about the cost.
Which are the most reliable Liposuction clinics in Bangkok, Thailand?
Show More
The Best Clinics for Liposuction in Bangkok, Thailand Here are some of the best choices if you are looking for a top Liposuction clinic in Bangkok, Thailand. All these plastic surgery clinics are accredited and offer safe and highly successful cosmetic procedures for patients worldwide. When you are unhappy about your physical appearance, your whole life will turn negative. You will isolate yourself from your friends, avoid getting out and having fun and feel depressed and unloved. Liposuction can solve that by improving your body and therefore your self-confidence. Why Choose Bangkok Clinics for Lipo Surgery? More and more medical tourists undergo Liposuction in Bangkok, Thailand, which is known as one of the most sought-after plastic surgery destinations. The best clinics in Bangkok have gained their reputation thanks to their high standards of care, certified, highly trained, and educated teams of plastic surgeons who use cutting-edge technology and the latest treatment methods. Questions to Ask Plastic Surgery Clinic in Bangkok To be sure that your choice is the most suitable one, you can ask the Liposuction clinics several questions. How long have you been performing Liposuction? How safe is Liposuction? What kind of anesthesia will be used on me during Liposuction? Will I need to stay overnight for Liposuction? High prices, long waiting lists, or lack of insurance are just some of the reasons people seek plastic surgery abroad. Luckily, these trustworthy cosmetic surgery clinics in Bangkok, Thailand offer top medical services, pocket-friendly prices, and comprehensive care to international patients. Find the Best Liposuction Clinic in Bangkok Today! Many cosmetic procedures are done for physical health, such as nose surgery, breast reduction, tummy tuck or liposuction. So besides offering you the body you want, Liposuction also helps you live a healthy and happier life. Are you looking for more information about Liposuction clinics in Bangkok, Thailand? Contact us for the best options!
---
Best Lipo Surgeons in Thailand
Best plastic surgeons in Thailand will sculpt your body by targeting trouble spots to create a slimmer, desired shape. They are professionals with extensive training and many years of experience.
Another good thing about Thai doctors is that most speak English fluently so communication will be easy. They also provide a video consultation before the treatment where you can discuss your concerns.
PlacidWay will help you connect with the right doctor for your needs. So, read more about Thai surgeons to make your decision.
---
Popular Tourist Attractions in Thailand for Medical Tourism
Thailand is home to dozens of marvelous beaches, mountains, and historical monuments. It is also known for its colorful, mouthwatering cuisine you'll not be able to resist. Thailand has so much more going on for everyone's taste and pleasure.
As a popular medical tourism destination, patients coming to Thailand love spending extra time exploring the country's wonders and beauties. Here are just a few of many more places you can go during your lipo surgery in Thailand:
Railay Beach in Krabi province
The Phi Phi Islands
The Grand Palace, Bangkok
Chiang Mai's Sunday Night Walking Street, try cheap and delicious food
Pai, in Mae Hong Son province
Khao Yai National Park and watch wild Elephants
Buddha in the ruins of the temple Wat Chana Songkram, Sukhothai Old City
The Historic City of Ayutthaya, the glory of ancient Thailand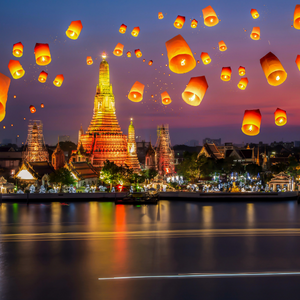 Sky lanterns in the evening in Bangkok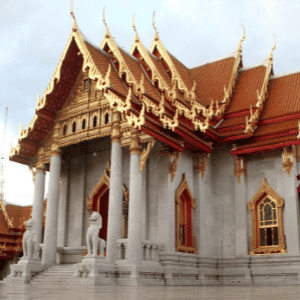 Marble Temple in wat Benchamobophit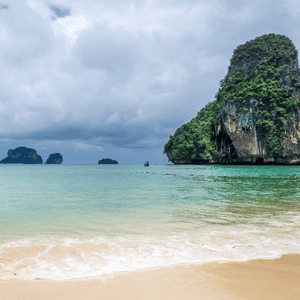 Phra Nang beach in Krabi province
---
Get Slimmer Figure with Liposuction in Thailand!
Sculpt your body into the shape you desire with affordable liposuction in Thailand! Experience a memorable holiday along with getting your new figure at up to 60% less than in your home country.
Contact us for more information about Thai liposuction prices, clinics, and surgeons.
---