Tummy Tuck in Bangkok, Thailand
Choose Low-Cost Abdominoplasty in Bangkok, Thailand
Searching for an effective cosmetic procedure to tighten your stomach? Sometimes exercise and diet can not eliminate sagging skin on your abdomen. Therefore, Tummy Tuck in Bangkok, Thailand can be both an effective and affordable solution.
Bangkok is home to world-renewed plastic surgery clinics and doctors who will help you achieve a flatter stomach by removing excess fat and loose skin. If you choose to have your abdominoplasty in Bangkok, you'll get at least 50% savings compared to prices at home.
Both men and women can benefit from a tummy tuck if they want a firmer stomach. Regardless, it is important to mention that a tummy tuck is not a weight loss method and won't remove stretch marks. So, you should consult with a Bangkok plastic surgeon before the surgery whether it is suitable for you.
But why travel to Bangkok for a tummy tuck, how to pick the right clinic, and how much can you save? If you have these questions in your mind right now, we advise you to read our guide and find your answers.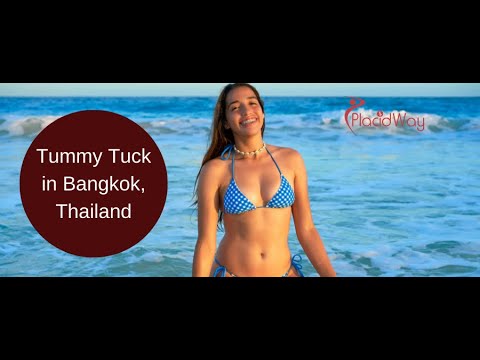 ---
Cost-Effective Tummy Tuck Packages in Bangkok
We can help you have a hassle-free and smooth trip to Bangkok by offering affordable all-inclusive tummy tuck packages ranging from $2,937 to $8,200. The price depends on the services, clinic, and doctor's credentials.
However, if you choose one of our top three packages, you'll get savings and a relaxing holiday in breathtaking Bangkok. So, see packages inclusions and benefits below to decide which one suits you best.
---
How much is a tummy tuck in Bangkok?
Tummy tuck surgery in Bangkok cost starts from $2,944 and goes up to $6,600 at our recommended clinics. Knowing that the quality of care is similar to or even better in Bangkok than in Western countries, you will gain more by coming here for abdominoplasty. In addition, you'll save between 50% and 70% on the US and Australian prices.
In Australia abdominoplasty is $8,000 and more, while in the USA $11,000 on average.
Take a look at our cost comparison table below for price details.
Tummy Tuck Surgery Centers Cost Comparison in Bangkok, Thailand
| Provider | Procedure | Price |
| --- | --- | --- |
| Yanhee Hospital | Tummy Tuck Surgery, Cosmetic/Plastic Surgery | $2944 |
| Nirunda International Aesthetic Clinic | Tummy Tuck Surgery, Cosmetic/Plastic Surgery | $6600 |
| Bonnie Health | Tummy Tuck Surgery, Cosmetic/Plastic Surgery | $5090 |
Tummy Tuck Surgery Cost Comparison in Thailand

| Country | Procedure | Price |
| --- | --- | --- |
| Canada | Tummy Tuck Surgery, Cosmetic/Plastic Surgery | $9800 |
| United States | Tummy Tuck Surgery, Cosmetic/Plastic Surgery | $11000 |
| Australia | Tummy Tuck Surgery, Cosmetic/Plastic Surgery | $8000 |
---
Top 6 Plastic Surgery Clinics in Bangkok for Abdominoplasty
Thailand has world-renewed plastic surgery centers mostly based in Bangkok, the Thai capital. Known for its high-tech architecture and diverse culture, this stunning city offers numerous modernly equipped clinics with advanced technology. Thousands of international patients are pleased to come here for high-quality plastic surgery and top-notch medical care.
Today, we present you the top 6 cosmetic surgery clinics in Bangkok which profiles you'll learn more about. You'll find past patient reviews, clinic photos, the best plastic surgeons, and the facilities they provide.
---
Watch Video about Low-Cost Abdominoplasty in Bangkok
In our recommended video you'll find out why tummy tuck in Thailand is so popular and cheaper option than in other developed countries.
---
Cosmetic Surgery in Bangkok Reviews of Former Patients
---
FAQs for Tummy Tuck Surgery in Bangkok Prices
Want to know more about abdominoplasty prices in Bangkok? Read our answer below to discover.
What is the Average Price of Tummy Tuck Surgery in Bangkok, Thailand?
Show More
What is the Average Price of Tummy Tuck Surgery in Bangkok, Thailand? Tummy tuck is one of the most popular medical procedures to shed off stubborn fats accumulated in our waistlines. This procedure helps in firming the abs and tones the belly muscles. The average price for Tummy Tuck treatment packages in Bangkok, Thailand is around $3,600. However, the cost may vary from clinic to clinic and you may find the same clinic in Bangkok, Thailand is offering Tummy Tuck treatment at different prices. The price for the Tummy Tuck treatment here in Bangkok, Thailand may range between $2,800 and $6,000. Factors that Affect the Price of Tummy Tuck in Bangkok, Thailand You can reach Bangkok, Thailand to get the Tummy Tuck treatment conveniently. Before you plan to travel to this nation, you should be aware of the factors that can affect the package price. Have a look at the factors that can affect the overall cost of the treatment. Age Body Mass Index Muscular structure of abdomen Weight Nutrition, etc What should be expected from the Tummy Tuck procedure in Bangkok, Thailand? Thailand has become the home of a number of world-class healthcare institutions offering the Tummy Tuck procedure at affordable price. Here, you can receive the Tummy Tuck procedure through highly experienced doctors and supporting medical staff. How Much You Can Save by Receiving Tummy Tuck Treatment in Bangkok, Thailand? The average price for Tummy Tuck in most of the leading countries may range between $5,000 and $10,000 approximately. However, you can receive the same treatment here in Bangkok, Thailand at around $3,600. So, you can save more than $8,000 by choosing Cancun in Bangkok, Thailand as your preferred medical tourism destination for the Tummy Tuck procedure. Approximately Cost of Tummy Tuck Variations in Bangkok, Thailand Mommy Makeover $8,400 Brazilian Butt Lift $4,400 Breast Augmentation $3,800 Other Costs to Consider If you are preparing for the overall expense of the Tummy Tuck treatment in Bangkok, Thailand, you have to consider some other associated expenses as well. These expenses are: Hotels and accommodation Food and drinks during stay Airfare and transport Travel insurance These are the details of the estimated costs and you should not grant it as the final cost of the Tummy Tuck treatment in Bangkok, Thailand. However, you can always ask for the free quotes and check how much you can save by going to Bangkok, Thailand for the Tummy Tuck.
---
Top 6 Plastic Surgeons in Bangkok for Tummy Tuck
Bangkok boasts reputable plastic surgeons with membership in prestigious organizations. They had to go through rigorous training before performing cosmetic procedures. Some of them are also bilingual and provide pre and post-surgery consultation.
Bangkok plastic surgeons offer good quality healthcare and professionalism in every sense. They are recognized by international institutions within their respective fields.
Thai doctors utilize the newest techniques in plastic and reconstructive surgery, as well as services tailored to the comfort and well-being of their patients. Here is the list of top 6 plastic surgeons in Bangkok providing effective tummy tuck surgery:
---
Why Should I Choose Bangkok for a Tummy Tuck?
Tummy tucks in Bangkok are definitely the right choice for anyone wishing for a flatter stomach, money savings, and an exotic vacation. Its world-class clinics operate by high standards, and doctors' credentials are on par with American doctors. International patients are welcomed in Bangkok clinics where a professional medical team provides state-of-the-art services so you can feel at home.
In addition to quality medical care, you'll get savings even when you pay for the trip and hotel stay. For good reasons, Bangkok is one of the world's most-visited medical tourism destinations.
Millions of international patients fly to Bangkok International Airport (BKK - Suvarnabhumi) to receive top-quality cosmetic surgery at a low-cost. And many of them are looking forward to a relaxing and exotic vacation before the surgery.
Since Bangkok is irresistible, you'll also find it convenient to explore the city and its attractions some of which include:
Wat Phra Chetuphon

Temple Of Dawn (Wat Arun)

Chatuchak Weekend Market

Jim Thompson House

Temple of the Emerald Buddha

The Golden Mount

The Grand Palace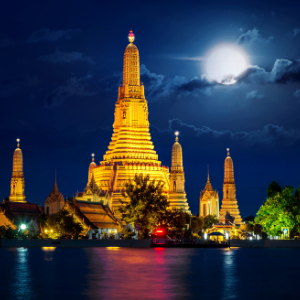 Wat Arun Temple in Bangkok
---
How Can I Book Tummy Tuck in Bangkok?
If you want to book your Tummy Tuck in Bangkok, Thailand you can simply contact our Customer Care Team or fill out the form on your right. Our PlacidWay team is here to help you plan your trip for abdominoplasty in Bangkok.
---