Liposuction in Antalya
Why Choose Antalya for Lipo Surgery?
Do you have excess fat that deforms your body contours? Sometimes exercise and diet don't give the desired results so you need to search for a solution elsewhere. An affordable and effective Liposuction in Antalya Turkey will help you lose stubborn areas of fat and alter your body shape.
Surgeons in Antalya are qualified to perform lipo surgery on the abdomen, thighs, knees, neck, buttocks, and other body parts. It is ideal for those who have already lost some weight but need help attacking problematic areas.
Known as a summer hub for tourists, Antalya is an excellent combination of good prices, friendly locals, stunning scenery, and reputable clinics. Thousands of people pick Antalya for cosmetic surgery, including liposuction. In this guide, you'll find out why.
Quick summary:
Clinic: Dr. Sultan Yalcin Clinic and Dr. Sibel Atalay International Clinic
Doctor: Dr. Sibel Atalay
Procedure: Liposuction
Cost in Antalya: From $1,500
Cost in Other Countries: From $3,500
Top Tourist Attractions: Kaleici - The old city of Antalya, Sapadere Kanyonu, Konyaalti Beach, and more.
---
Comprehensive Liposuction Packages in Antalya
A primary benefit of plastic surgery clinics in Antalya is that they offer comprehensive packages with international services. You also receive airport pickup, accommodation, and translation services for the package price.
However, you'll have to pay extra for hotel stays and sightseeing tours, but it's a negligible expense as Antalya has budget-friendly hotels. Still, you'll stay within your budget and come home with extra cash in your pocket.
Reach out to our PlacidWay team to arrange your package for lipo in Antalya today!
---
How Much Does Liposuction Cost in Antalya?
The cost for liposuction in Antalya is $1,500 at renewed clinics. This is 2-5 times lower than in US or UK. For instance, in the United States liposuction cost $6,500 and in the United Kingdom $6,550 per area.
Therefore, you can save over 60% by coming to Antalya for a lipectomy. And don't forget the relaxing vacation you'll have before the surgery on this beautiful Mediterranean Coastline.
Here are the prices in the cost comparison table:
Liposuction Centers Cost Comparison in Antalya, Turkey
| Provider | Procedure | Price |
| --- | --- | --- |
| Dr. Sibel Atalay International Clinic | Liposuction, Cosmetic/Plastic Surgery | $1500 |
Liposuction Cost Comparison in Turkey

| Country | Procedure | Price |
| --- | --- | --- |
| Germany | Liposuction, Cosmetic/Plastic Surgery | $3500 |
| United States | Liposuction, Cosmetic/Plastic Surgery | $6500 |
| United Kingdom | Liposuction, Cosmetic/Plastic Surgery | $6550 |
---
Liposuction Clinics in Antalya
Apart from being a popular summer resort, Antalya also boasts numerous plastic surgery clinics that utilize international standards for quality and safety. Their medical staff speaks English and has training from prestigious medical institutions locally and abroad.
The clinics are modern with comfortable operating and recovery rooms where you'll feel at home.
PlacidWay presents top 5 liposuction clinics in Antalya. Let's see what they offer in their profiels below:
---
Plastic Surgery in Antalya Reviews
---
FAQ for Liposuction in Antalya
Would you like to learn more about the price of lipo surgery in Antalya? Read our Q&A for details.
How much is Liposuction in Antalya, Turkey?
Show More
If you have decided to have Liposuction in Antalya, Turkey you should know that the average price is $4311. The final cost will depend on the type of procedure you need, the method and materials used, the clinic and doctor you choose and many other factors. Having Liposuction in Antalya, Turkey will help you achieve your goals fast and efficiently. Some of the best plastic surgeons will perform the procedure and you will be supervised by a highly qualified medical personnel. With top notch equipment, specialized Liposuction surgeons, quick recovery time and pain-free methods owing all these to modernized techniques, affordable prices and a variety of clinics to choose from, why won't you benefit today from the ultimate technologies available in Turkey? The progress made by Turkey clinics and medics in the area of cosmetic treatments has made medical tourists turn their attention towards this region. The impressive advances in health care and medicine, as well as affordable prices for the best medical services have increased the medical tourists' confidence in Turkey's world-class health care. When it comes to cosmetic surgery there is no room for errors. You have to make sure that you have chosen the best surgeon and the best clinic, that Antalya,Turkey has to offer. Here are some questions that you should ask plastic surgeons before making your final choice: What are the advantages and disadvantages of Liposuction at your clinic? What about the risks and complications? What if I am not happy with the Liposuction results? How long should I be staying for recovery in Antalya,Turkey? Are you certified to perform Liposuction? Are you a member of any Cosmetic/Plastic Surgery association or society? How many years of experience do you have performing Cosmetic/Plastic Surgery? What if something goes wrong during Liposuction procedure? How often have you performed Liposuction? Can you give some international patient references? What should I expect after the Liposuction surgery? Turkey has quickly become one of the top choices in plastic surgery destinations. It attracts more and more medical tourists with top medical procedures, experienced surgeons and a welcoming environment which makes you feel like home. Below you can find some of the best plastic surgeons in Antalya, Turkey that offer most affordable price for Liposuction.Liposuction at Pureline Aesthetic Clinic (Antalya): from $4311 Find out more about the best plastic surgeons in Antalya, Turkey! Contact us and choose the best Liposuction surgeon!
How Much Cost of Liposuction in Antalya, Turkey?
Show More
The average price of Liposuction treatment in Antalya, Turkey is around $2,550. If you are looking for the best treatment at an affordable price, this is the right place. A lot of people visit Antalya, Turkey every year to get world-class treatment at a cheaper cost and you will find plenty of world-class clinics to get your treatment. Location Cost of Liposuction Antalya, Turkey $2,550 United Kingdom $7,050 Liposuction is the surgical procedure meant to reduce in size some parts of the body, by removing localized excess fat. Thus, arms, front and/or rear torso, abdomen, thighs, buttocks hips, legs, and many other areas can be reshaped. The scenario of medical tourism is rapidly changing in Turkey and it has emerged as a new hub of medical tourism in recent years. A lot of people are choosing and traveling to Antalya, Turkey for Liposuction. How Much You Can Save By Receiving The Treatment In Antalya, Turkey? Usually, the cost of liposuction surgery is more than $10,000 in the developed countries whereas the average price of the same treatment ranges within $2,550 in Antalya, Turkey. Patients can save thousands of dollars by getting the treatment in Antalya, Turkey. Factors That Affect the Price of Liposuction Treatment in Antalya, Turkey One should be careful about the associated factors that can affect the cost of liposuction treatment in Antalya, Turkey and it is suggested to the readers to consider these factors before booking an appointment. Associated factors include: Body type Age Area of treatment Physical condition Previous surgeries Quality of materials Experience of the cosmetic surgeons Facilities What Should Be Expected From The Liposuction In Turkey? Antalya, Turkey is considered one of the most reliable destinations to get top-rated healthcare facilities. The best thing about receiving the treatment here in Antalya, Turkey is that you can get the treatment from renowned doctors and medical staff at the clinics. Other Costs to Consider One should keep an eye on the other expenses as well. Other expenses can affect the cost of treatment and therefore it is suggested to consider other expenses such as; Hotel and accommodation Foods and drinks Cost of Transportation Travel insurance These are some of the expenses that can affect your cost of Liposuction in Antalya, Turkey and our suggestion is to consider the cost before booking an appointment. You can get the free quotations anytime and it will help you calculate the cost easily.
---
Liposuction Doctors in Antalya
Lipo surgery improves the body's contours, impacting your body image and self-esteem. Therefore, the procedure needs to be performed by an experienced and licensed plastic surgeon specializing in liposuction and body contouring. Thankfully, Lipoplasty in Antalya is done by professional plastic surgeons with many years of experience.
They are board-certified by authoritative liposuction societies and associations. Antalya plastic surgeons' skill level is high despite the low prices for liposuction.
Lipo surgeons in Antalya permanently develop new knowledge and techniques overseas and apply them in their practices. See the profile of top plastic surgeon in Antalya; contact us if you want to book a video consultation with Antalya surgeons.
Dr. Sibel Atalay is a qualified Plastic Reconstructive and Aesthetic Surgeon. Dr. Sibel Atalay has ...
---
Discover Dental Tourism in Antalya
Antalya is among the top Turkish cities for dental tourism. It offers world-class facilities, high-quality plastic surgery at low cost, and experienced plastic surgeons. In addition, it is a famous tourist spot due to its fine weather, beautiful beaches, and luxury resorts.
Overall, Antalya is safe for medical tourists, but you should maintain general precautions like any other tourist spot. For example, don't walk alone at night, keep your belongings in a safe place, and drink only bottled water.
You can also reach Antalya by air from major world cities since it has an international airport located 13 km northeast of the city center.
And if you wish to explore the city before your lipo surgery, here are some interesting sites we recommend:
Antalya's Old Town Kaleici
Konyaalti Beach
Aspendos
The Ruins of Termessos
The Yivli Minare
Hadrian's Gate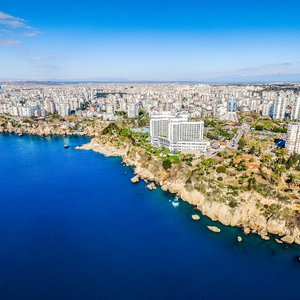 The view of Antalya on the Mediterranian coast
---
Choose Lipectomy in Antalya at PlacidWay!
Did you find all the information you need about liposuction in Antalya? If you have more questions, get in touch with our Custome Care Team.
We will assist you in preparing your trip to Antalya for low-cost, quality lipo surgery!
---