Dentures in Dominican Republic
Why Get Full Mouth Dentures in Dominican Republic?
Considering getting dentures to replace lost teeth? They can be a good removable replacement for missing teeth but are also very costly in US and Canada. That's why thousands of North American patients go for affordable Dentures in Dominican Republic.
Wheater you need full or partial dentures, they will be custom-made to fit your mouth and improve your smile appearance. 
Dentures are non-invasive procedure performed during a short visit to a trained dentist. Skilled specialists will help you regain your smile and eating function while recovering faster in the beautiful surroundings of the Dominican Republic.
Continue reading our guide to know more.
Top Clinic: Hispadent - Dental Care and Dental Studio Spa
Procedure: Dentures
Cost in Dominican Republic: $550
Cost in North America: From $1,300
Top Tourist Attractions: Bavaro Beach in Punta Cana, Zona Colonial in Santo Domingo, 27 Waterfalls of Damajagua, & many more.
---
How much are dentures in Dominican Republic?
The cost of dentures in the Dominican Republic is up to 70% more affordable than in Canada or United States. Dentures cost in the Dominican Republic around $550, while in Canada $1,300 and $1,500 in the USA.
As a dental tourist, you can save hundreds of dollars on dentures in DR and enjoy a wonderful vacation in this paradise. Flight tickets and accommodation are also cheap, and this is why thousands of patients from North America come to the Dominican Republic.
See the following table on dentures costs:
Dentures Cost Comparison in Dominican Republic

| Country | Procedure | Price |
| --- | --- | --- |
| Dominican Republic | Dentures, Dentistry | $550 |
| Canada | Dentures, Dentistry | $1300 |
| United States | Dentures, Dentistry | $1500 |
---
Dentures Clinics in Dominican Republic
Medical facilities in Dominican Republic are patient-centered and adhere to high safety standards. This helps patients relax in a peaceful and friendly environment while receiving top-quality dental care from a professional medical team.
Dental clinics in Dominican Republic are also equipped with the latest techniques in dentistry for your pleasant and painless treatment. We will introduce you to the profiles of the top two clinics in the Dominican Republic where you can receive dentures at reasonable prices for the same quality you'd get at home.
Top Center
At Hispadent, since 2012 Jose Alonso, MD, DDS. and our staff are trained to give excellence dental care in Santo Domingo, Dominican Republic. Our head office Doctor, Jose Alonso DDS is one of the Best Dental Specialists in Santo Domingo. Internationally Awarded and Credentialed Dentist in Santo Domingo, Internationally Trained in the best universities from Europe and United States. Holding Degree in General Medicine, Doctor in Dental Surgery Degree, Implant postdoctoral Degree, Cosmetic Dentistry postdoctoral Degree. We are Members of the Following USA Dental Associations: American Dental Association American Academy of Cosmetic Dentistry American Academy of Implant Dentistry American Academy of General Dentistry.
Top Center
Dental Studio Spa, situated in Santo Domingo, Dominican Republic provides the latest services in dental technology. The caring and healing touch of the doctors makes the whole experience extraordinary for the patients.
---
Dental Work in Dominican Republic Reviews
---
Best Denture Doctors in Dominican Republic
Before having dentures in the Dominican Republic, you should know who is the best dentist for your needs. It has to be a dentist specializing in Prosthodontics with many years of successful work behind him. Also, your dentist should be familiar with utilizing new technologies and up-to-date with the latest standards of dental care.
Luckily, Dominican Republic dentists are trained overseas and are members of world-recognized institutions. This qualifies them among the best in denture work across Latin America and abroad.
We will connect you with the right prosthodontist in the Dominican Republic who will provide you with a video consultation beforehand. Contact us to meet your dentist.
---
Dental Tourism in Dominican Republic
The alluring Caribbean sea, tropical climate, and diverse nature attract millions of tourists to the Dominican Republic annually. In addition, tourists visit dentists in DR to save on dental work and receive the care they need.
Here are our suggestions on what places to explore during your dental trip to Dominican Republic:
Bavaro Beach, Punta Cana
Calle el Conde (Zona Colonial) in Santo Domingo
Puerto Plata & Playa Dorada
Las Galeras beaches
27 Waterfalls of Damajagua
Bahia de Las Aguillas in Jaragua National Park
Parque Nacional del Este, a UNESCO World Heritage Site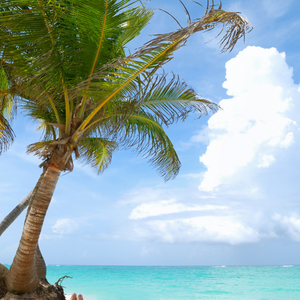 Beautiful beach in the Dominican Republic
---
Require a Free Quote for Dentures in Dominican Republic Today!
Affordable Dentures in Dominican Republic are an excellent solution to your missing teeth. Regain your confident smile in the tropical environment of this top tourist destination in Latin America and save over 50% on dental work.
Placidway will guide you on your dental trip to Dominican Republic, so contact us to receive a free price estimate today!
---