IVF with Gender Selection in UAE
Affordable Baby Sex Selection Procedure for Family Balancing in UAE
Step into the fascinating world of IVF with Gender Selection in the United Arab Emirates (UAE), where couples can now fulfill their dreams of family balance with ease and affordability. Imagine the excitement of being able to handpick the gender of your baby in advance, a remarkable opportunity offered by various clinics in the UAE. The reasons behind a couple's desire to choose the gender of their child are as diverse as the methods available to achieve it.
When considering Gender Selection in UAE, there are a few noteworthy aspects to remember. Firstly, rest assured that this procedure is completely legal, without any laws prohibiting it. The country embraces the freedom of choice for prospective parents, and numerous clinics provide this service, allowing couples to embark on their journey with confidence.
The Gender Selection procedure itself is an intriguing process that unfolds with relative simplicity. The initial step involves obtaining a sample of the mother's eggs, which are then fertilized with the father's sperm. The resulting embryos are carefully nurtured in incubators, where the gender of each embryo is determined. Subsequently, the desired gender embryos are skillfully implanted into the mother's womb, initiating a pregnancy that proceeds as naturally as any other.
In the United Arab Emirates, Gender Selection not only offers couples an opportunity to plan their desired family balance but also showcases the country's progressive mindset in embracing reproductive choices. With a straightforward procedure and a supportive legal framework, the UAE presents itself as a unique destination where dreams of a balanced family can become a reality.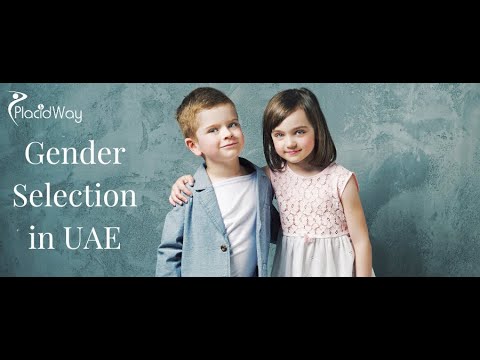 ---
All-Inclusive Packages for Gender Selection in UAE
Experience the comprehensive and all-inclusive Gender Selection packages at our esteemed clinic in the UAE. We understand the significance of this journey, and our offerings encompass every aspect to ensure a seamless and fulfilling experience. Our packages include an initial consultation with a skilled fertility specialist who will assess your specific needs, hormonal tests, and ultrasounds to evaluate your fertility levels, necessary medications for the procedure, the actual Gender Selection procedure itself, and an entire year of follow-up care to ensure your well-being throughout this transformative process. Discover the top packages for Gender Selective IVF in the UAE below and embark on your path to achieving your desired family balance with confidence and exceptional care.
Experience top-notch IVF treatment with gender selection in Dubai, UAE by renowned fertility special
---
How much Gender Selection Cost in UAE?
Embark on your journey of Gender Selection in the UAE with our affordable and transparent pricing options. At our partner clinic, the cost for Gender Selection is competitively priced at $10,000. This comprehensive package encompasses all essential elements, including consultations with fertility specialists, hormonal tests and ultrasounds, medications required for the procedure, the actual Gender Selection process, and a year of dedicated follow-up care. With our transparent pricing structure, you can proceed with confidence, knowing the exact cost of the procedure and the exceptional value you will receive. Fulfill your dreams of family balance with our affordable IVF with Gender Selection package, tailored to provide you with a seamless and fulfilling experience.
IVF with Gender Selection Centers Cost Comparison in UAE
| Provider | Procedure | Price |
| --- | --- | --- |
| BEST LIFE FERTILITY CENTER BY DR MAZEN DAYEH | IVF with Gender Selection, Fertility Treatment | $10000 |
IVF with Gender Selection Cost Comparison in UAE

| Country | Procedure | Price |
| --- | --- | --- |
| United Kingdom | IVF with Gender Selection, Fertility Treatment | $17000 |
| United States | IVF with Gender Selection, Fertility Treatment | $20000 |
---
Best Fertility Clinics for Gender Selection in UAE
Embark on your journey towards Gender Selection in the United Arab Emirates with confidence, as numerous fertility clinics stand ready to assist you. These clinics boast dedicated teams of experts who possess the knowledge and experience to guide you seamlessly through the entire process. Before commencing the procedure, the clinic will conduct a comprehensive assessment of your health and fertility levels, ensuring that you are well-prepared for this transformative experience. With their expertise, they will provide personalized advice on the optimal course of action, tailored to your specific circumstances and desires.
Among the best fertility clinics for IVF with Gender Selection in the UAE, these establishments excel in their commitment to delivering exceptional care and achieving successful outcomes. Their reputation and track record make them trusted destinations for couples embarking on this remarkable journey. By choosing one of these renowned clinics, you can place your trust in a team of dedicated professionals who are passionate about making your dream of gender selection a reality.
Top Center
Canadian Specialist Hospital in Dubai, UAE offers world-class medical care along with best in class dentistry, cardiology, dermatology, pediatrics, orthopedics, rehabilitation and more.
Top Center
NMC Royal Hospital is a multi-specialty hospital located in Abu Dhabi, UAE. The specialties of the hospital include Fertility treatment, IVF, Plastic Surgery, Dentistry, Bariatric Surgery, Ayurveda, Nephrology, Physiotherapy, Gynecology, Orthopedics, General Medicine, etc.
Top Center
Fertility Center in Dubai / sharjah UAE by Dr. Mazen Dayeh will provide you with reliable fertility solutions with IVF and Gynecology.
---
Watch Videos Related to Gender Selective IVF in UAE
Expand your knowledge and understanding of Gender Selective IVF in the United Arab Emirates by delving into a vast collection of informative and captivating videos. Immerse yourself in this fascinating subject as you explore a range of content related to the procedure, its process, and the experiences of couples who have embarked on this transformative journey. Watch captivating videos that showcase the expertise and dedication of fertility specialists in UAE clinics, providing valuable insights into the advancements and techniques employed in Gender Selective IVF. Whether you seek educational resources or personal stories, these videos offer a visual and engaging medium to further enrich your understanding and make informed decisions regarding Gender Selective IVF in UAE.
---
Read Fertility Treatment in UAE Reviews
Embark on an insightful journey through the experiences of individuals and couples by delving into the diverse collection of reviews on fertility treatments in the United Arab Emirates (UAE). Gain valuable firsthand knowledge and insights as you explore the perspectives and stories shared by those who have undergone fertility treatments in the UAE. These reviews offer a unique opportunity to understand the quality of care, expertise of fertility specialists, and the overall patient experience at various clinics. Immerse yourself in a wealth of reviews that encompass a wide range of fertility treatments, including Gender Selection, and gather valuable information to make informed decisions and choose the best clinic for your needs. Discover the power of personal narratives and let the reviews guide you on your path towards achieving your dreams of parenthood in the UAE.
---
Top FAQs about Gender Selection in UAE
Read the Faqs about the gender selection procedure in UAE.
Is Gender Selection legal in the United Arab Emirates (UAE)?
Yes, Gender Selection is completely legal in the UAE, and there are no laws prohibiting the procedure.
What are the methods used for Gender Selection in UAE?
The common methods used for Gender Selection in UAE include preimplantation genetic testing (PGT), sperm sorting, and Ericsson method.
Are there any criteria or requirements for undergoing Gender Selection in UAE?
Each clinic may have its own set of criteria, but generally, couples should be in good health and have a valid medical reason or family balancing desire for Gender Selection.
How much does Gender Selection typically cost in UAE?
The cost of Gender Selection in UAE can vary depending on the clinic and the specific services included, but it typically ranges around $10,000.
What is the success rate of Gender Selection in UAE?
The success rate of Gender Selection in UAE can vary depending on factors such as the age of the mother, the clinic's expertise, and the chosen method. Success rates can typically range from 80% to 95%.
Are there any potential risks or side effects associated with Gender Selection?
While Gender Selection itself is a safe procedure, there are some risks associated with fertility treatments in general, such as a higher chance of multiple pregnancies or the potential for complications during the IVF process. It is important to consult with a fertility specialist who can provide personalized information and guidance based on your specific situation.
---
Top Fertility Specialist in UAE for Baby Gender Selection
Discover the creme de la creme of fertility specialists in the United Arab Emirates (UAE) who excel in the field of Baby Gender Selection. These renowned experts possess a wealth of knowledge and experience, ensuring that your journey towards achieving your desired family balance is guided with utmost care and expertise. With their comprehensive understanding of reproductive medicine, these top fertility specialists provide personalized consultations, advanced diagnostic assessments, and tailored treatment plans to meet your unique needs.
With their exceptional skills and dedication to excellence, these specialists are committed to helping you navigate the process of Baby Gender Selection, making your dreams a reality while ensuring your comfort, well-being, and successful outcomes.
Dr. Muhammad Mazen Dayeh | IVF Doctor in Dubai UAE Biography of Dr. Muhammad Mazen Dayeh Dr. Muh...
---
Why Choose Fertility Treatments in UAE?
When it comes to fertility treatments, the United Arab Emirates (UAE) stands out as an exceptional destination for couples seeking professional and advanced reproductive care. With state-of-the-art facilities, renowned fertility specialists, and a supportive legal framework, there are compelling reasons why choosing fertility treatments in the UAE can be a transformative and rewarding experience.
Cutting-edge Technology: The UAE is at the forefront of medical advancements, offering access to the latest technologies and techniques in fertility treatments. State-of-the-art clinics and facilities equipped with advanced laboratories ensure the highest standards of care.
Highly Qualified Specialists: The UAE attracts world-class fertility specialists who bring extensive expertise and experience to the field. These professionals are renowned for their dedication to personalized care, ensuring that every couple receives tailored treatment plans and compassionate support throughout their fertility journey.
Diverse Range of Treatments: From basic fertility evaluations to advanced procedures like in vitro fertilization (IVF), intracytoplasmic sperm injection (ICSI), and preimplantation genetic testing (PGT), the UAE offers a comprehensive array of fertility treatments to address various needs and challenges.
Supportive Legal Framework: Fertility treatments, including gender selection, are legally allowed in the UAE, providing couples with the freedom of choice. The supportive legal environment ensures peace of mind for those seeking assisted reproductive technologies.
Multicultural and Multilingual Environment: The UAE is known for its multicultural society, welcoming people from all over the world. Fertility clinics in the UAE offer services in multiple languages, making communication easier and more comfortable for international patients.
Wellness and Lifestyle Amenities: The UAE is renowned for its world-class hospitality and luxurious lifestyle amenities. While undergoing fertility treatments, couples can enjoy a range of wellness and relaxation options, helping to alleviate stress and enhance the overall experience.
With its cutting-edge technology, highly qualified specialists, diverse treatment options, supportive legal framework, multicultural environment, and luxurious amenities, the UAE emerges as a premier destination for couples seeking fertility treatments. Embark on your fertility journey in the UAE and avail yourself of the exceptional care and resources available, as you take confident steps towards building the family of your dreams.
---
Unlocking Gender Possibilities for Your Baby with Gender Selective IVF in UAE at PlacidWay!
At PlacidWay, our dedicated mission is to assist you in finding an affordable healthcare solution tailored to your precise requirements. To fulfill this objective, we have meticulously curated a comprehensive database featuring the leading fertility clinics in the UAE that provide exceptional Gender Selection services. When the time is right for you to embark on this transformative journey, we stand ready to facilitate the process by helping you secure a consultation with the finest clinics available. Reach out to us today and discover more about the remarkable opportunities for Gender Selection in the UAE!
---