Dr. Sameh Hany
Aesthetic & Regenerative Cell Therapy in Dubai, UAE at Dr. Sameh Hany Clinic
C37 Medical Hub , Al Razi Building ( No. 64 ) , Block B , 4th Floor Dubai Dubai, Dubai, UAE

Specialty:

Alternative Medicine, Anti Aging, Cosmetic/Plastic Surgery, Fertility Treatment, General Medicine, Skin Care, Stem Cell Therapy

Focus Area:

Dr. Sameh Hany Clinic | Dubai | UAE | Stem Cell Treatment for Anti-Aging | Aesthetic Surgery
Dr. Sameh Hany Profile Overview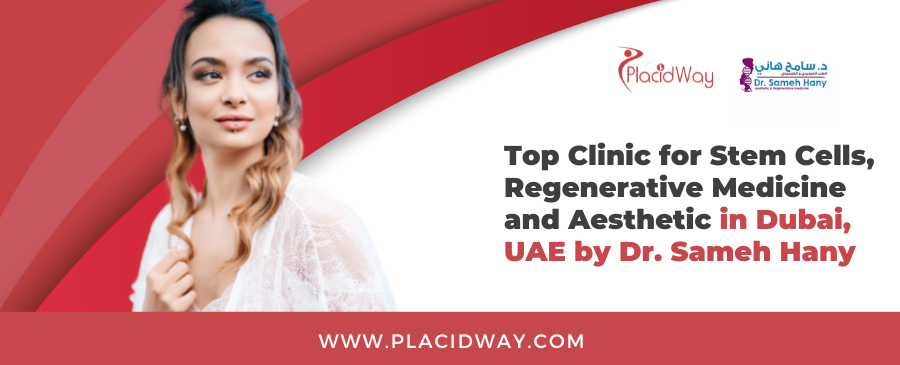 About Dr. Sameh Hany Regenerative Medicine and Aesthetic Clinic in Dubai, UAE
Dr. Sameh Hany is located in Dubai, UAE, and provides quality, safe, and effective aesthetic, anti aging treatment and stem cell therapy to local and foreign patients. Dr. Sameh Hany believes that the advances in medicine and science shall not only treat patients but also improve their general health and quality of life.
Dr. Hany has clinical practicing experience of 20 years in Egypt, the United Kingdom, and the United Arab Emirates. Focusing on Well Being, Aesthetic Medicine, Regenerative Medicine, Rejuvenation, and anti-aging with advanced studies and degrees from many reputed medical schools worldwide.
Dr. Sameh Hany's medical staff is highly experienced and certified in the diagnosis, treatment plan, and procedure of aesthetic medicine, anti-aging treatments, and stem cell therapy. They are available to assist you with any queries you may have regarding your health and wellness concerns. The clinic features a state-of-the-art medical center equipped with the latest equipment and advanced technology.
If you are considering cosmetic surgery and anti-aging treatments, Dr. Sameh Hany is experienced in administering a variety of treatments such as wrinkle reduction with fillers, skin tightening through radiofrequency, fat removal and liposuction, laser hair removal, microdermabrasion, mesotherapy, Botox and dermal fillers.
Aesthetics involve the art of making people look and feel beautiful. Dr. Sameh Hany is here to help you make the best choices for your health, beauty, and overall well-being. He strives to ensure that you leave his practice feeling beautiful, confident, and rejuvenated.
Clinic Name: Dr. Sameh Hany
Procedure: Stem Cells, Regenerative Medicine and Aesthetic
Location: Dubai, UAE
Doctor: Dr. Sameh Hany
There are numerous advantages you gain by choosing stem cell therapy treatment in Dubai, UAE at Dr. Hany clinic, such as:
Safe and effective stem cells, aesthetic and regenerative medicine

Professional stem cell doctor

Comfortable rooms and modern facilities

English-speaking medical staff

Cost-savings

Vacation in Dubai along with the surgery
Here are several procedures available at Dr. Hany clinic in Dubai UAE:
Anti-aging treatment is any preventative approach to reducing late-life pathology and the aging process.
An arm lift, brachioplasty, is an aesthetic procedure that improves the appearance of the under portion of your upper arms. Excess skin and fat are removed from the armpit and elbow during an arm lift.
Breast Augmentation or augmentation mammaplasty involves various types of implants to increase or restore breast volume.
Facelift, or rhytidectomy, improves the visible signs of aging in the face and neck area.
More commonly known as a tummy tuck, abdominoplasty provides a flatter abdomen by removing excess fat and skin from areas where excess fat causes abdominal swelling.
Hair restoration treatments are a standard method to enhance hair growth and appearance in men and women.
Stem cell therapy is a form of regenerative medicine designed to repair damaged cells within the body by reducing inflammation and modulating the immune system.
If you want to know the latest prices for aesthetic and anti aging therapy or stem cell treatment in Dubai by Dr. Hany clinic, contact our team. We provide information on aesthetic and regenerative medicine in Dubai, so you can get the accurate price for your specific procedure.

Dr. Sameh Hany is a Doctor of Medicine with a scope of practice in Aesthetic and Regenerative medicine and clinical practicing experience of 20 years in Egypt, the United Kingdom, and the United Arab Emirates. He focuses on patient well-being, aesthetic medicine, regenerative treatment, rejuvenation, and anti-aging. Here are Dr. Hany credentials:
Specialties: Aesthetic Surgery, Reconstructive Surgery, and Regenerative Medicine.
Languages: English, French, Arabic, Hindu
Studies and Certifications:
Doctor of Medicine and Surgery, MBBCH, Egypt

Membership of Royal College of Surgeons, England ( MRCS )

Fellowship of Family Medicine ( FEBFM)

International Board of Aesthetic Medicine ( IBAMS )

International Society for Stem Cells Application Certified Physician
Schedule a Consultation for

Stem Cells and Aesthetic Treatments

in

Dubai, Dubai at Dr. Sameh Hany Clinic
Highly qualified doctors at Dr. Sameh Hany clinic deliver long-lasting results by providing aesthetic and reconstructive surgery principles and stem cell treatment for their patients. Book your consultation with a qualified aesthetic and regenerative therapy clinic in Dubai, UAE today!

---
---
Reviews
Imran H

You changed my life!

Dr. Sameh Hany

May 05 2022

Spidey

You are the best doctor ever.

Dr. Sameh Hany

Jul 05 2022
---
Alternative-Medicine Related Packages