Stem Cell Therapy for COPD in Dubai UAE
Ease Your Breathing with COPD Regenerative Medicine in Dubai
Chronic obstructive pulmonary disease (COPD) is one of the world's most widespread chronic lung conditions. Categorized by persistent and not fully reversible airflow restriction with symptoms like cough, expectoration, and exertional dyspnea. Regenerative medicine focuses on relieving symptoms and improving patients' quality of life.
Stem cell therapy for COPD in Dubai, UAE, is a promising treatment to restore lung function and ease pain. If you or your loved one suffers from COPD condition, this guide provides an alternative way to deal with the disease on a daily basis. 
Let's see your options regarding regenerative medicine for COPD in Dubai.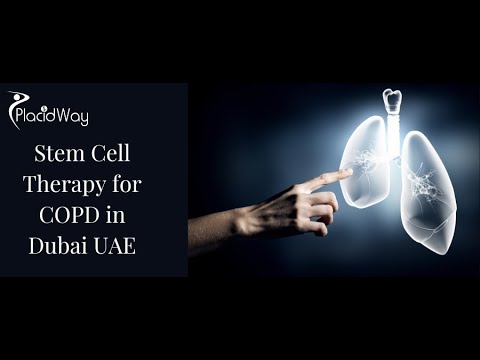 ---
Cost of Stem Cell Therapy for COPD in Dubai UAE
Stem Cell Therapy for COPD in Dubai cost can be quite affordable for Western patients. In North America and the European Union, regenerative treatment prices are over $17,000 per session.
Our recommended clinics in Dubai offer various benefits to international patients so they can enjoy a relaxing ambient during their stay and also save on treatment.
If you want to know the latest COPD stem cell prices in Dubai, contact us to get a free quote.
Stem Cell Treatment for COPD Cost Comparison in UAE

| Country | Procedure | Price |
| --- | --- | --- |
| United States | Stem Cell Treatment for COPD, Stem Cell Therapy | $20000 |
| Canada | Stem Cell Treatment for COPD, Stem Cell Therapy | $17000 |
---
Best Regenerative Medicine Clinics in Dubai UAE
World-renewed stem cell centers in Dubai boast comprehensive treatments available for local and international patients. The clinics are suitable for everyone's budget offering transparent prices, research-based stem cells, an in-house laboratory, comfortable and top-notch facilities, high standards of care, and pleasant recovery.
Friendly and English-speaking medical staff will help you relax and have a stress-free stay during the treatment. We will connect you to the clinic representative and assist you through your medical trip.
Here are the profiles of two reputable stem cell hospitals in Dubai:
Top Center
Bioscience Clinic, leader in Stem Cell Therapies and regenerative medicine, Dubai UAE. Book your appointment now with PlacidWay.
---
Stem Cell Treatment in Dubai, UAE, Reviews from Verified Patients
Waseem Hamed

Had an amazing experience after visiting Bioscience. They treat by using my own stem cells. Seamless without long procedures or pain.

Patient was treated by

Bioscience Clinic

Aug 16, 2022

Rozana Mosameh

Heard recently about stem cells and learnt about this technology at Bioscience. My doctor also recommended the same. Was freaking out during it however the fat extraction was absolutely pain free like literally pain free. Doctors, clinic and staff are beyond amazing.

Patient was treated by

Bioscience Clinic

Aug 02, 2022

Nisrine Halfya

Best place treating with stem cells, I highly recommend it.

Patient was treated by

Bioscience Clinic

Aug 24, 2022
---
Best Doctors in Dubai for COPD Stem Cell Treatment
Dubai stem cell doctors have ongoing training in the country and abroad. Their knowledge and research in regenerative medicine have helped thousands of patients to receive effective and safe stem cells for their specific conditions.
You can feel confident knowing that your health will be in good hands.
We will help you find the right Dubai doctor for your specific needs. Contact us for more information.
---
Why Should I Choose Regenerative Medicine in Dubai?
Outstanding services, world-class facilities, reputable doctors, affordable prices, and stunning scenery are the reasons to choose Dubai stem cell treatment. Thousands of medical tourists travel to Dubai to explore its wonderful attractions in addition to quality and effective regenerative therapy. The city's main airport Dubai International Airport (IATA: DXB) maintains regular daily flights across the world.
We recommend visiting some of Dubai's popular locations during your stay for stem cell therapy, including
The Underwater Zoo at The Dubai Aquarium in Dubai Mall

Mall of the Emirates with the spectacular Ski Dubai facility inside

Jumeirah Mosque

The Burj Al Arab hotel

The Burj Khalifa, the world's tallest building, 828 meters high

La Mer Beach in Jumeirah

Global Village's Culture & Entertainment

Colorful Dubai Miracle Garden
---
Your Next Step for COPD Stem Cell Treatment in Dubai UAE
If you have other concerns or more questions about Stem cell therapy for COPD in Dubai, don't hesitate to contact us for further guidance.
---