Stem Cell Therapy for COPD in Tijuana Mexico
Benefits of Stem Cell Treatment for Chronic Lung Diseases in Tijuana
If you have difficulty breathing and experience shortness of breath, chest tightness, and a chronic cough, Stem Cell Therapy for COPD in Tijuana Mexico can be a helpful alternative.
Chronic Obstructive Pulmonary Disease, known as COPD, is a group of diseases that attack the lungs and block airflow leading to breathing problems. COPD is progressive and can worsen with time, making the patient dependent on medications.
The damages caused by Chronic Lung Disease are irreversible, but the good news is that it can be controlled with proper treatments. Regenerative medicine is increasingly used to treat various conditions like COPD and improve lung function.
The benefits of stem cell treatment for COPD can vary from patient to patient depending on factors like overall health condition and medical history. Patients who have undergone this therapy say the COPD symptoms are reduced, they feel better and can breathe easily.
Let's explore what clinics in Tijuana offer and how much COPD regenerative treatment cost on average.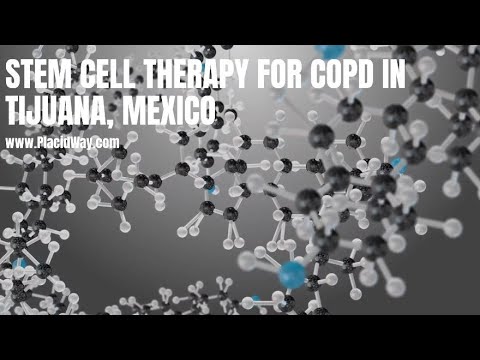 ---
COPD Stem Cells Package in Tijuana Mexico
You can book an all-inclusive regenerative treatment for COPD package in Tijuana at the price of $8,500, which includes the following services:
The procedure itself, pre and post-operative examination,
Hospital and doctor's fees,
Consultation - before and after the procedure.
This great package deal can help you save thousands of dollars on the treatment at home while enjoying a life-changing medical trip to Tijuana stress-free. See package details below or contact us for more information.
Stem Cell Treatment for COPD, Stem Cell Therapy
COPD is a lung disease in which one feels it is hard to breathe and symptoms worsen over time.. Now,
---
How Much Does Stem Cell Therapy for COPD in Tijuana, Mexico Cost?
Stem Cell Therapy for COPD cost n Tijuana $12,000 on average at our recommended premier clinics. In the USA this treatment can cost over $20,000 and in Canada $17,000 and more per session. You can get an all-inclusive regenerative treatment for lung disease in Tijuana around 50% more affordable than in your home country.
Here is the cost comparison table with more details:
Stem Cell Treatment for COPD Cost Comparison in Mexico

| Country | Procedure | Price |
| --- | --- | --- |
| Mexico | Stem Cell Treatment for COPD, Stem Cell Therapy | $12000 |
| United States | Stem Cell Treatment for COPD, Stem Cell Therapy | $20000 |
| Canada | Stem Cell Treatment for COPD, Stem Cell Therapy | $17000 |
---
Licensed Centers in Tijuana for Stem Cell Treatments
One of the main goals of stem cell therapy for the chronic obstructive pulmonary disease is to decrease the patient's symptoms to the minimum and help them improve their quality of life. Well-established clinics in Tijuana have their own in-house lab where they research and study stem cells to use them in treating various diseases.
State-of-the-art facilities for alternative treatment, like stem cell therapy in Tijuana, offer myriad conveniences for international patients. From free video consultation to post-treatment follow-up, you won't miss anything in Tijuana stem cell clinics.
The accessible location just across the US-Mexico border is another benefit you have as a patient from America and Canada. A multidisciplinary medical team supports the treatment as well as provides expertise and top-notch care.
Our partner providers in Tijuana are licensed and have permission to use autologous bone marrow stem cells in compliance with local regulations, including:
Registration at SEMARNAT;

Outpatient clinic license;

Stem cell License: Organs, tissues, and cells processing for therapeutical purposes;

Registration at CENATRA (National transplant center) and CNTS (National blood transfusion center);

The ethical committee, Transfusional, Transplant, and Research medical committee;

Executing research protocols authorized by the health department COFEPRIS (the Mexican equivalent to the FDA).
Have a look at the top 3 stem cell centers in Tijuana and their past patient reviews below:
Top Center
ProgenCell, located in Tijuana, Mexico, offers stem cell treatment with great results for ophthalmic, immunologic, neurological and metabolic diseases, along with knee injuries and Anti-aging treatments.
Top Center
Holistic Care provides best Stem Cell in Tijuana Mexico. Book online now Stem Cells, IV Therapy, and Hormone Therapy, Physiotherapy at Holistic Care.
---
---
Regenerative Treatment in Tijuana Mexico Reviews from Past Patients
---
COPD Stem Cell Treatment Cost in Tijuana FAQs
Find out more about the cost of stem cell therapy for a chronic lung disorder in Tijuana and see how much you can save.
How much does Stem Cell Treatment for COPD cost in Tijuana, Mexico?
Show More
The price for Stem Cell Treatment for COPD in Tijuana, Mexico starts at $9500. Anyway, the final price will be established after the stem cell medical team will examine you and will determine exactly what type of procedure you need, how long it will take and what supplies and equipment will be used.For Stem Cell Treatment for COPD each patient will to be treated with care, confidentiality, and attention, with a treatment plan developed according to his/her needs and budget. In Tijuana you can find modern technology, top-notch Stem Cell Therapy and highly professional teams of experts performing Stem Cell Treatment for COPD.Luckily, most Stem Cell Therapy clinics in Tijuana, Mexico offer their international patients comprehensive treatment packages at affordable prices. Some of them also include accommodation options and transportation from the airport.Finding the right Stem Cell Treatment for COPD doctor for you in Tijuana, Mexico can be quite a challenge. Here are some questions that you can ask the Stem Cell Therapy clinic to make sure that they are the best choice for you.How many years of experience do you have performing Stem Cell Therapy?Are you a member of any Stem Cell Therapy association or society in Mexico?Which is the success rate?How often have you performed Stem Cell Treatment for COPD?What are the advantages and disadvantages of Stem Cell Treatment for COPD at your medical center? Can you tell me more about the risks and complications?Are you certified to perform Stem Cell Treatment for COPD?What if I am not happy with the Stem Cell Treatment for COPD results?What should I expect after the Stem Cell Treatment for COPD?Mexico is among the top choices for Stem Cell Therapy. Medical tourists from all over the world travel here to take advantage of the affordable prices, top doctors, modern clinics and research centers as well as the beautiful touristic attractions.Below you can find some of the best Stem Cell Therapy in Tijuana, Mexico that offer most affordable price for Stem Cell Treatment for COPD.Find out more about the best Stem Cell Treatment for COPD in Tijuana, Mexico! Contact us and choose the best Stem Cell Therapy doctor!DisclaimerStem Cell Therapy is still an experimental treatment. Any information related to stem cell therapy provided in this website is for educational purposes only. It is not intended to replace a consultation with a licensed physician nor be construed as medical advice or any emergency health need you may be expecting.
---
Stem Cell Specialist in Tijuana Mexico for COPD Treatment
Tijuana is home to some world-recognized stem cell specialists with international degrees and ongoing training. They offer regenerative treatment to patients worldwide at competitive prices and with compassionate care.
We will connect you with the best stem cell physicians in Tijuana so you can discuss your options via a video call. In the meantime, view the credentials of our highly qualified regenerative medicine health provider in Tijuana below:
Dr. Suye Suenaga | Stem Cell Doctor in Tijuana Mexico by Holistic Care Biography of Dr. Suye Suen...
---
Consider Exploring Beautiful Tijuana Before or After COPD Stem Cell Treatment
Not only is close to the USA, but Tijuana also offers a unique experience of top-quality medical care in reputable centers at affordable prices. For this reason, thousands of American and Canadian patients travel to Tijuana for effective stem cell therapy, cost-saving, and relaxing holiday, which is great for your recovery after the treatment.
Tijuana is a US-Mexican border town that resembles a typical American town. It is urban, modern, and innovative, with a touch of Mexican history and culture.
With a plethora of numerous places worth seeing, here are some most-visited Tijuana tourist spots:
Tijuana Cultural Center

Avenida Revolucion

El Trompo

Pasaje Rodriguez

El Popo Market

Playas de Tijuana

Ensenada

Plaza Santa Cecilia

Zona Rio
---
Book Stem Cell Therapy for COPD in Tijuana, Mexico Through PlacidWay
Restore your lung function, and improve overall health and breathing with Regenerative Medicine for COPD in Tijuana, Mexico.
We have shared with you important information on reputable centers and doctors, as well as the cost of COPD stem cells in Tijuana. Now it's your turn to contact our team and book your treatment for chronic lung disease to feel healthier and save 50% on prices back home.
---