Breast Lift in Antalya Turkey
Choose Mastopexy in Antalya for a More Youthful Breast Contour
Want to improve your physical appearance with breast lift surgery? You should consider having Breast Lift in Antalya Turkey to achieve your aesthetic goals.
Breast lift, or mastopexy, is a cosmetic surgery that lifts, reshapes, and tightens your boobs to the desired look. It can also improve asymmetry and other imperfections by lifting droopy breasts.
Highly experienced plastic surgeons in Antalya are trained to provide positive results with the latest techniques and quality materials. Luckily, Antalya has numerous expert doctors and high-end clinics where you can have your breast lifts done at a low cost.
Besides, if you want to stay on vacation in this stunning summer resort, you can explore your tourist options with our help. Also, you'll be able to compare the costs and choose the best clinic for mastopexy in Antalya, Turkey.
So, keep on reading to learn more!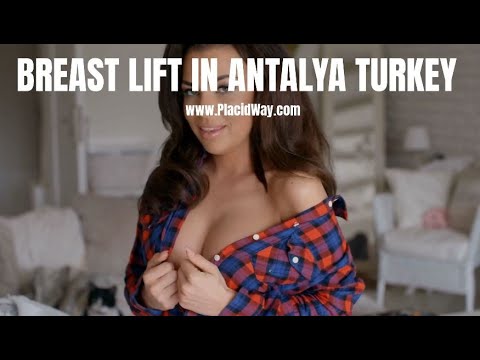 ---
Affordable Breast Lift Package in Antalya Turkey
You can have an amazing vacation along with effective breast lift surgery in Antalya by booking our top package deal at the price of just $2,600.
This package price includes:
All hospital fees with night stay
Pre and post-operative consultations
All medical fees (doctor fees, anesthesiologist and nursing staff)
Post-surgery garment
Contact us to get our exclusive package for mastopexy surgery in Antalya today!
Do you wish for larger, more firm breasts? Choose this affordable breast lift surgery package in Ant
---
What is the Cost of Breast Lift in Antalya Turkey?
Breast lift in Antalya is more affordable option for western patients. For example, you'll pay $2,800 on average for breast lift surgery in Antalya while in the UK or US it costs over $7,000. Antalya is up to 60% cheaper solution to have your mastopexy surgery.
In addition, you'll experince wonderful holiday before the surgery in this top-rated Turkish tourist destination.
Compare the prices for breast lift abroad with Antalya in teh following table:
Breast Lift Centers Cost Comparison in Antalya, Turkey
| Provider | Procedure | Price |
| --- | --- | --- |
| Dr. Sibel Atalay International Clinic | Breast Lift, Cosmetic/Plastic Surgery | $3800 |
Breast Lift Cost Comparison in Turkey

| Country | Procedure | Price |
| --- | --- | --- |
| United States | Breast Lift, Cosmetic/Plastic Surgery | $7000 |
| United Kingdom | Breast Lift, Cosmetic/Plastic Surgery | $7598 |
| Germany | Breast Lift, Cosmetic/Plastic Surgery | $7215 |
---
Best Cosmetic Clinics in Antalya for Breast Lift Surgery
It is not easy to find the right clinic where you'll have a risk-free cosmetic surgery. Fortunately, PlacidWay team has selected top 6 clinics in Antalya for breast lift surgery based on past patient reviews, accreditation, services, and certified doctors.
Read more about best plastic surgery clinics in Antalya in the following links:
---
---
Cosmetic Surgery in Antalya Turkey Reviews from Happy Patients
---
Best Cosmetic Surgeons in Antalya for Breast Lifts
Some of the Turkish best plastic surgeons are located in Antalya. They offer competitive prices with the same quality of care as you would fins in more developed countries. Antalya doctors utilize the same technology and equippemnt in cosmetic procedures as their collegues abroad.
They are also members of world-recognized organizations such as Turkish Plastic Reconstructive Aesthetic Surgery Association.
Here are the profiles of top 4 Plastic, Aesthetic and Reconstructive Surgery specialists in Antalya:
---
Why Travel to Antalya for Breast Lift Surgery?
You should consider breast lift in Antalya because its affordable, high-quality, and gives you the opportunity to enjoy a soothing vacation in excellent Mediteranean climate. Antalya is also a famous tourist resort. With its crystal clear sea, white-sand beaches, and numerous attractions, Antalya will certenly amaze you.
Therefore, we recommend you explore Antalya's top locations such as:
Kaleici - The old city of Antalya

Lower Duden Waterfall

Kursunlu Waterfalls

Sapadere Kanyonu

Konyaalti Beach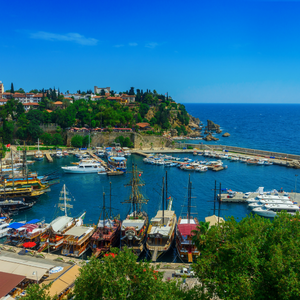 Marina of the old town Kaleici - Antalya, Turkey
---
How to Book Breast Lift in Antalya Turkey?
Contact our Customer Care team to book your breast lift surgery in Antalya and save 60% on US and UK price. Get a more lifted, firmer bosom appearance and explore this stunning city on the Mediteranean coast!
---