---
Phone Calls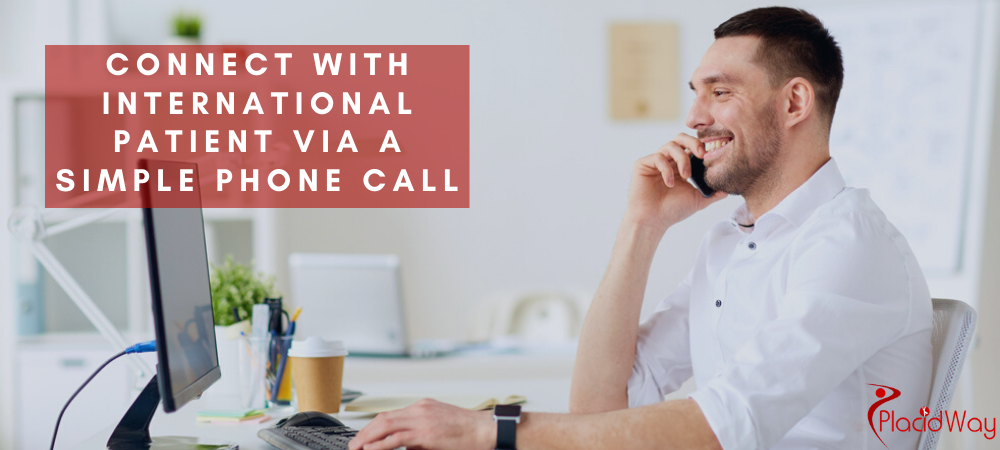 Connect with international patient via a simple phone call
In medical tourism providing remote consultation is an essential part of the patient journey. With new technologies many patients prefer email, chat or text messaging. We continue to see calling and talking to patients build additional TRUST!
Increase your patient conversion by connecting with patients via live phone call.
PlacidWay integrated Phone support offers:
Free international calls - access to worldwide patient base via phone
Mobile and web browser enabled - use any media to connect with your customers
Validated phone numbers - pre-validated numbers to reach qualified patients
Recorded calls - bring transparency and reduce mis-communications with patients
Fully integrated - all patient communications in one place for better patient journey management
You will see many benefits:
Personalized customer service experience - make them feel comfortable with their medical travel
Free calls - call international customers without worrying about the cost of each call
Understanding customers needs - better understand what customer is looking for
Improve your customer service - listen to recorded call to see how's customer experience
Differentiate yourself - you can gain competitive advantage by taking extra step to connect with your customers
Improve patient conversion - build trust with warmth needed in healthcare
Phone calls are personal in nature and provides a great opportunity for you to capture your customer's interest. Make sure to let your voice be heard and make each patient experience count.
Exclusive Offer:
| | |
| --- | --- |
| $60 monthly subscription | $600 for annual subscription (save $120) |
| | |

Terms and Conditions:
The monthly subscription fee shall be charged via automatic Credit Card/PayPal payment.
Annual subscription payment has to be settled within 7 days upon receipt of the invoice.
Cancellation of subscription will remove access to the phone functionality