Best Package for Mommy Makeover in Cali, Colombia - $7,500
Treatment:
Cosmetic/Plastic Surgery, Mommy Makeover
Focus Area:
Mommy Makeover in Cali, Colombia | Liposuction | Tummy Tuck | Face Lift | Cosmetic Procedures | Breast Augmentation | Plastic Surgery | cuanto cuesta un mommy makeover en colombia
---
Best Mommy Makeover Package in Cali, Colombia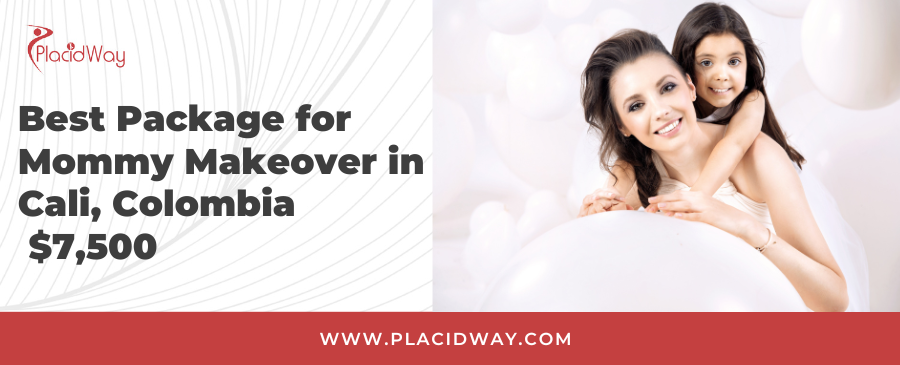 Mommy Makeover  have become increasingly popular in recent years as more and more women seek to restore their pre-pregnancy bodies. A Mommy Makeover is a combination of procedures that are performed in order to address the common concerns that arise after having children. These concerns can include loose skin, stretch marks, excess fat, and a loss of breast volume. In most cases, a Mommy Makeover will involve some combination of a Breast augmentation, Tummy tuck, and Liposuction.
The Mommy Makeover is typically performed as a single surgery, although in some cases it may be necessary to stage the procedures over the course of two or more surgeries. Mommy Makeovers are becoming increasingly popular in Colombia as women seek to regain their confidence after having children. Dr. Patricia Betancourt is one of the leading Mommy Makeover surgeons in Cali, Colombia and has helped countless women achieve their desired results.
Benefits of Mommy Makeover in Cali, Colombia
Multiple surgeries at the same time

Dramatic effect

Better skin tone

Reduced body weight

Enhanced cleavage

Removal of stretch marks

Perfect body proportion

Boosts confidence
Mommy Makeover Cost in Cali, Colombia
The cost of Mommy Makeover in Cali, Colombia starts from $7,500. The package cost depends on the number of procedures chosen for mommy makeover.
| | |
| --- | --- |
| Country | Cost |
| Cali, Colombia | $7,500 |
| United States | $20,000 |
| Canada | $21,500 |
Mommy Makeover Package Inclusions in Cali, Colombia
All pre-operative testing and exams

All related surgical costs: surgeons, anesthesia, equipment, nursing care

Medication while at the hospital

Consultations (Pre and Post-operative)

Postoperative garment
Mommy Makeover Package Exclusions in Cali, Colombia
Airfare.

Preoperative lab work.
List of Required Pre-op Tests for Mommy Makeover:
Complete blood count

PT

PTT

Glucose

Urea and creatinine

Fibrinogen
Note: Has to be done at least 15 days prior to surgery.
What is Tummy Tuck?
Tummy tuck surgery ( or abdominoplasty ) is conducted to flatten the abdomen by the reduction of extra fat and skin and tightening of the muscles of the abdominal wall. Individuals are selected carefully for this treatment as it is a major operation. In the case of a woman wanting to undergo a tummy tuck following pregnancy, it is suggested that she wait until she has had her last child. If you wish to have the surgery done to take out excess skin and fat after major weight-loss, it is advisable to have reached your ideal weight before undergoing surgery.
What is Liposuction?
Liposuction is a type of cosmetic surgery designed to help remove excess fat deposits from certain areas of the body. Women are more apt to consider liposuction than men, as it helps to improve proportion, body contours, and most importantly, self-image and confidence. Liposuction is also known as lipoplasty and can be performed on an outpatient basis.
What is Breast Augmentation?
Breast augmentation is considered to be relatively minor but a very effective cosmetic surgery procedure. Although it is technically rather simple, this operation requires the surgeon's sense of proportion and shaping.
Why Choose Cali Colombia for Mommy Makeover?
Mommy Makeover in Cali, Colombia are becoming increasingly popular for a number of reasons. First, the cost of Mommy Makeovers in Cali is a fraction of what it would be in the United States. Second, the quality of care is excellent. Third, the Mommy Makeover surgeons in Cali are highly skilled and experienced.Fourth, the Mommy Makeover surgery can be done in just one day. And lastly, there is no need to take time off from work or school since Mommy Makeover surgery is an outpatient procedure. All of these factors have contributed to making Mommy Makeovers in Cali, Colombia an attractive option for mothers who want to regain their pre-pregnancy body.
Check out this amazing Mommy Makeover package in Cali, Colombia now!

Related Experiences:
Mommy Makeover in Colombia
Mommy Makeover in Croatia
Mommy Makeover in Mexico City, Mexico
Mommy Makeover in Guadalajara, Mexico
Mommy Makeover in Antalya, Turkey
Mommy Makeover in Merida Mexico
---
---