Breast Implant Package in Cancun, Mexico by Dr. Samano
Package price starting from:
$4600
Treatment:
Cosmetic/Plastic Surgery, Breast Implants
Location:
Pabellon Caribe, Av Nichupte #22 1st floor suite 110, Mexico
Focus Area:
Dr Victor Samano Plastic Surgery | Cancun | Mexico | Breast Implants
---
Affordable Breast Augmentation in Cancun, Mexico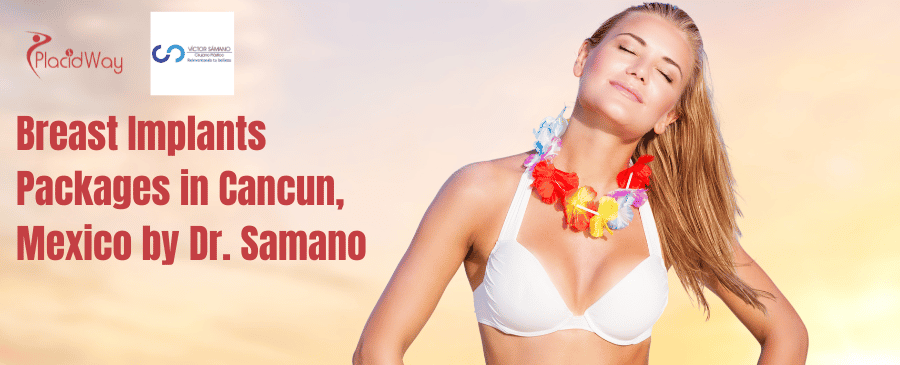 Are you considering breast augmentation? Looking for a reliable and affordable option? Look no further! Dr. Victor Samano, a renowned plastic surgeon in Cancun, Mexico, offers comprehensive breast implant packages that are designed to enhance your beauty and boost your confidence. With Dr. Samano's expertise and the picturesque backdrop of Cancun, you can achieve your desired results while enjoying a relaxing vacation in one of Mexico's most popular tourist destinations.
Dr. Victor Samano is a board-certified plastic surgeon with extensive experience in performing breast augmentation surgeries. He is known for his meticulous attention to detail and patient-centered approach, ensuring that each individual receives personalized care and achieves their desired aesthetic goals. With his expertise and the state-of-the-art facilities at his clinic, you can trust that you are in capable hands throughout your breast implant journey.
You can get breast implants packages in Cancun, Mexico by Dr. Samano with the price starts at $4,600. Check our price list table below to learn more:
| | |
| --- | --- |
| City, Country | Cost in USD |
| Cancun, Mexico | $4,600 |
| United States | $9,000 |
| Canada | $10,000 |
Note: price may change and vary depends on complexity of procedures and patient conditions. Click FREE QUOTE button below for more information:

Cost-effective Packages: Breast implant packages offered by Dr. Victor Samano in Cancun provide excellent value for money. Compared to other countries, the prices are significantly lower without compromising on quality or safety. You can save up to 60% on the total cost, including the procedure, accommodation, and post-operative care.
World-Class Medical Facilities: Cancun is home to modern medical facilities that adhere to international standards. Dr. Samano's clinic is equipped with advanced technology, ensuring that you receive the highest level of care. From pre-operative assessments to post-operative follow-ups, you can expect exceptional medical services throughout your journey.
Highly Skilled Surgeon: Dr. Victor Samano is a highly skilled and qualified plastic surgeon with a track record of successful breast implant procedures. He combines his expertise with the latest surgical techniques to deliver natural-looking results. Rest assured that you will be in the hands of a talented professional who prioritizes your safety and satisfaction.
Recovery in Paradise: What better place to recover from your breast augmentation surgery than in Cancun? Known for its stunning beaches and warm climate, Cancun offers the perfect backdrop for relaxation and rejuvenation. You can unwind and enjoy the serene surroundings while taking care of your recovery under the guidance of Dr. Samano.
Combining Vacation and Treatment: Opting for breast implants in Cancun allows you to have a memorable vacation experience while achieving your aesthetic goals. Take advantage of the world-class resorts, explore the rich cultural heritage of Mexico, and indulge in delicious cuisine. By choosing treatment in Cancun, you can enhance your appearance and create unforgettable memories.
Breast implants are medical devices used in cosmetic and reconstructive surgery to enhance the size and shape of a person's breasts. They are typically made of a silicone outer shell filled with either silicone gel or saline solution. Breast augmentation, also known as breast enlargement, is the most common cosmetic procedure where implants are used to increase the size and fullness of the breasts. Additionally, breast implants can be employed in breast reconstruction surgeries following mastectomy or other breast-related medical conditions. The choice of implant type, size, and placement depends on individual preferences, body anatomy, and the surgeon's recommendations. It is essential for patients considering breast implants to thoroughly discuss their expectations and concerns with a qualified plastic surgeon to make informed decisions about the procedure.
Breast Implant in Cancun, Mexico Before and After Images
Get transformative world of breast surgery in Cancun, Mexico, where Dr. Victor Samano's expertise shines brightly. As a highly skilled plastic surgeon with a focus on Breast Surgery, his precision and artistry have brought confidence and happiness to countless patients. From breast augmentations to reconstructive procedures, Dr. Samano's work showcases exceptional results that empower and inspire. To witness the remarkable before and after images of Breast Implants, check below image: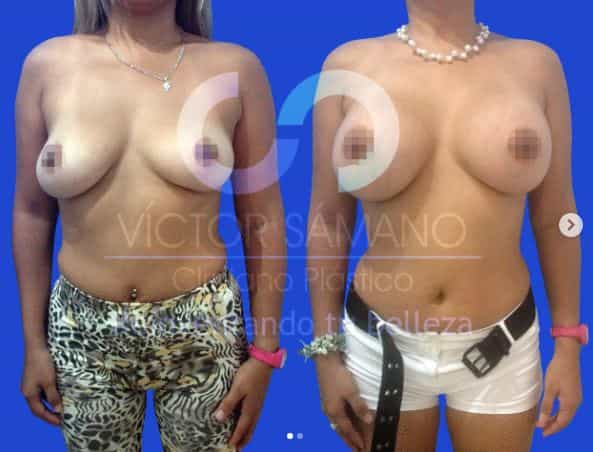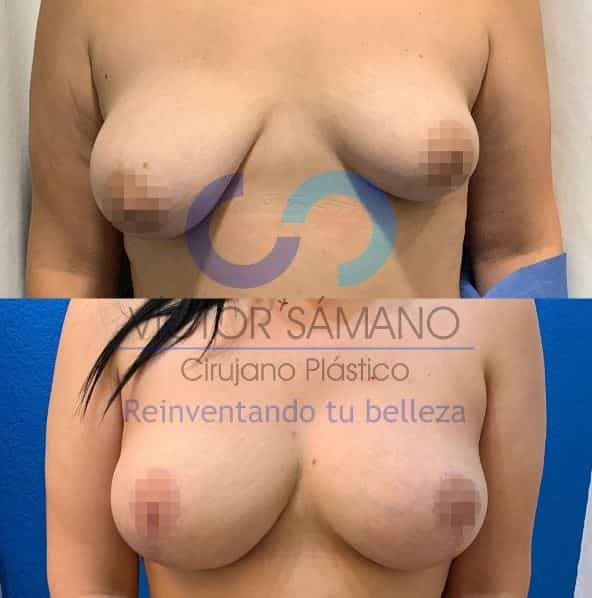 The average cost for this procedure is $4,500 and includes:

Certified Hospital

Use of Operation Room

Use of post-anesthesia room

Surgeon Fees

Anesthesiologist Fees

Surgical Helper Fees

Airport pick up & Aiport drop off

Round transportation for surgery & appointments

1 Box of antibiotics

1 Box of pain killers

1 Box of antinflamatory

Blood work

1 compression Garment (1)

Nurse visit to your hotel for follow up (3)

All follow up appointments with surgeon at the office
Travel expenses to and from Cancun

Additional medical tests beyond the specified pre-operative tests

Personal medication and post-operative garments

Extended hospital stays, if required

Complications arising from pre-existing medical conditions
Breast Implants Pre-Op Tests:
Blood tests

Mammogram or breast ultrasound

Electrocardiogram (EKG)

Physical examination and medical consultation

Imaging tests, such as MRI or CT scan, if necessary
Dr. Victor Samano is a highly skilled and renowned plastic surgeon based in Cancun. With an impressive array of specializations, including Plastic and Reconstructive Surgery, Hair Transplant Surgery, Cosmetic Surgery, and Breast Surgery, he has garnered a reputation as a leading expert in his field. Fluent in both English and Castellano, Dr. Samano is adept at communicating with a diverse range of patients from around the world.
Breast Implant Surgeon in Cancun, Mexico

• The Mexican Board of Plastic, Reconstructive and Aesthetic

• The Ibero - Latin American Federation of Plastic Surgery

• The International Society of Aesthetic Plastic Surgery
Q: Are breast implants in Cancun, Mexico safe?
A: Yes, breast implants in Cancun, Mexico are safe. Dr. Victor Samano, a renowned plastic surgeon, follows international safety protocols and uses high-quality implants. The medical facilities in Cancun are modern and adhere to stringent standards, ensuring your safety throughout the procedure.
Q: What is the recovery process like after breast implant surgery in Cancun?
A: After breast implant surgery in Cancun, you will need some downtime for proper recovery. Dr. Victor Samano will provide post-operative instructions to guide you through the healing process. It is recommended to avoid strenuous activities and follow a customized recovery plan to ensure optimal results.
Q: How long do breast implants last?
A: Breast implants have a long lifespan, but they are not considered lifetime devices. On average, breast implants can last for 10 to 20 years, depending on various factors such as implant type, individual factors, and lifestyle. Regular check-ups and monitoring by your plastic surgeon are essential to ensure the longevity and well-being of your implants.
Q: Can I combine my breast implant surgery in Cancun with a vacation?
A: Absolutely! One of the advantages of choosing breast implant surgery in Cancun is the opportunity to combine it with a vacation. Cancun offers stunning beaches, luxury resorts, and a vibrant culture to explore during your recovery period. However, it's important to follow the post-operative guidelines provided by your surgeon and avoid activities that may interfere with your healing process.
Why Choose Breast Augmentation in Cancun, Mexico?
Cancun offers a unique combination of world-class medical facilities, affordable prices, experienced surgeons, and a beautiful vacation destination. By choosing breast implant treatment in Cancun, you can access top-notch healthcare, achieve your desired aesthetic results, and enjoy a memorable vacation experience. Dr. Victor Samano's expertise and the comprehensive packages available make it an ideal choice for individuals seeking quality cosmetic procedures at an affordable cost.
Ready to embark on your breast implant journey in Cancun, Mexico with Dr. Victor Samano in Cancun? Take the first step by booking your consultation through PlacidWay. Their dedicated team will assist you in scheduling your consultation with Dr. Victor Samano, answering your queries, and guiding you through the entire process. To book your consultation and begin your transformational journey, click contact us button below:

Related Experiences:
Breast Implant in Cancun, Mexico
Breast Implants in Guadalajara, Mexico
Breast Implants in Mexico City
Breast Implants in Mexicali, Mexico
Breast Implants in Merida, Mexico
Get Breast Implants in Mexico at Affordable Cost!
---