Mommy Makeover Package by Medica Siluet in Tijuana, Mexico
Package price starting from:
$10500
Treatment:
Cosmetic/Plastic Surgery, Mommy Makeover
Location:
Calle Cristobal colon #930 col. Centro Codigo postal 22000, Tijuana, Mexico, Mexico
Focus Area:
Medica Siluet | Tijuana | Mexico | Mommy Makeover
---
Unlock Your Beauty Potential with MMO in Tijuana, Mexico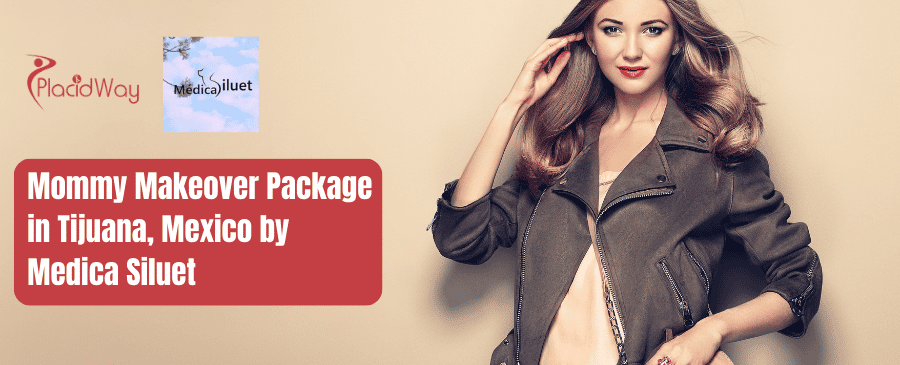 Are you a mother longing to regain your pre-pregnancy body? Look no further! Medica Siluet in Tijuana, Mexico offers an exceptional Mommy Makeover Package to help you achieve your dream transformation. With their experienced team of surgeons and state-of-the-art facilities, Medica Siluet is dedicated to providing top-notch care and delivering outstanding results. Explore the comprehensive package for MMO in Tijuana, Mexico below to learn more:
You can get mommy makeover package in Tijuana, Mexico by Medica Siluet with the price starts at $10,500. Click free quote button below to learn more:
| | |
| --- | --- |
| City, Country | Cost in USD |
| Tijuana, Mexico | $10,500 |
| United States | $20,000 |
| Canada | $28,000 |
Note: price may change and vary depends on complexity of procedures and patient conditions. Click free quote button below to learn more:

Cost-effectiveness: Tijuana, Mexico is renowned for its affordable medical services. Opting for a Mommy Makeover in this city can save you a significant amount of money compared to other countries, without compromising on quality.
Highly skilled surgeons: Medica Siluet boasts a team of experienced and board-certified surgeons who specialize in Mommy Makeover procedures. Their expertise combined with the latest techniques and technologies ensures optimal results.
State-of-the-art facilities: Medica Siluet maintains modern, well-equipped facilities, adhering to international standards. From advanced operating rooms to comfortable recovery spaces, their facilities are designed to provide a safe and pleasant experience.
Convenient location: Tijuana is easily accessible from various parts of the United States and Canada, making it a convenient choice for patients seeking a Mommy Makeover. Short travel distances and straightforward border crossings add to the overall convenience.
Privacy and relaxation: Tijuana offers a peaceful environment for recovery, away from the hustle and bustle of major cities. Patients can enjoy privacy, tranquility, and access to beautiful landscapes while they heal and rejuvenate.
Mommy Makeover in Tijuana, Mexico Before and After Images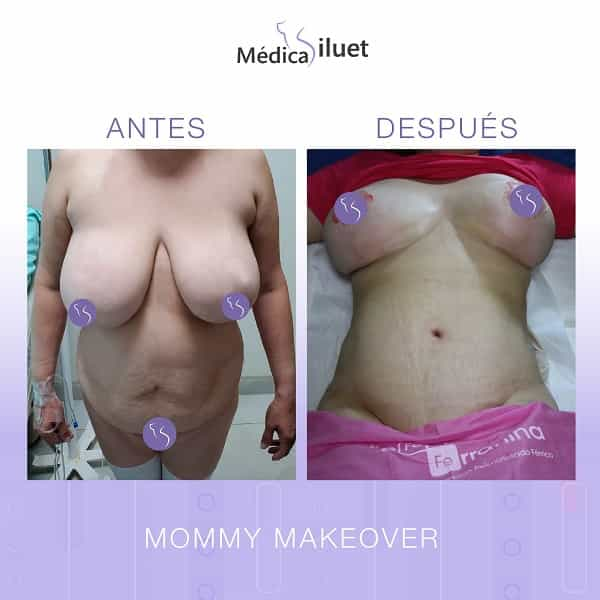 Mommy Makeover - Lipectomy + Liposculpture + Breast Lift with Implants

Surgeon's Fee

Anesthesia Fee

Operating Room

Nursing Care

1 night in the hospital

4 post operative follow ups

Garment

Pre laboratories tests

Cardiologist
Airfare: Patients are responsible for booking their own flights to and from Tijuana. However, Medica Siluet can assist with providing information on nearby airports and transportation options for your convenience.
Hotel/Accommodations: While Medica Siluet includes comfortable accommodation during your stay in Tijuana as part of the package, any additional nights or extended stays beyond the package duration may incur extra costs.
Post-op medications: The package typically covers medications prescribed by the surgeon for the immediate post-operative period. These medications are essential for managing pain, reducing swelling, and promoting a smooth recovery.
Mommy Makeover Pre-operative Tests:
Blood tests: A comprehensive blood analysis helps evaluate your overall health and identify any potential risks or abnormalities.
Imaging tests: Various imaging tests, such as ultrasound or mammography, may be performed to assess breast health and guide surgical planning.
ECG/EKG: An electrocardiogram (ECG/EKG) measures the electrical activity of your heart, ensuring your safety during surgery.
Medical history review: The medical team carefully reviews your medical history to understand your unique health profile and make informed decisions.
Physical examination: A thorough physical examination is conducted to assess your overall fitness for the Mommy Makeover procedure and address any concerns.
Dr. Enrique Pantaleon is a highly skilled MMO plastic surgeon based in Tijuana, Mexico. He embarked on his medical journey by studying at UNAM and successfully completing his degree in 1986. Dr. Pantaleon's passion for women's health led him to specialize in gynecology and oncology, which he pursued from 1987 to 1992. Recognizing the growing demand for cosmetic surgery, he further expanded his expertise by completing a postgraduate course in cosmetic surgery from 2012 to 2014. With his extensive training and dedication to providing exceptional care, Dr. Enrique Pantaleon is committed to helping patients achieve their desired aesthetic goals through advanced MMO plastic surgery techniques.
MMO Plastic Surgeon in Tijuana, Mexico

• Begin his medical studies at UNAM and thus finish his degree in 1986.

• In 1987 he began the specialty of gynecology and oncology ending in 1992

• Later in the year 2012 to 2014 she completed a postgraduate course in cosmetic surgery
Tijuana, Mexico offers a compelling combination of affordability, quality healthcare, skilled surgeons, and convenient accessibility. With Medica Siluet's renowned reputation and comprehensive package for mommy makeover, you can confidently embark on your journey to reclaim your pre-pregnancy body. Experience excellent care in state-of-the-art facilities, surrounded by the tranquility of Tijuana's landscapes.
Is Tijuana, Mexico a safe destination for Mommy Makeover surgery?
Yes, Tijuana is a safe destination for Mommy Makeover surgery. Medica Siluet follows strict safety protocols and maintains modern facilities to ensure the well-being of their patients.
How long is the recovery period after a Mommy Makeover?
The recovery period varies depending on the extent of the procedures involved in your Mommy Makeover. Generally, patients can expect a recovery period of 2 to 4 weeks before resuming normal activities.
Will there be visible scars after a Mommy Makeover?
Scarring is a natural part of any surgical procedure. However, skilled surgeons at Medica Siluet employ advanced techniques to minimize scarring and ensure discreet incisions whenever possible.
How long do the results of a Mommy Makeover last?
The results of a Mommy Makeover can be long-lasting if you maintain a healthy lifestyle and weight. However, factors such as pregnancy or significant weight fluctuations can affect the outcome over time.
Can I combine other procedures with a Mommy Makeover?
Yes, you can combine other procedures with a Mommy Makeover to address specific concerns or enhance your desired results. Consult with your surgeon at Medica Siluet to determine the best combination of procedures for your unique needs.
Book your consultation at PlacidWay Medical Tourism and start your Mommy Makeover journey with Medica Siluet in Tijuana, Mexico. Reclaim your body and boost your confidence today! Click contact us button below to get started:

Related Experiences:
Mommy Makeover in Tijuana, Mexico
Mommy Makeover in Nuevo Progreso Mexico
Mommy Makeover in Mexico City, Mexico
Mommy Makeover in Guadalajara, Mexico
Mommy Makeover in Mexico
Mommy Makeover in Merida, Mexico
---