Costamed Tummy Tuck Surgery Packages in Cancun, Mexico
Package price starting from:
$6985
Treatment:
Cosmetic/Plastic Surgery, Tummy Tuck Surgery
Location:
Carretera Federal, MZ 285, Lt 7 entre 27 y 23 Edificio Progreso Col. Ejido Sur, Playa del Carmen 77712 Playa del Carmen Quintana Roo, Mexico, Mexico
Focus Area:
Costamed Medical Group | Playa del Carmen | Cozumel | Mexico | Tummy Tuck Surgery
---
Transform Your Abdomen with Abdominoplasty in Cancun, Mexico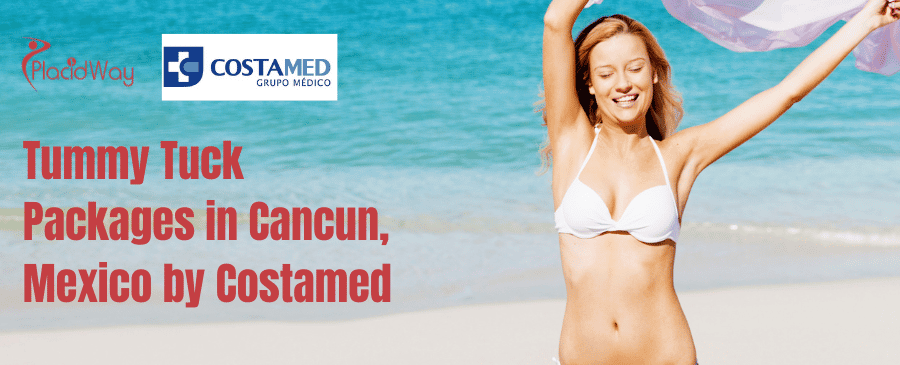 Are you considering a tummy tuck surgery to achieve a flatter, more toned abdomen? Look no further than Cancun, Playa del Carmen and Cozumel in Mexico, where Costamed Medical Group offers exceptional tummy tuck surgery packages. These popular tourist destinations not only boast breathtaking beaches but also provide top-notch medical care, making them ideal choices for your aesthetic journey.
With state-of-the-art facilities and highly experienced surgeons, Costamed Medical Group is dedicated to providing safe and successful tummy tuck surgeries. Their comprehensive packages offer not only top-tier medical expertise but also an opportunity to recover and rejuvenate in the tropical beauty of Cancun. Here are five advantages of choosing tummy tuck treatment in these cities:
You can get tummy tuck surgery packages in Cancun, Playa del Carmen and Cozumel, Mexico with the price starts at $6,985. Check our price list table below to learn more:
| | |
| --- | --- |
| City, Country | Cost in USD |
| Cancun | $6,985 |
| United States | $12,000 |
| Canada | $13,000 |
Note: price may change and vary depends on complexity of procedures and patient conditions. Click FREE QUOTE button below to learn more:

World-Class Medical Facilities: Cancun are home to modern medical facilities equipped with cutting-edge technology, ensuring that you receive the highest standard of care during your tummy tuck surgery.
Highly Skilled Surgeons: Costamed Medical Group boasts a team of board-certified plastic surgeons who have extensive experience in performing tummy tuck surgeries. Their expertise and precision guarantee exceptional results.
Competitive Pricing: Mexico offers more affordable healthcare options compared to many other countries. Costamed Medical Group provides cost-effective tummy tuck surgery packages without compromising on quality, making it an excellent choice for those seeking value for their money.
Recovery in Paradise: After your surgery, you can enjoy a serene and peaceful recovery in the stunning surroundings of Cancun. The warm climate and tranquil atmosphere provide the ideal environment to relax and heal.
Cultural Richness and Tourist Attractions: Cancun are renowned for their vibrant culture and tourist attractions. Combining your tummy tuck surgery with a memorable vacation allows you to immerse yourself in the local culture and explore the wonders of these beautiful destinations.
Check our tummy tuck package details below to learn more:
Tummy Tuck Package Details

Objective

Improve the abdomen, eliminate abdominal scars (C-section)

Areas to be treated

Abdomen

Surgery duration

2 hours

Surgery type

Major

Anesthesia

General

Hospitalization

1 night

Candidates

Women aged 30-59 who wish to improve the appearance of their abdomen after pregnancies or significant weight loss (post-bariatric) with a BMI less than 30. Men with significant weight loss and excess skin.

Discomfort

Moderate

Recovery time

3 weeks

Postoperative care

Relative rest, drains, post-surgical girdle, lymphatic drainage, ultrasound, and radiofrequency.

MEDICAL TOURISM

Arrive two days before the surgery date. Same-day admission.

Approximate fit to fly

10 days

Estimated total cost

6,985.00 USD
Note: This is an estimated price without complications.
Surgeon and anesthesiologist fees.

Post-surgical girdle included.

Includes 4 hours of operating room use,

Materials,

Medications,

Basic recovery room and assistant surgeon.

Does not include laboratory or imaging services.
Accommodation: While the tummy tuck surgery packages cover the surgical procedure and medical expenses, the cost of accommodation is not included. Patients are free to choose from a wide range of accommodation options available in Cancun, including hotels, resorts, or recovery retreats.
Transportation: The packages do not cover transportation costs to and from Cancun. However, Cancun has a well-developed transportation network, including taxis and shuttle services, making it easy to navigate the city.
Travel Insurance: It is important to have travel insurance that covers medical expenses and potential complications during your stay in Cancun. This insurance is not typically included in the tummy tuck surgery packages and should be arranged separately.
Personal Expenses: Personal expenses such as meals, sightseeing, and shopping are not included in the packages. However, Cancun offers a wide range of dining options, entertainment activities, and shopping opportunities to enhance your overall experience.
Additional Treatments: If you require any additional treatments or procedures beyond the tummy tuck surgery, they may not be included in the package price. It is advisable to consult with your surgeon for a personalized treatment plan and associated costs.
Tummy Tuck Pre-Operative Tests:
Blood work,

Physical examinations,

Imaging tests, and

Medical consultations.
Dr. Ricardo de Jesus and Dra. Idolina Michel are renowned plastic surgeons known for their expertise and experience in performing tummy tuck surgeries. With their advanced surgical skills and commitment to delivering exceptional results, patients can trust in their expertise to achieve their desired abdominal contour. Both Dr. Ricardo de Jesus and Dra. Idolina Michel prioritize patient safety and satisfaction, providing personalized care and guidance throughout the entire surgical journey.
| | |
| --- | --- |
| Dr. Ricardo de Jesus | Dra. Idolina Michel |
| | |
Why Choose Tummy Tuck Surgery in Cancun, Mexico?
Choosing tummy tuck surgery in Cancun, Mexico offers numerous advantages. The city combines world-class medical care with a tropical paradise setting, allowing you to undergo your transformation in a serene and beautiful environment. The expertise of highly skilled surgeons, modern facilities, affordability, and seamless travel experience make Cancun an appealing choice for tummy tuck surgery.
Is tummy tuck surgery painful?
While discomfort is expected after tummy tuck surgery, your surgeon will provide pain medication to manage any pain or discomfort during the recovery period. The level of pain varies for each individual, but it is generally well-controlled with proper post-operative care.
How long is the recovery period after a tummy tuck?
The recovery period after a tummy tuck surgery can vary, but most patients can expect a recovery time of around 2 to 4 weeks. During this time, you will need to follow post-operative instructions, including rest, avoiding strenuous activities, and wearing compression garments to support the healing process.
Will there be visible scarring after a tummy tuck?
Tummy tuck surgery does involve incisions, resulting in scars; however, your surgeon will make every effort to place the incisions strategically to minimize visible scarring. Over time, the scars will fade and become less noticeable, and proper scar care can further improve their appearance.
Are there any risks or complications associated with tummy tuck surgery?
As with any surgical procedure, there are risks involved. Potential complications may include infection, bleeding, poor wound healing, or adverse reactions to anesthesia. However, by choosing a skilled and experienced surgeon in Cancun, Mexico, and following post-operative instructions, the risks can be minimized.
Can I combine a tummy tuck with other cosmetic procedures?
Yes, it is common for patients to combine a tummy tuck with other cosmetic procedures such as liposuction or breast augmentation. This allows for comprehensive body contouring and can be discussed with your surgeon during your consultation in Cancun to determine the best approach for your desired results.
Ready to achieve the flatter and toned abdomen you've always desired? Book your consultation for tummy tuck surgery in Cancun, Mexico with PlacidWay Medical Tourism today and take the first step towards your aesthetic journey. Click contact us button below to get started:

Related Experiences:
Tummy Tuck in Cancun, Mexico
Tummy Tuck in Mexico City
Tummy Tuck in Mexicali Mexico – Get Better Posture Now!
Tummy Tuck in Guadalajara Mexico – Get Pre-Baby Bodies Back!
Tummy Tuck in Tijuana Mexico – Improve Your Body Shape!
Refine Your Figure with Tummy Tuck in Mexico
---