Costamed Medical Group
Leading Center for Dental, Cosmetic & Bariatric Surgery in Playa del Carmen, Mexico
Carretera Federal, MZ 285, Lt 7 entre 27 y 23 Edificio Progreso Col. Ejido Sur, Playa del Carmen 77712 Playa del Carmen Quintana Roo, Mexico, Tulum,Cancun,Playa Del Carmen,Cozumel, Mexico

Specialty:

Alternative Medicine, Anti Aging, Chronic Diseases, Cosmetic/Plastic Surgery, Dentistry, ENT, Executive Healthcheck, General Medicine, General Surgery, Gynecology Treatment, Heart Care/Surgery, Laparoscopic Surgery, Neurology, Obesity/Bariatric Surgery, Organ Transplant, Orthopedic/Knee Surgery, Pediatric Treatment, Radiology/CT Scans, Rehabilitation, Rehabilitation and Medical Spa Treatment, Robotic Surgery, Sexual Medicine and Treatment, Skin Care, Spine Care/Surgery, Sports Medicine, Urology, Vascular Surgery

Focus Area:

Costamed Medical Group | Playa del Carmen | Mexico | Bariatric Surgery | Dental Care | Cardiology | General and Laparoscopic Surgery | Plastic Surgery | Sports Medicine
Costamed Medical Group Profile Overview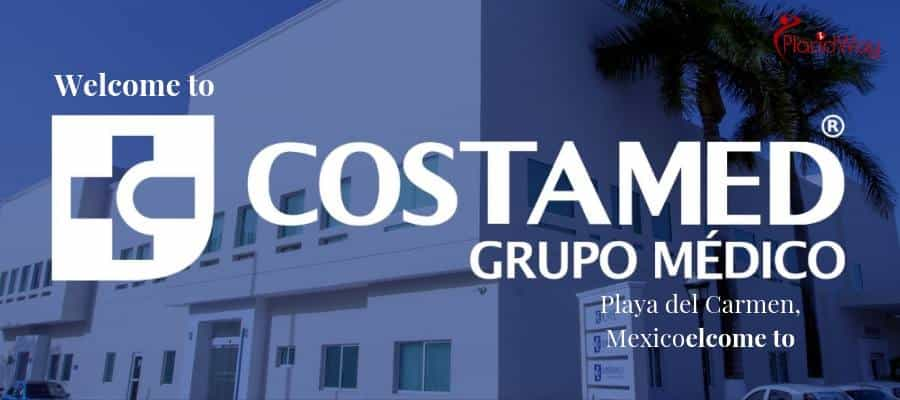 Costamed - High-end Multi-Speciality Medical Group in Playa del Carmen, Mexico
Costamed Medical Group offers high-quality healthcare services in Playa del Carmen, Mexico for local as well as international patients. They offer a wide range of services and specialties in order to provide quality medical care with cutting-edge technology. They also have the most fully equipped ambulances and the biggest fleet in the State of Quitana Roo.
The team works hard to deliver the highest standards in every service and procedure they provide to satisfy the requirements of the patients. Costamed distinguishes itself from other medical systems by providing high-quality healthcare services with a wide range of specialties.
Costamed Medical Group Hospitals are known for providing comprehensive medical care to patients with 41 different medical specialties. With hospital-based specialists and outside physicians offering telemedicine services, the group provides the best healthcare services in the Mexican Caribbean.
Whether you need bariatric surgery, dental care, cardiology, general and laparoscopic surgery, gynecology, neurology, orthopedics, plastic surgery, or sports medicine, Costamed Medical Group Hospitals have got you covered.
Average costs of Medical Treatments in Playa del Carmen, Mexico:
| | |
| --- | --- |
| Procedures | Cost |
| Dental Implants | $1,000 - $2,000 |
| Tummy Tuck | $4,000 - $7,000 |
| Breast Augmentation | $4,500 - $6,500 |
| Facelift | $5,000 - $8,000 |
| Obesity/Bariatric Surgery | $4,000 - $8,000 |
| Hair Transplant | $3,000 - $6,000 |
| IVF | $5,000 - $10,000 |
Note: Please note that these prices are just an average and can vary depending on the expertise of the doctor, and the individual needs of the patient. Click free quote button below to learn more:

Our Promise to Patients: Excellent Medical Care
At Costamed Medical Group Hospitals, we are committed to providing excellent medical care to our patients. Whether you require surgery, medical procedures, or routine medical checkups, our team of experienced doctors and healthcare professionals are here to provide the best medical care possible. We strive to exceed your expectations in every way, from our state-of-the-art facilities to our friendly and knowledgeable staff.
Comprehensive Medical Services Offered by Costamed Medical Group Hospitals
Costamed Medical Group Hospitals offer a wide range of medical services to patients. From laboratory services to endoscopy suites, from imaging and radiology to dental care, the hospitals have all the necessary facilities to provide comprehensive medical care. The adult intensive care units (ICU) are equipped with state-of-the-art critical care monitors and fans, and the hyperbaric chamber is one of the most advanced in the Mexican Caribbean and Central America. With such comprehensive medical services, Costamed Medical Group Hospitals are a leading center for medical care in Playa del Carmen, Mexico.
PlacidWay's customer representative will assist you in establishing contact with the Costamed Medical Group in Playa del Carmen, Mexico. To begin the process, please click on the "contact us" button below:

---
Costamed Medical Group, Tulum,Cancun,Playa Del Carmen,Cozumel, Mexico Profile Details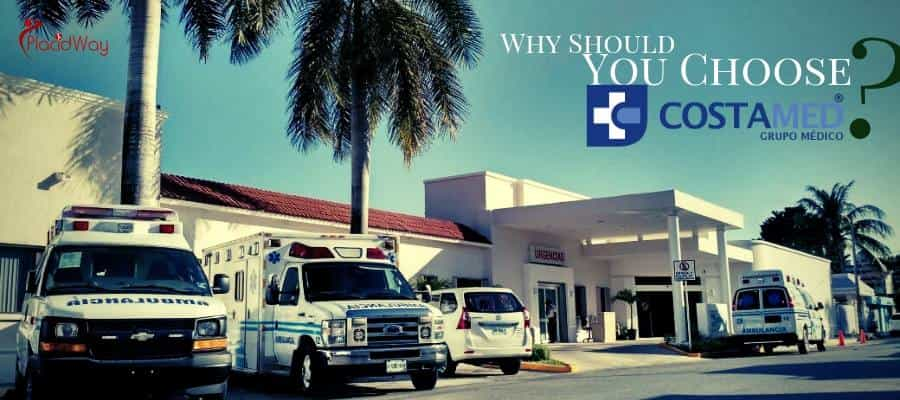 Why Choose Costamed?
The Patient Service Department of Costamed is committed to provide personalized attention and comfortable lodging to the patients. There are dedicated international bilingual advisors who assist international patients and their families throughout their stay. Even if the patient party speaks other than English or Spanish, the Patient Service Department can arrange for interpreter as well.
Apart from that, Cosmtamed's Patient Service Department helps with doctor and appointment guidance, coordination of elective and emergency medical care, advice on cost estimates, reservations for apartments, hotels and flights, insurance company arrangements and more.
For more information about the treatments and procedures at Costamed, click the button below:

---
Costamed Medical Group Treatments Offered
Before and After Breast Augmentation in Cancun, Mexico by Costamed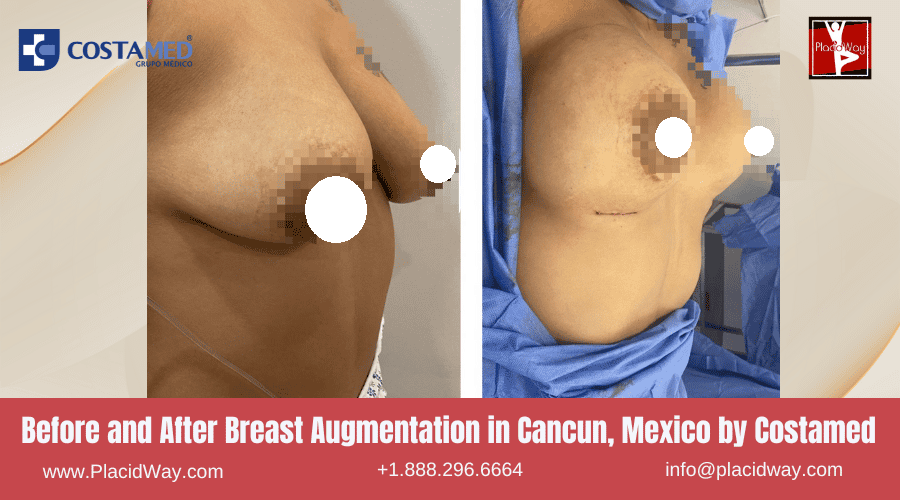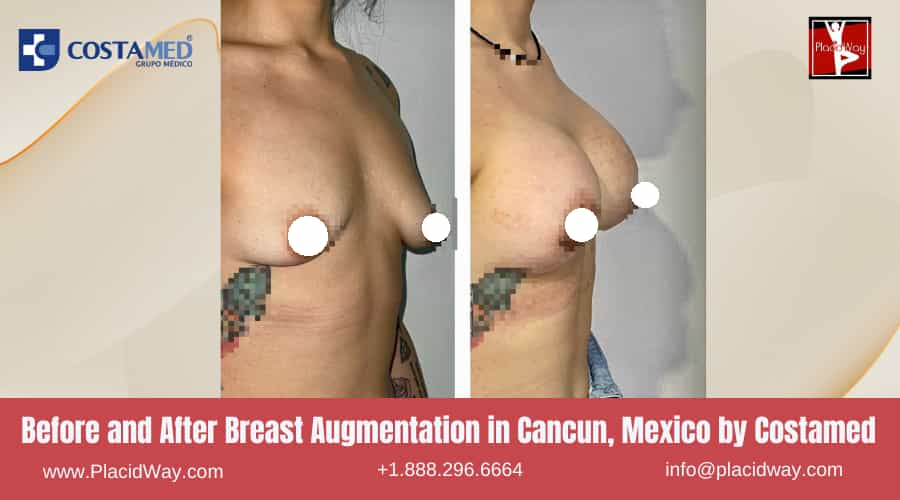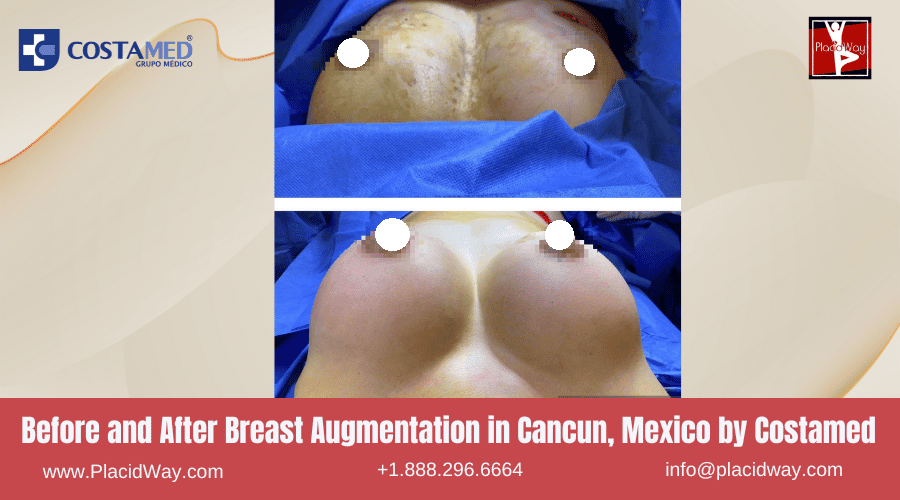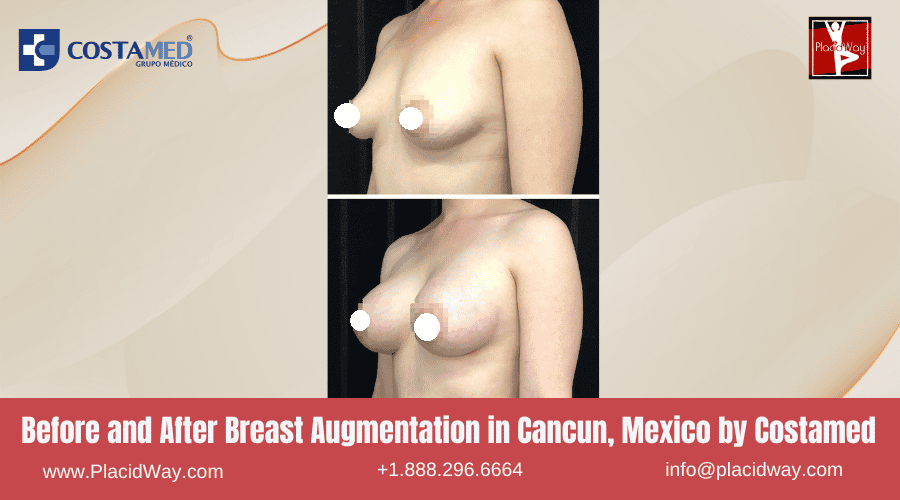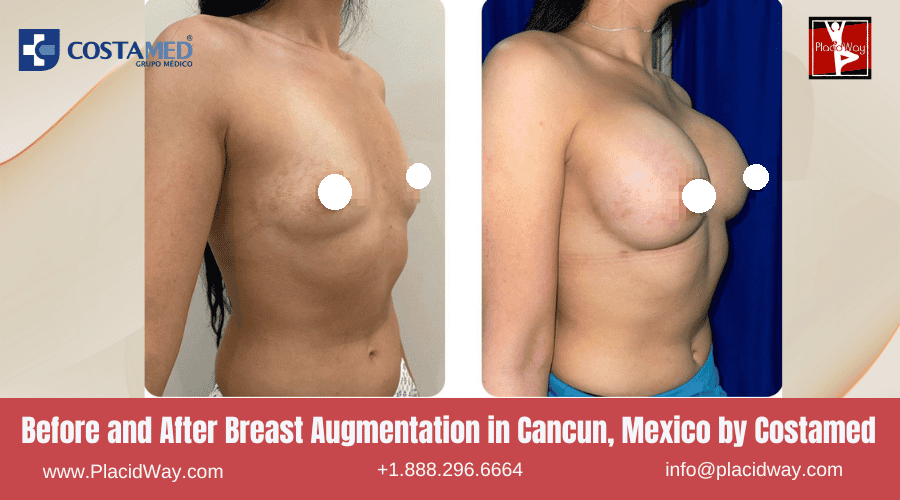 Key Treatments and Services:

---
Costamed Medical Group Certificates, Accreditations, Qualifications
Meet Our Experienced and Qualified Medical Team
The medical team at Costamed Medical Group Hospitals comprises experienced and qualified doctors who specialize in various medical fields. From Dr. Ricardo de Jesus, who specializes in general surgery and gastroenterology, to Dra. Idolina Michel, who specializes in gynecology and obstetrics, to Dr. Carlos Garcia Rosado, who specializes in pediatrics, the medical team is equipped to provide top-notch medical care. Other specialists include Dr. Ricardo, as a pain treatment specialist, and more.
| | |
| --- | --- |
| Dr. Ricardo de Jesus - General Surgery and Gastroenterology | Dra. Idolina Michel - Gynecology and Obstetrics |
| | |
| | |
| --- | --- |
| Dr. Carlos Garcia Rosado – Pediatrics | Dr. Ricardo - Pain Treatment |
| | |

---
Costamed Medical Group Testimonials
Julia Rinda - Real Patient Testimonial
Earlier this year I was in the Emergency Room for myself. Honestly I was in so much pain I didn't really register much other than I was in good hands. Recently, my visiting mother had an accident and needed emergency care. I had no doubts about taking her to Costa Med. I was a bit of a mess with worry, I couldn't think clearly. My mom doesn't speak much Spanish and she's 74 years old.
From the moment we arrived we received excellent care. They were kind and gentle with her, the nurses and staff cared for her like they would a loved one. The Doctor spoke several languages and was very patient with me as I explained things in more detail to my mom (who was in a lot of pain, but didn't want mediation for the pain). We have had follow up appointments with the Doctors here and continue to have amazing care.
I want to also make a special thanks to the support staff and to Victor (reception manager I think). He was very helpful in supporting us with our follow up care, scheduling appointments and helping us with making sure we had the correct payment information. This extra touch of compassion and support makes all the difference in the world.We were treated like VIPs at very affordable prices. Thank you CostaMed for taking such good care of my mom.
Kate E - Real Patient Testimonial
I came here at night with my small daughter who had to get some stitches on her head. Everyone was very nice, and what is most important to me - fast! I was in and out in 30 mins. They helped me to get a cab too. No unnecessary paperwork, no crazy prices, my daughter didn't even cry. This is better service than NYC. The doctor was very caring and professional, the rest of the stuff were very helpful.
Esther Casey - Real Patient Testimonial
After trekking to three different hospitals via taxi and crutches with a fractured foot, we finally made it to Costamed - SO happy to have landed at this place. I was triaged, given X-rays and diagnosed in under 2 hours - this included a personal consultation with our wonderful doctor to ensure we had all the info we needed and were aware of our options.
Yes, it's more expensive - it's a private facility - but if you choose to travel abroad without health insurance, then you're taking the risk that you might need to pay a looot of money to get seen in a timely manner, or head to one of the general hospitals and wait it out. Our MD was one of the nicest doctors we have met - thank you again!

---
Costamed Medical Group Awards & Recognitions
Certifications and Accreditation of Costamed Medical Group Hospitals
Our commitment to providing high-quality medical care is evident from our certifications and accreditations. Costamed Medical Group Hospitals are accredited by prestigious organizations such as Joint Commission International (JCI), Accreditation Canada International (ACI), International Organization for Standardization (ISO), and Federal Commission for the Protection against Sanitary Risk (COFEPRIS). These certifications and accreditations demonstrate our commitment to providing safe and effective medical care to our patients.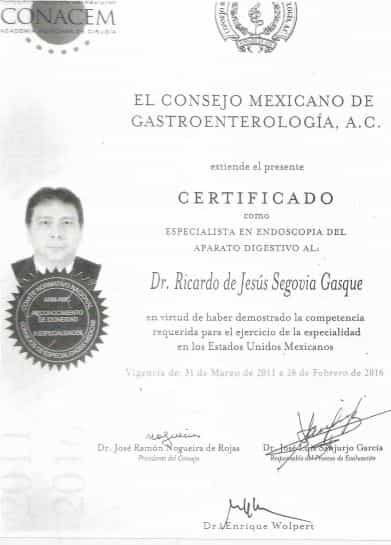 ---
Tulum,Cancun,Playa Del Carmen,Cozumel, Mexico Destination Overview
Medical Tourism in Playa del Carmen, Mexico
Playa del Carmen is also a popular destination for medical tourism, with many visitors coming for medical procedures like cosmetic surgery, dental work, and fertility treatments. The city has a number of well-equipped hospitals and clinics that offer high-quality medical care at a fraction of the cost of similar procedures in the US or Europe. Visitors can combine their medical procedures with a relaxing vacation in Playa del Carmen, enjoying the city's beautiful beaches, shopping, and dining options while they recover from their treatments.
Playa del Carmen is a popular tourist destination in Mexico and is well-connected with various modes of transportation. The city has its own international airport, Cancun International Airport, which is located about 45 minutes away from Playa del Carmen. Visitors can take a taxi or a shuttle service from the airport to Playa del Carmen. Alternatively, there are also buses and private transfers available. Many airlines fly to Cancun International Airport from major cities in North and South America, Europe, and Asia.
If you are traveling from other parts of Mexico, Playa del Carmen is easily accessible by bus. There are regular bus services from major cities like Mexico City, Cancun, and Merida. The bus ride is usually comfortable and affordable, and it takes about 4-6 hours to reach Playa del Carmen from most major cities in Mexico.
For those who prefer to travel by car, Playa del Carmen is located on the main highway that runs along the Yucatan Peninsula. Driving in Mexico can be a bit challenging, so it is recommended to rent a car or take a taxi if you are not comfortable driving. There are also private transfer services available for those who prefer a more comfortable and hassle-free travel experience.
In addition, Playa del Carmen is a popular port of call for many cruise ships. Visitors can choose to travel to Playa del Carmen by ship and enjoy the beautiful coastal views along the way. Once in Playa del Carmen, visitors can explore the city's many attractions, such as its beautiful beaches, Mayan ruins, and vibrant nightlife.
For more information about the treatments and procedures at Costamed, click the button below:

---
---