Penile Implant Package in Tijuana, Mexico by Gastelum
Package price starting from:
$12000
Treatment:
Cosmetic/Plastic Surgery,Urology, Penile Implant, Penile Augmentation
Location:
Tijuana, Mexico, Mexico
Focus Area:
Gastelum Cosmetic Surgery Clinic | Tijuana | Mexico | Penile Implants
---
Best Penile Augmentation in Tijuana, Mexico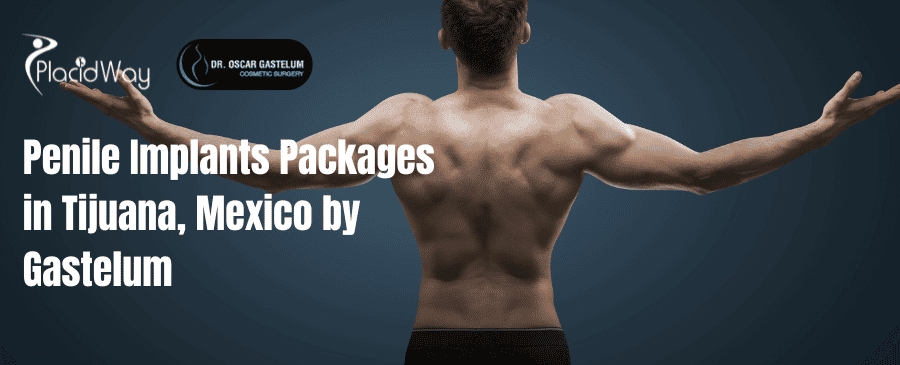 When it comes to penile implants, finding the right clinic that offers quality care and affordable packages is crucial. One such destination that has gained recognition in the field of medical tourism is Tijuana, Mexico. Gastelum Cosmetic Clinic, located in this vibrant city, offers top-notch penile augmentation packages tailored to meet the unique needs of patients seeking a lasting solution to erectile dysfunction. With their team of experienced professionals and state-of-the-art facilities, they have established themselves as a reliable choice for individuals seeking penile implant treatments. Check our packages details below to learn more:
You can get penile implants packages in Tijuana, Mexico by Gastelum with the price starts at $12,000. Check our price list table below to learn more:
| | |
| --- | --- |
| Types of Penile Implants | Cost in USD |
| | |
 Note: price may change and vary depends on complexity of the procedures and patient condition. Click free quote button below to learn more:

Cost-effectiveness: Tijuana, Mexico, is renowned for its affordable healthcare services. The penile implant packages offered by Gastelum Cosmetic Clinic are competitively priced, making them an attractive option for patients seeking cost-effective solutions without compromising on quality.
Expertise and Experience: The medical professionals at Gastelum Cosmetic Clinic have vast experience in performing penile implant procedures. They are highly skilled and have undergone rigorous training, ensuring that patients receive the best possible care and outcomes.
State-of-the-art Facilities: The clinic is equipped with modern, cutting-edge facilities that adhere to international standards. From advanced diagnostic tools to state-of-the-art operation theaters, every aspect of the treatment process is designed to provide a safe and comfortable experience for patients.
Personalized Care: The team at Gastelum Cosmetic Clinic believes in providing individualized care to each patient. They take the time to understand the unique requirements and concerns of their patients, tailoring the treatment plan accordingly for optimal results.
Convenient Location: Tijuana is conveniently located near the US-Mexico border, making it easily accessible for patients from North America. The city boasts excellent transportation links, ensuring a hassle-free journey for those seeking penile implant treatments.
Estimated prices/remarks: $12,000 - Malleable Penile Implant

All related surgical costs: surgeons, anesthesia, equipment, hospital stay, nursing care.

X-Rays, Laboratory works,

Pre-surgical Evaluation and Post-surgical medication and follow-up

Medical attention and security 24/7
Airfare

Round Trip Transportation to and from San Diego Airport $160 with medical pass

Recovery stays at Grand Hotel Tijuana - $116/ NIGHT, additional $30 for 2-3 Hours Nursing care

Recommended stay of at least 4-5 days

Medical Garments $100

Cardiologist $80
Penile Implants Packages Pre-Operative Tests:
Blood tests: A complete blood count and coagulation profile are typically performed before the penile implant procedure.
Urinalysis: A urinalysis helps assess kidney function and detect any urinary tract infections before the surgery.
Imaging tests: Depending on the individual's medical history, imaging tests such as ultrasound or MRI may be required to evaluate penile blood flow and identify any underlying issues.
Cardiovascular evaluation: In some cases, a cardiac evaluation may be necessary to ensure the patient is fit for surgery.
Psychological evaluation: As penile implant surgery can have psychological implications, a psychological evaluation may be recommended to assess the patient's mental well-being and readiness for the procedure.
Introducing the epitome of expertise in penile implant surgery, meet the distinguished Dr. Oscar Leal Gastelum, a Board Certified Cosmetic Surgeon in Tijuana, Mexico. With a noteworthy portfolio as the CEO of Comercializadora Oceptis Sa de CV and Administradora Leal SA de CV, both established from 2010 to the present day in Tijuana, Dr. Gastelum brings unparalleled proficiency to the realm of penile implant surgery. His visionary leadership and comprehensive experience at Surgeon Clinica Leal underscore his commitment to cutting-edge practices, making him the choice for those seeking the utmost precision and excellence in the field.
Doctor Name
Experiences and Specializations

 

Board Certified Cosmetic Surgeon in Tijuana, Mexico.

Surgeon Clinica Leal

CEO of Comercializadora Oceptis Sa de CV from 2010 - present in Tijuana Mexico

CEO of Administradora Leal SA de CV from 2010- present in Tijuana Mexico

Professional Aesthetic Plastic Surgeon at Medica Gastelum Sa de CV from 2000 - present in Tijuana Mexico.
Why Choose Penile Augmentation in Tijuana, Mexico?
Tijuana, Mexico, has emerged as a popular destination for medical tourism due to its numerous advantages. With its affordable prices, highly skilled medical professionals, modern facilities, and proximity to the United States, it offers a convenient and cost-effective option for patients seeking penile augmentation treatments.
Can anyone get a penile implant in Tijuana, Mexico?
Yes, penile implants are available to eligible candidates who have experienced persistent erectile dysfunction and have not found success with other treatments.
How long does the penile implant procedure typically take?
The surgery itself usually takes about 1-2 hours, but the overall duration may vary depending on individual circumstances and any additional procedures required.
What is the recovery process like after a penile implant surgery?
The recovery period varies for each patient, but generally, individuals can expect to resume normal activities within 4-6 weeks. It is important to follow post-operative instructions provided by the medical team for optimal healing.
Are there any risks or complications associated with penile implants?
As with any surgical procedure, there are potential risks involved. However, the rate of complications is typically low. Common risks include infection, mechanical failure, or changes in sensation. The medical team will discuss potential risks and complications during the consultation.
How long can I expect the penile implant to last?
Penile implants are designed to be long-lasting solutions for erectile dysfunction. Depending on the type of implant chosen, they can last for several years or even a lifetime. The medical team will provide information on the durability and maintenance of the specific implant chosen.
To take the first step towards regaining your confidence and improving your quality of life, book a consultation at PlacidWay Medical Tourism. Discover the exceptional penile implant packages offered by Gastelum Cosmetic Clinic in Tijuana, Mexico, and embark on a journey to a fulfilling and satisfying life. Click contact us button below to get started:

Related Experiences:
Penile Augmentation in Tijuana Mexico
Penile Implant Surgery in Mexico
Penile Augmentation in Bangkok Thailand
Penile Augmentation in India
Penile Augmentation in Turkey
Penile Augmentation in Thailand
---