Breast Implant Package in Cancun, Mexico by Costamed
Package price starting from:
$5450
Treatment:
Cosmetic/Plastic Surgery, Breast Implants
Location:
Carretera Federal, MZ 285, Lt 7 entre 27 y 23 Edificio Progreso Col. Ejido Sur, Playa del Carmen 77712 Playa del Carmen Quintana Roo, Mexico, Mexico
Focus Area:
Costamed Medical Group | Cancun | Mexico | Breast Implants
---
Breast Augmentation with Implants in Cancun, Mexico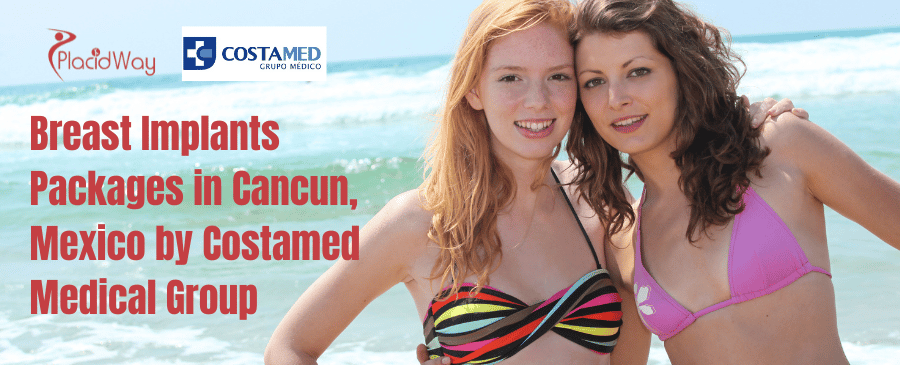 Welcome to the beautiful city of Cancun, Mexico, where Costamed Medical Group offers exceptional breast implant packages to enhance your beauty. With their expertise in cosmetic surgery and state-of-the-art facilities, Costamed ensures a safe and comfortable experience for every patient. Whether you desire a subtle enhancement or a more significant transformation, their skilled surgeons and dedicated staff are committed to providing you with outstanding results. Let's explore our low cost packages for breast implant in Cancun, Mexico below.
You can get Breast Implants Package in Cancun, Mexico by Costamed with the price starts at $5,450. Check our price list table below to learn more:
| | |
| --- | --- |
| City, Country | Cost in USD |
| Cancun, Mexico | $5,450 |
| United States | $9,000 |
| Canada | $10,000 |
Note: price may change and vary depends on complexity of procedures and patient condition. Click FREE QUOTE button below to learn more:

Affordable Package: Costamed offers competitively priced breast implant package, providing significant cost savings compared to other countries. You can achieve your desired aesthetic goals without compromising on quality or safety.
Highly Skilled Surgeons: The surgeons at Costamed are renowned for their expertise in breast implant procedures. With years of experience and extensive training, they ensure exceptional results and prioritize your safety throughout the surgical journey.
State-of-the-Art Facilities: Costamed is equipped with modern, cutting-edge facilities that meet international standards. From advanced surgical theaters to comfortable recovery rooms, their facilities provide a safe and conducive environment for your breast implant procedure.
Beautiful Location: Cancun's stunning beaches and vibrant culture offer the perfect backdrop for your healing and recovery. After your surgery, you can relax and rejuvenate in this tropical paradise, making your breast implant journey a truly memorable experience.
Seamless Travel and Accommodation: Costamed's dedicated team assists you with all travel and accommodation arrangements, ensuring a hassle-free experience. They work closely with reputable hotels and transportation services to make your stay in Cancun comfortable and convenient.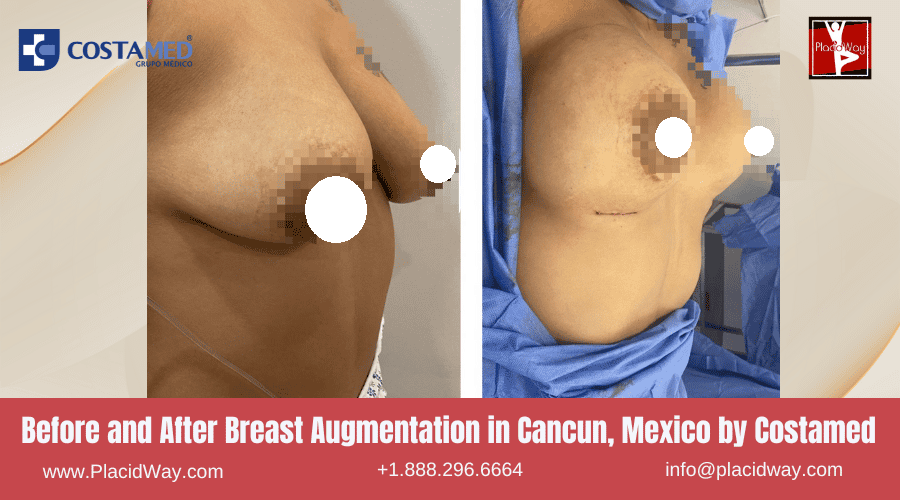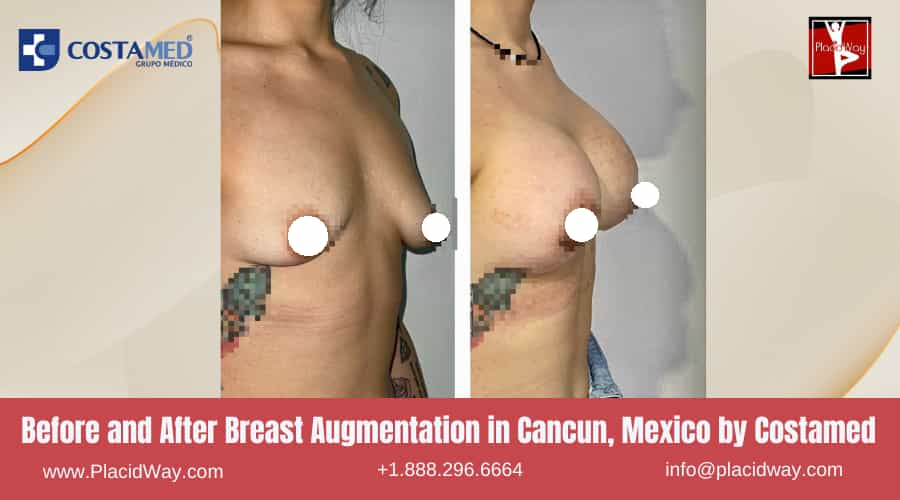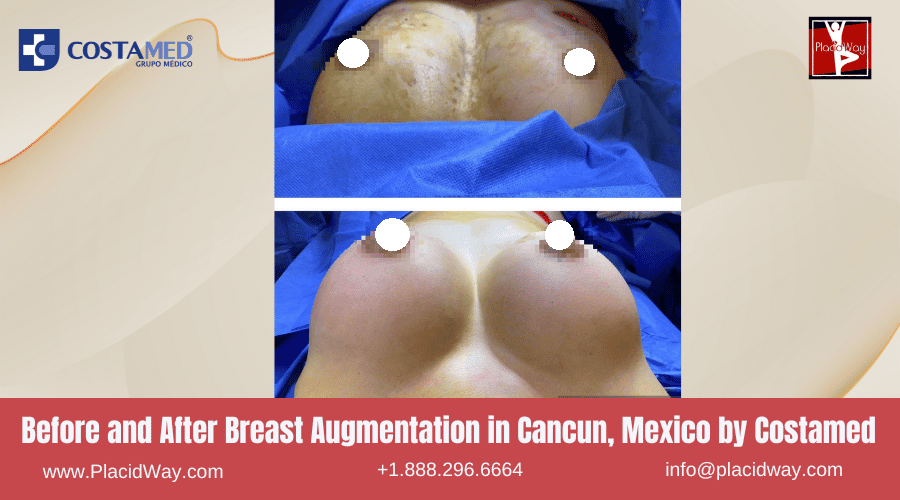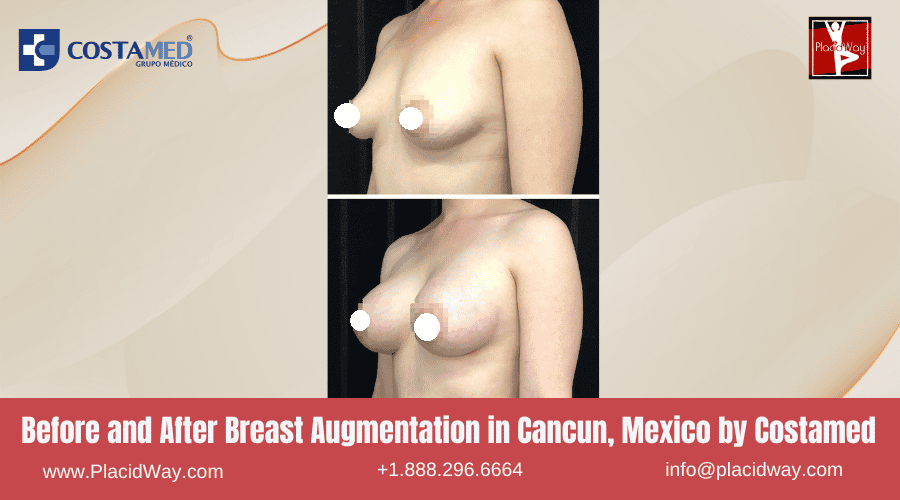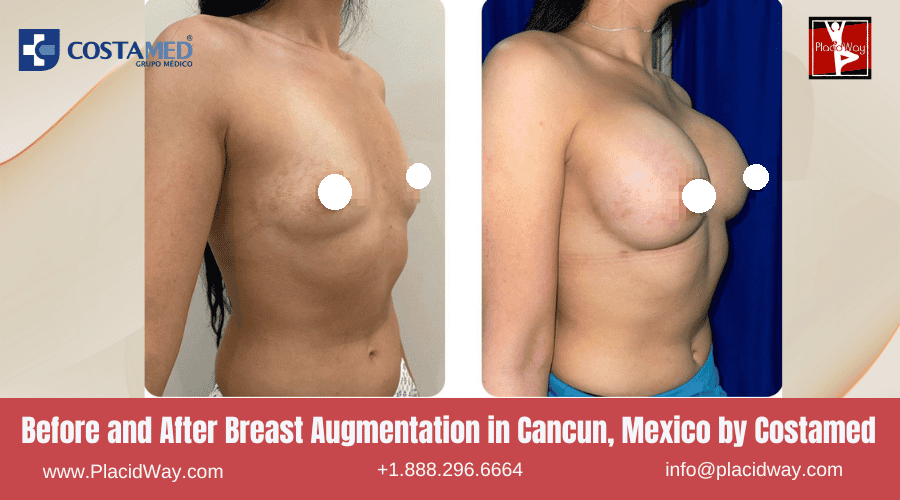 Check below table for more information about package details for breast augmentation with implants:
Breast Augmentation with Implants Package Details

Objective

Improve the appearance of the breasts according to individual body proportions.

Areas to be treated

Breasts

Surgery duration

2 hours

Surgery type

Major

Anesthesia

General

Hospitalization

No, outpatient procedure

Candidates

Women aged 18-59 who wish to improve the appearance of their breasts and are not allergic to silicone gel.

Discomfort

Mild

Recovery time

2 weeks

Postoperative care

Relative rest, no driving for two weeks, post-surgical bra. Drainage may be required for submuscular implants.

MEDICAL TOURISM

Arrive one day before the surgery date. Same-day discharge.

Approximate fit to fly

5 days

Estimated total cost

5,450.00 USD
Note: This is an estimated price without complications.
Estimated is approx $5,450. All-inclusive:
Surgeon and anesthesiologist fees

Motiva RoundQ implants and post-surgical bra included

Includes assistant fees

1-day hospitalization services

2 hours of operating room use

materials, and medications.
Medications not directly related to the procedure

Additional nights at the hospital or recovery center (if required)

Travel expenses, including flights and visa fees

Personal expenses and meals outside the provided package

Any additional procedures or treatments not included in the package
Breast Implants Pre-Operative Tests:
Comprehensive blood work

Chest X-ray

EKG/ECG (Electrocardiogram)

Mammogram

Consultation with the anesthesiologist
In Cancun, Mexico, you can find highly skilled and board-certified plastic surgeons like Dr. Ricardo de Jesus and Dra. Idolina Michel. These experienced surgeons have the expertise and qualifications to provide top-quality plastic surgery procedures, ensuring the best possible outcomes for their patients.
| | |
| --- | --- |
| Dr. Ricardo de Jesus | Dra. Idolina Michel |
| | |
Why Choose Breast Augmentation in Cancun, Mexico?
Choosing breast implant treatment in Cancun, Mexico offers a unique combination of affordability, expertise, modern facilities, and a picturesque location. Costamed's commitment to patient safety, along with the skilled surgeons and excellent support staff, ensures a positive and rewarding experience. By opting for breast implant treatment in Cancun, you can achieve your aesthetic goals while enjoying a well-deserved vacation.
Are breast implants in Cancun, Mexico safe?
Yes, breast implants in Cancun, Mexico are performed by highly skilled surgeons in accredited facilities that adhere to international standards of safety and hygiene. Costamed, in particular, prioritizes patient safety and ensures a safe and comfortable experience throughout the procedure.
Will I have a choice in selecting the type and size of breast implants?
Absolutely! During your consultation with the surgeon at Costamed, you will have the opportunity to discuss your desired results and make decisions regarding the type and size of breast implants. The surgeon will provide guidance and recommendations based on your goals and individual anatomy.
What is the recovery process like after breast implant surgery in Cancun?
The recovery process after breast implant surgery in Cancun, Mexico typically involves some discomfort and swelling for the first few days. Most patients are able to return to their normal activities within a week, but it's important to follow the post-operative instructions provided by your surgeon to ensure optimal healing.
Can I combine my breast implant surgery with other cosmetic procedures?
Yes, many patients choose to combine breast implant surgery with other cosmetic procedures to achieve a more comprehensive transformation. Costamed offers a range of cosmetic procedures, and during your consultation, you can discuss your goals and explore the possibility of combining treatments to enhance your overall appearance.
Book your consultation at PlacidWay today and embark on your journey to enhanced beauty and self-confidence. Experience the highest standards of care, cost-effective solutions, and a breathtaking destination that will make your breast implant in Cancun, Mexico truly unforgettable. Click contact us button below to get started:

Related Experiences:
Breast Implant in Cancun, Mexico
Breast Implants in Guadalajara, Mexico
Breast Implants in Mexico City
Breast Implants in Mexicali, Mexico
Breast Implants in Merida, Mexico
Get Breast Implants in Mexico at Affordable Cost!
---