Package Details

Full Mouth Restoration is a concept where after a proper examination and diagnosis a treatment plan is sketched out to fully rehabilitate patient's quality of teeth and associated structures to the maximum possible function and aesthetics. 
In this process the diagnosis will point out the followings:
Number of teeth missing    

Number of teeth decayed or carious    

Identify loose and mobile teeth     

Identify gum disease     

Recession of gums     

Discoloration of teeth     

Crowding and mal-alignment of teeth     

Identify the state of oral hygiene     

Assess the healthy state of the oral mucosa     
(The skin of the palate, the skin of the under surface of the tongue, tonsil region, inside the cheeks, floor of the mouth, throat, etc are carefully examined to screen any abnormalities.)
This concept is widely becoming popular in Costa Rica and it is worth for dental tourists to travel a long way for this major makeover. All what is needed can be discussed before hand and expenses can be worked out time frame and visits required can also be charted out.
Factors that Affect Package Price of Full Mouth Restoration
You may find that the same provider is offering different package prices for Full Mouth Restoration in Costa Rica. This happens due to relative factors such as:
Condition of the teeth, gum and jaws

Number of loose, decayed or diseased teeth

Mal-alignment of number of tooth

Existing oral hygiene

Experience and qualification of the dentist

Number of surgeries required

Kind of equipment used in the treatment procedure
The doctor at the clinic would ask to go for laboratory tests to ascertain the plan for your treatment course of action. The laboratory test reports help to analyze the condition of your body's preparation before the procedure. Based on that, the doctor may consult over the phone and explain about the treatment plan for you.
Benefits of Full Mouth Restoration in Costa Rica
Prevents further decay

Restores tooth function

Prevents further infection

Improved support

Permanent restoration

Affordable cost

Renowned dental surgeons

Top dental clinics

Beautiful and bright teeth

Confident appearance
Complexity Level: Low
Cost of Full Mouth Restoration in Costa Rica

Cost: The average cost of Full Mouth Restoration in Costa Rica is around $1200.
Note: Final prices are determined after physical evaluation and laboratory reports analysis.
Length of Stay: Same day procedure
Inclusions:
Pre and post-operative consultations

All clinic fees

All medical fees and doctor fees,
Exclusions:
Hotel or recovery house

Preoperative lab work

Airfare
List of required pre-op tests:
X-ray of teeth

Complete blood count

Common urine analysis

Blood tests for HIV, hepatitis and AIDS

Blood tests for hormone levels

Rh factor blood test

Eliminate the presence of osteoporosis or any other metabolic diseases
Note: The laboratory tests are done at least 7-10 days prior to the procedure. The particular tests are prescribed after a complete physical evaluation of the patient.
Payment Options: Cash, credit card, wire transfer
Note: The center may require a money deposit once a patient decides to book the surgery.
How to Get There for Full Mouth Restoration
Costa Rica, officially the Republic of Costa Rica, has multiple flights to enter the country from various destinations. The country is divided into seven provinces, which are subdivided into 81 cantons and 463 districts. You can avail flight connectivity in all major medical tourism destinations of the country.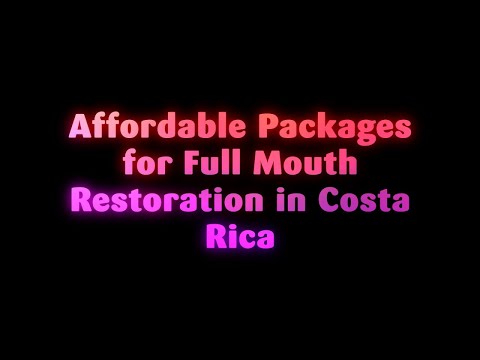 For more details on Full Mouth Restoration in Costa Rica, click the button below:
Related Experiences:
Get Full Mouth Restoration in Costa Rica at Only $10,000!
Full Mouth Reconstruction in Thailand
Full Mouth Restoration in Turkey - Regain Your Beautiful Smile
Full Mouth Restoration in Mexico - Restore Your Smile
Full Mouth Restoration in India - Improve Dental Health
Full Mouth Dental Implants in Turkey - Affordable and Safe