Costa Rica Medical Trip
Top Dental Clinic in Escazu, San Jose, Costa Rica by Costa Rica Medical Trip
250 Meters East and 150 Meters North of the District 4 Shopping Center, Escazu, San Jose, Costa Rica, San Jose,Escazu, Costa Rica

Focus Area:

Costa Rica Medical Trip | Escazu | San Jose | Costa Rica | Dental Implants | All on 4 Dental Implant | All on 6 Dental Implant | Prostheses | Zirconium Bridges | Zirconium Aesthetic Crowns
Costa Rica Medical Trip Profile Overview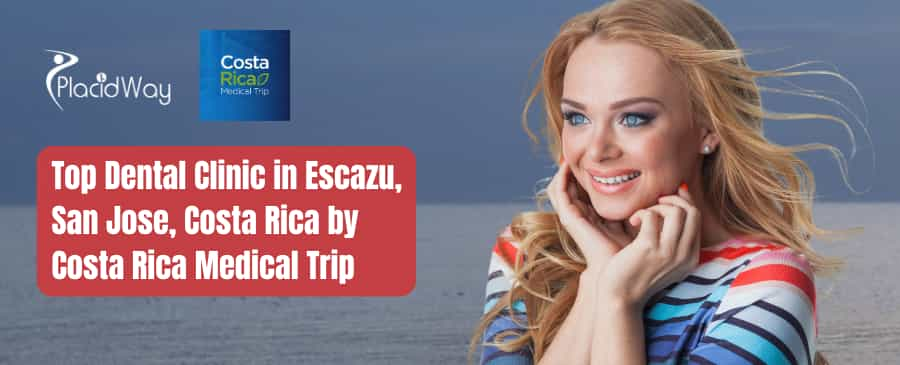 Table of Content
Premier Dental Excellence in Escazu, Costa Rica
Costa Rica Medical Trip proudly stands as Escazu's premier dental destination, offering an unparalleled level of care and expertise in the realm of dental implants and aesthetics. Our commitment to ensuring that you can smile without limits is reflected in the excellence of our treatments, all delivered at unbeatable prices. What sets us apart is our state-of-the-art technology,3D tomography, and an intraoral scanner, representing the latest generation of dental diagnostic and treatment tools.
Our dedicated team of experts in implantology and rehabilitation eagerly awaits the opportunity to assist you in restoring both the beauty and functionality of your smile. With years of experience and a passion for excellence, our specialists are at the forefront of their fields, constantly updating their knowledge and techniques to ensure that you receive the highest standard of dental care available. At Costa Rica Medical Trip, we don't just create smiles; we craft works of art that reflect the essence of each patient.
Our esteemed dental team at Costa Rica Medical Trip in San Jose, Costa Rica, comprises some of the most accomplished professionals in the field. Dr. Wong, a seasoned implantologist, leads our team with a wealth of experience in dental implant procedures, ensuring the utmost precision and success in every case. Dr. Portuguez brings his expertise in advanced general dentistry, while Dr. Matarrita specializes in the intricate field of periodontics, addressing issues related to the gums and supporting structures of the teeth. Completing our roster of top-tier dentists is Dr. Delgado, another specialist in advanced general dentistry, who is well-versed in a wide array of dental procedures. Together, they form a formidable team dedicated to delivering the highest quality of dental care and achieving exceptional results.
Costa Rica Medical Trip is a hub for pioneering dental procedures, offering a comprehensive suite of advanced treatments designed to meet a diverse range of dental needs. Our offerings encompass unitary dental implants, All-on-4 and All-on-6 solutions, various prostheses, zirconium bridges, and pleasing zirconium crowns. Each of these treatments is meticulously crafted to renew and enhance the beauty of your smile. Our commitment to using cutting-edge procedures and materials ensures that you receive the most advanced and effective solutions available in modern dentistry. At Costa Rica Medical Trip, we're not just restoring smiles; we're transforming lives, one confident smile at a time.
Our unwavering dedication to putting patients at the heart of our practice extends beyond the dental chair. At Costa Rica Medical Trip, we understand that the patient experience encompasses more than just the treatment itself; it's about convenience, comfort, and peace of mind. That's why we offer personalized transportation and patient management services to ensure that your journey with us is seamless and stress-free. Your well-being is our top priority, and we are committed to making your entire experience with us as comfortable and convenient as possible.
Accredited Excellence
Costa Rica Medical Trip takes great pride in its accreditation by the College of Dental Surgeons of Costa Rica, a testament to our unwavering commitment to upholding the highest standards of dental care and patient safety. This recognition reflects our dedication to providing specialized solutions that meet the strictest professional standards. When you choose us as your dental care provider, you can trust that you are receiving treatment from a clinic that has undergone rigorous evaluation and scrutiny, ensuring the quality and safety of your dental procedures.
Smiles That Tell Stories
Every smile has a unique story to tell, and at Costa Rica Medical Trip, we are passionate about helping you craft a story of confidence and beauty. We understand that your smile is a reflection of your personality and identity, and we take pride in our role in creating smiles that radiate positivity and self-assuredness. With our comprehensive range of dental services and our skilled professionals, we are here to support you on your journey to a brightercaptivating smile.
Costa Rica Medical Trip is not just a dental clinic in San Jose, Costa Rica; it is your partner in achieving optimal oral health and aesthetics. Our commitment to providing the best dental care in Costa Rica, is reflected in every aspect of our practice. From our state-of-the-art facilities to our expert team and patient-centric approach, we have created an environment where quality meets convenience. Your journey to a radiant smile begins with us, and we are dedicated to ensuring that your experience is marked by excellence, comfort, and satisfaction.
At Costa Rica Medical Trip, we don't just meet expectations; we exceed them. Click contact us button below to schedule your appointment today.

---
---