Dental Crowns in San Jose, Costa Rica
Improve Your Smile with Teeth Crowns in San Jose
Want to save money while improving your oral health and smile? Dental Crowns in San Jose, Costa Rica, can be the perfect option thanks to its affordability, quality, and safety. With PlacidWay, it is guaranteed you'll save around 70% compared to your dentist at home.
One of the most popular dental tourism locations in Costa Rica is San Jose where you can find the widest range of reputable dentists. Since it is the country's capital, flying there from all over the world is easy.
Costa Rica's dental clinics cater to locals and tourists, and thousands of patients from America and Canada are more than pleased with the quality of care and the incredible prices. In addition, they relish the breathtaking scenery of Costa Rica and extend their dental trip to experience an exotic vacation.
Let's learn more about this unique opportunity to fix your teeth at a low cost in beautiful San Jose.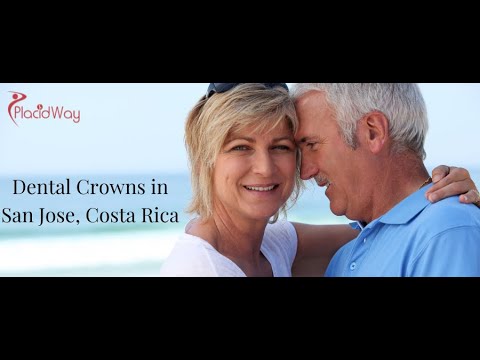 ---
Comprehensive Dental Crowns Packages in San Jose
Our most-wanted packages for dental crowns in San Jose, Costa Rica are available to help you get a new smile at an affordable price. Therefore, you can choose the right package deal for your needs by finding more details in the links below.
Their prices range from $400 to $5,000 depending on the type of treatment. The $5,000 package cost includes 14 metal-ceramic crowns while the other of $400 is per tooth.
---
How much do Dental Crowns Cost in San Jose, Costa Rica?
The cost of a dental crown in San Jose, Costa Rica starts at $450. The same procedure is over $1,000 in Canada and $1,750 in the USA which is over 70% more expensive than in San Jose. At the same time, the quality of care in Costa Rican clinics is the same or even better than in American clincis.
While saving money on your dental care, you'll also experience an enjoyable holiday in the tropical environment of San Jose.
The following table shows the dental crown prices in Costa Rica compared to the United States and Canada.
Dental Crowns Centers Cost Comparison in San Jose, Costa Rica
| Provider | Procedure | Price |
| --- | --- | --- |
| DaVincis Dental Care Esthetic and Implant Dentistry | Dental Crowns, Dentistry | $450 |
| Americas Dental Care | Dental Crowns, Dentistry | $460 |
| Denta Vac Dental Clinic Costa Rica | Dental Crowns, Dentistry | $495 |
Dental Crowns Cost Comparison in Costa Rica

| Country | Procedure | Price |
| --- | --- | --- |
| Canada | Dental Crowns, Dentistry | $1000 |
| United States | Dental Crowns, Dentistry | $1750 |
---
Top-Rated Dental Clinics in San Jose, CR for Crowns
Costa Rica has one of the best healthcare systems in the world. Our partner providers have affiliations with the ADA (American Dental Association). They guarantee you will receive the best quality and techniques for dental crowns treatment.
San Jose, Costa Rica is an excellent destination for dental crowns as its popular dental care centers are known for being hygienic and advanced. Below you can find some of the best dental crown clinics in San Jose, Costa Rica offering porcelain, ceramic, and porcelain metal composite crowns at reasonable prices.
---
Top-Selected Videos about Smile Makeover in San Jose Costa Rica
In our most viewed videos, you'll see why smile restoration is so popular in Costa Rica and what San Jose clinics offer their patients.
---
Dental Work in San Jose, CR Reviews from PlacidWay Patients
---
Dental Crown Cost in San Jose Q&A
Read our answers to know why Dental crowns in San Jose are more affordable.
What is the Average Price of Dental Crowns in San Jose, Costa Rica?
Show More
What is the Average Price of Dental Crowns in San Jose, Costa Rica? Dental Crown treatment is one of the highest-demand procedures in San Jose, Costa Rica. The average cost of Dental Crown Package in San Jose, Costa Rica begins from $460 per tooth. In case the patient wants it over dental implants, the price goes to $850 per tooth. However, the cost may vary from clinic to clinic and you may find the same clinic offering dental crown treatment at different prices. The approximate price for dental crown treatment in San Jose starts from $300 and can go as high as $550. Factors that Affect the Price of Dental Crowns Treatment in San Jose, Costa Rica Before you travel to San Jose to receive the dental crown treatment, you should be aware of the cost as well the factors that can affect the package price. Have a look at the factors that can affect the overall cost of the treatment. Number of affected teeth Dental Hygiene Orthodontic setup of the teeth Infection (if any) Chosen procedure Quality of materials used in the process Experience of the dentists What Should Be Expected from the Dental Crowns in San Jose, Costa Rica? San Jose in Costa Rica is the home of a number of world-class healthcare facilities, where you can receive the best dental crown treatment even at an affordable price. Thus, visit San Jose to enjoy the best-in-class dental crown treatment. How Much You Can Save by Receiving the Treatment in San Jose, Costa Rica? The average price for the dental crown treatment in the top countries ranges between $1500 and $2000 approximately, while you can receive the same treatment here in San Jose at around $850. Meaning that you can save at least $1000 by choosing Costa Rica as your preferred medical tourism destination. Approximately Cost of Treatment Variations in San Jose, Costa Rica Dental Implants $1,100 All-on-8 $13,000 All on 6 $10,900 Dental Veneers $630 Other Costs to Consider When evaluating your total cost of dental crowns in San Jose, Costa Rica, you have to consider some other associated factors as well. These factors are: Hotels and accommodation Food and drinks during the stay Airfare and transport Travel insurance These are the details of estimated costs and one should not grant it as the final cost of the dental crown treatment in San Jose, Costa Rica. However, you can always ask for free quotes and check how much you can save by going for dental crown treatment in San Jose.
---
Best Dentists in San Jose for Teeth Crowns
The best dentists in San Jose have a proven track record of delivering exceptional service. They are committed to improving patients' smile by providing the best possible experience. San Jose dentists offer a high level of professional communication and guide their customers during the whole procedure.
The professional team in our recommended clinics is able to provide a range of treatment options to suit your individual needs. Your chosen San Jose dentist will discuss your treatment via video call before your trip and work towards your desired outcome.
As far as dental care is concerned, standards are generally high with many dentists having trained internationally. Let's see more details about reliable dentists in San Jose for dental crowns:
---
Why Should I Have Dental Crowns in San Jose?
San Jose is close to the USA and Canada offering cheap, quick flights to The Juan Santamaria International Airport (SJO). Its convenient location, reasonable prices, professional dentists, and breathtaking scenic beauty make it a favorable option for cosmetic dentistry, such as tooth crowns.
Another great option is that you do not need a visa to enter Costa Rica as a US and Canadian citizen. Therefore, you'll save up to 70% and enjoy stunning beaches, weather, and places in San Jose and Costa Rica by coming here for cost-effective dental care.
San Jose offers amazing activities and tourist attractions where you can go to relax before the procedure or afterward. You can visit museums, parks, plazas, and local restaurants.
Or you can take tourist tours within the country to see Arenal Volcano, Manuel Antonio National park, and some of the numerous pristine beaches on the Caribbean Sea and the Pacific Ocean.
---
How Can I Book an Appointment for San Jose Crowns?
We make it easy for you to book your Dental Crowns in San Jose, Costa Rica by contacting us via email, free call, or chat.
PlacidWay Customer Care Team is available 24/7 for all your questions and needs. Start by filling out the form on your right to receive a fast quote now!
---