Breast Implant Package by Medina Flores Plastic Surgery in Merida, Mexico
Package price starting from:
$4500
Treatment:
Cosmetic/Plastic Surgery, Breast Implants, Breast Augmentation
Location:
Anexo CMA Consultorio 14. Calle 54 #365 Col. Centro. Merida Yucatan, Mexico, Mexico
Focus Area:
Medina Flores Plastic Surgery | Merida | Mexico | Breast Implant | Breast Augmentation
---
Get Life-Changing Transformation with Breast Augmentation in Merida, Mexico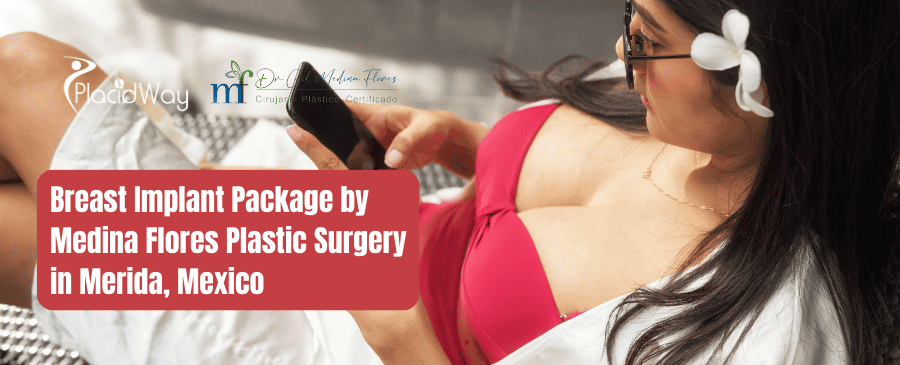 Medina Flores Plastic Surgery offers a transformative Breast Implant Package in the beautiful city of Merida, Mexico. Under the expert care of skilled surgeons and state-of-the-art facilities, this package presents a life-changing opportunity for women seeking enhanced self-confidence and aesthetics. With a focus on patient well-being and top-notch results, discover the incredible journey that awaits you. Check our package details below to learn more.
You can get breast implant package by Medina Flores Plastic Surgery in Merida, Mexico with the price starts at $4,500. Check our price list table below for more information:
| | |
| --- | --- |
| City, Country | Cost in USD |
| Merida, Mexico | $4,500 |
| United States | $7,000 |
| Canada | $8,000 |
Note: price may change and vary depends on complexity of procedures and patient conditions. Click free quote button below to learn more:

Experienced Surgeons: Our clinic boasts highly experienced plastic surgeons who specialize in breast augmentation. Their expertise ensures safe and successful procedures.
Advanced Facilities: Equipped with cutting-edge technology and world-class facilities, our clinic upholds international medical standards for your comfort and safety.
Affordability: Compared to many other countries, medical expenses in Merida are considerably lower, providing top-notch care without breaking the bank.
Exotic Destination: Merida offers a delightful blend of cultural experiences and breathtaking landscapes, making your medical journey a memorable vacation.
Caring Support: Our attentive medical staff offers personalized care and support throughout your entire treatment journey.
Breast Implant in Merida, Mexico Before and After Images
Witness remarkable transformations with before and after pictures of satisfied patients. Our gallery showcases successful breast implant outcomes, demonstrating the expertise and dedication of our medical team. Check below before after image result to learn more: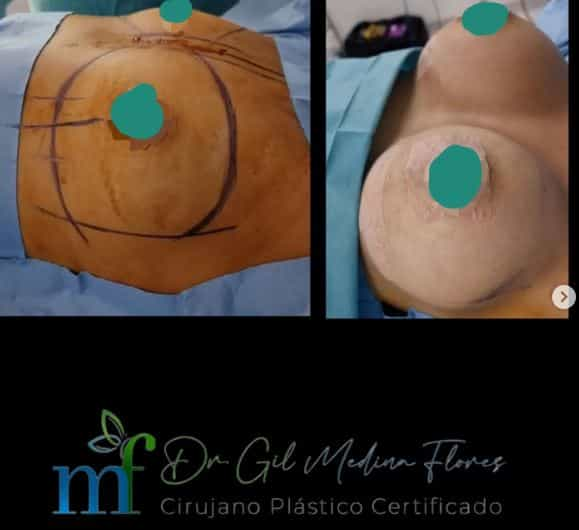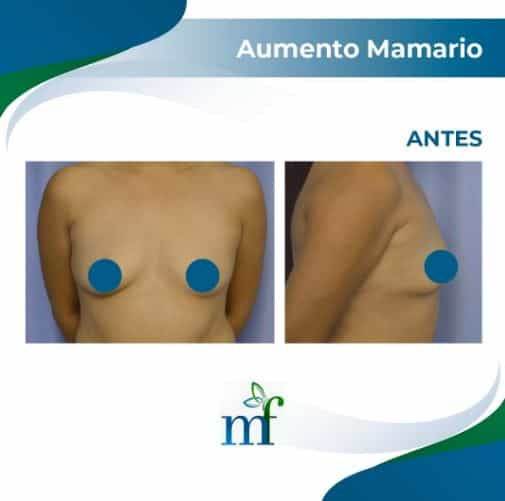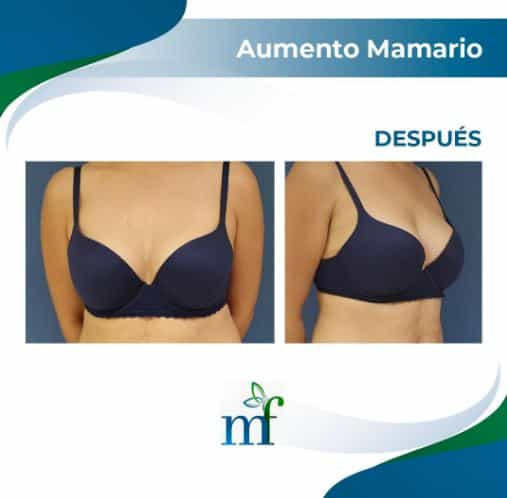 The breast implant package includes a comprehensive set of procedures to ensure optimal results. It starts with an initial consultation, where the surgeon discusses your desired outcomes and medical history. The surgery is performed using the latest techniques, with anesthesia options tailored to your needs. Post-surgery, a recovery plan is provided for a smooth healing process. Follow-up consultations and aftercare support are integral to our commitment to your well-being.
Breast Implant Surgery: Customized breast augmentation surgery performed by skilled surgeons using FDA-approved implants.
Hospital Stay: A comfortable hospital stay in a private room with nursing care, ensuring your safety and comfort.
Medications & Anesthesia: All necessary medications and anesthesia are included for a pain-free experience.
Post-Op Garments: Specialized compression garments to support the healing process and optimize results.
Transportation & Accommodation: Convenient airport transfers and a pleasant hotel stay for you and a companion.
Travel Expenses: Airfare and travel-related costs to Merida are not included in the package.
Additional Treatments: Any additional procedures beyond the package scope will incur separate charges.
Personal Expenses: Costs of personal items, meals beyond the package, and leisure activities are not covered.
Complications Management: While rare, any treatment of complications arising post-surgery may have additional costs.
Medical Insurance: Patients are advised to have their medical insurance coverage, as it is not included in the package.
Breast Implant Surgery Pre-Op Tests
Blood Workup: A comprehensive blood test assesses your overall health status before surgery.
Mammogram & Ultrasound: To evaluate breast health and anatomy, ensuring the procedure's suitability.
EKG/ECG: Electrocardiogram assesses cardiac health, critical for a safe surgical experience.
Medical Evaluation: A thorough medical examination helps identify any potential risks or contraindications.
Consultation & Consent: Detailed consultations with the surgeon, and signing of informed consent.
Dr. Maria Medina Flores, a distinguished plastic surgeon, takes the helm of our esteemed Breast Implant Package. With a wealth of experience and an impressive track record of successful surgeries, she brings her unwavering commitment to delivering unparalleled care and achieving natural, aesthetically pleasing results for every patient. Her expertise, combined with a compassionate approach, assures you a transformative journey with outstanding outcomes at Medina Flores Plastic Surgery in Merida, Mexico.
Breast Implant Surgeon in Merida, Mexico

Dr. Gilberto Medina Flores

• Plastic surgeon, aesthetic and reconstructive

• Specialty in Craniofacial Surgery

• Certified Plastic Surgeon 1978

• Ced. Prof. 6240072 UNIMAYAB

• Ced. Specialty 10554897 UDG

• Advertising Notice: N 223301202A0119
Is Breast Implant Package Right for You?
Ideal candidates for breast implant surgery are healthy women seeking aesthetic enhancement.

You must have realistic expectations and understand the potential risks and benefits.

Consultation with our expert surgeon will determine your eligibility and suitability for the procedure.
What to Expect During the Breast Implant Surgery
Pre-Surgery Preparation: You'll receive detailed instructions on pre-op preparations, such as fasting and medication guidelines.
The Surgery Process: Under anesthesia, the surgeon will carefully make incisions, insert implants, and close incisions.
Recovery Period: Post-op care includes monitoring, pain management, and following guidelines for a smooth recovery.
Follow-Up Visits: Regular follow-up appointments ensure healing progress and address any concerns.
Q: What type of breast implants are used in Merida, Mexico?
A: Medina Flores Plastic Surgery offers FDA-approved saline and silicone gel implants, providing patients with safe and effective options for breast augmentation.
Q: How long does the breast implant surgery typically take?
A: On average, the breast implant surgery takes around 1 to 2 hours, depending on individual requirements and the complexity of the procedure.
Q: What is the recommended recovery period after breast implant surgery?
A: Patients usually need 1 to 2 weeks of recovery time before resuming non-strenuous activities, and around 4 to 6 weeks for more physically demanding tasks.
Q: Are breast implant surgeries performed under general anesthesia?
A: Yes, breast implant surgeries are typically performed under general anesthesia to ensure patient comfort and safety during the procedure.
Q: How long can I expect my breast implants to last?
A: While breast implants can last for many years, they are not considered lifetime devices. Some patients may choose to replace them after 10 to 15 years, depending on individual factors and preferences. Regular follow-ups with your surgeon are essential to monitor the implants' condition.
Embrace a transformative journey with Medina Flores Plastic Surgery in Merida, Mexico. Schedule your consultation now with PlacidWay Medical Tourism and embark on a life-changing experience to enhance your confidence and aesthetics. Click contact us button below to get started!

Related Experiences:
Breast Augmentation in Merida Mexico
Breast Implants in Merida, Mexico
Breast Augmentation in Monterrey Mexico
Breast Implants in Guadalajara, Mexico
Breast Augmentation in Guadalajara, Mexico
Breast Augmentation in Cancun, Mexico
---