Tummy Tuck Package by Dr. Rafael Mirabal in Santiago, Dominican Republic
Package price starting from:
$5000
Treatment:
Cosmetic/Plastic Surgery, Tummy Tuck Surgery
Location:
Calle Restauración #57, Dominican Republic
Focus Area:
Dr Rafael Mirabal | Santiago | Dominican Republic | Tummy Tuck | Abdominoplasty
---
Achieve Your Dream Figure with Abdominoplasty in Santiago, Dominican Republic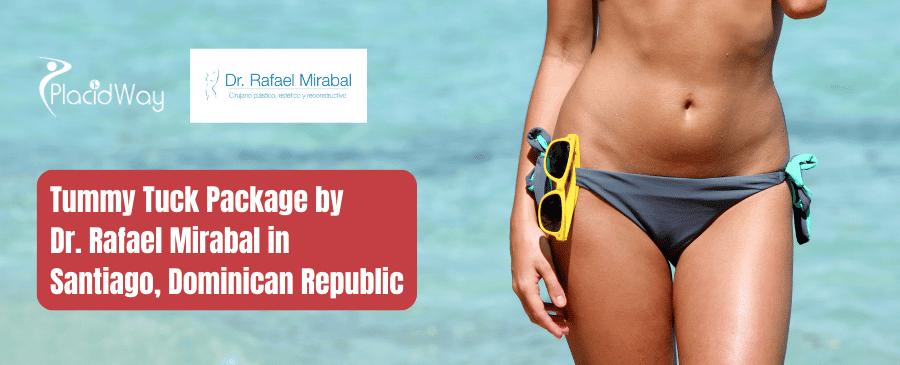 Experience a life-changing transformation with the Tummy Tuck Package offered by the esteemed Dr. Rafael Mirabal in Santiago, Dominican Republic. This comprehensive package is designed to help you achieve a sculpted and toned abdomen by removing excess skin and fat, tightening abdominal muscles, and contouring the waistline. Dr. Mirabal, a highly skilled cosmetic surgeon, ensures the utmost care and safety throughout the procedure.
Santiago's state-of-the-art medical facilities, adherence to international healthcare standards, and affordable package rates make it an ideal destination for this life-enhancing treatment. Embrace a new level of body confidence and rejuvenation with Dr. Rafael Mirabal's exceptional expertise and personalized care in the tropical beauty of Santiago, Dominican Republic.
You can get tummy tuck package by Dr. Rafael Mirabal in Santiago, Dominican Republic with the price starts at $5,000. Please refer to our price list table below:
| | |
| --- | --- |
| Location | Cost in USD |
| Santiago, Dominican Republic | $5,000 |
| United States | $12,000 |
| Canada | $16,500 |
Note: price may change and vary depends on complexity of procedures and patient conditions. Click free quote button below to learn more:

Expertise and Experience: Dr. Rafael Mirabal is a renowned surgeon with extensive expertise in performing tummy tuck procedures. The medical facilities in Santiago adhere to international standards, providing a safe environment for your surgery.
Cost-Effective: Santiago offers a cost-effective option for tummy tuck packages without compromising on the quality of care. Compared to many Western countries, the packages here are more affordable.
Beautiful Location: Enjoy the picturesque landscapes and tropical beauty of the Dominican Republic while you recover from your surgery. A serene environment can positively impact your healing process.
Cutting-edge Technology: Dr. Mirabal utilizes the latest advancements in cosmetic surgery to ensure optimal results and reduced recovery times.
Excellent Patient Care: Santiago is known for its warm hospitality and friendly culture. You'll receive exceptional care and personalized attention throughout your journey.
Tummy Tuck Package in Santiago, Dominican Republic Before and After Images
Patients who undergo a tummy tuck experience a more toned and sculpted abdomen, improved body confidence, and enhanced self-esteem. Results vary based on individual factors and adherence to post-operative care. Check our before and after images below to learn more: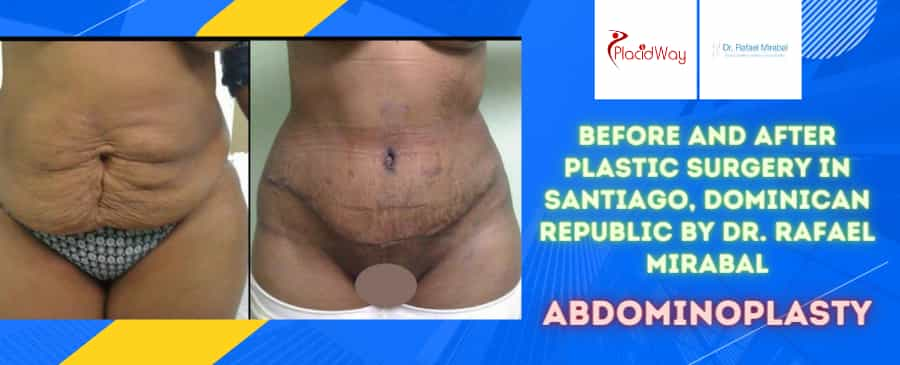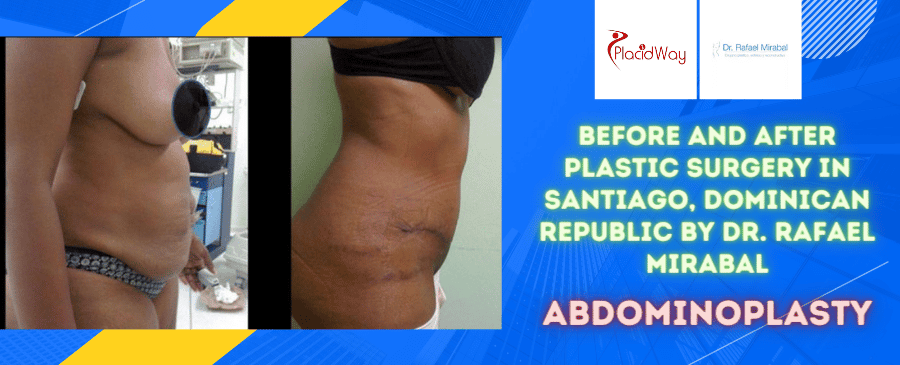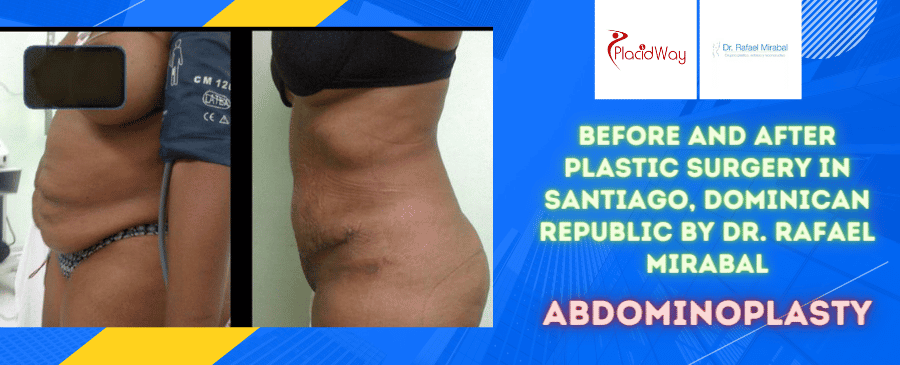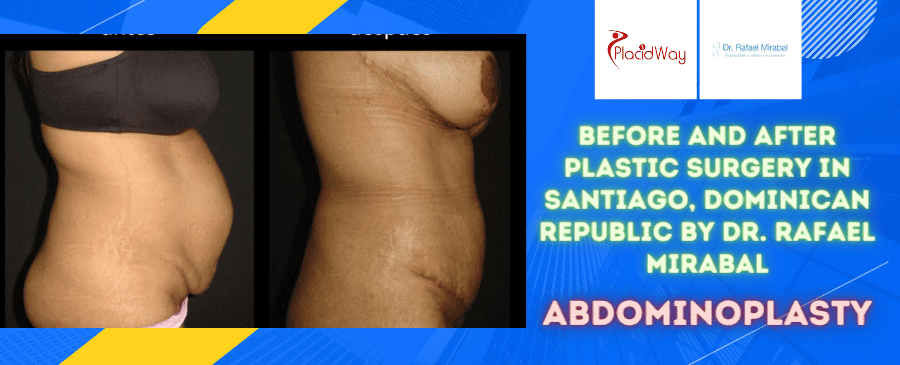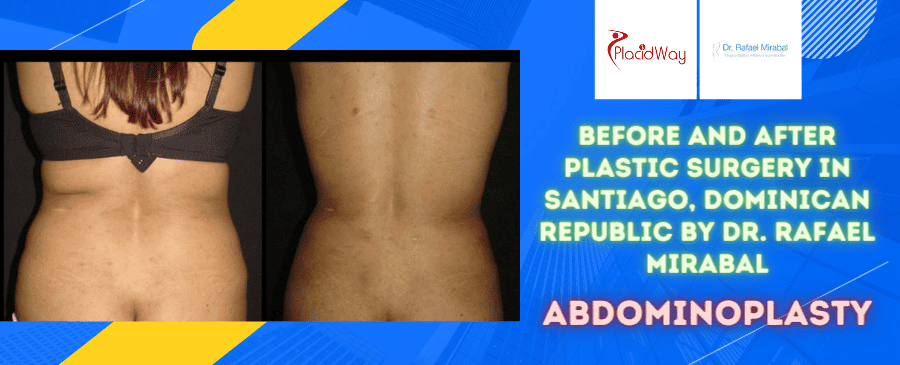 Tummy tuck surgery, also known as abdominoplasty, is a transformative cosmetic procedure that targets loose, sagging skin and excess fat in the abdominal area. During the surgery, an incision is made to remove the surplus skin and fat, and the abdominal muscles are tightened to create a firmer, more toned appearance.
This surgical intervention is particularly effective for individuals who have experienced significant weight loss or pregnancy, leading to stretched abdominal muscles and skin. Tummy tuck surgery not only enhances the aesthetic appearance but also boosts self-confidence and body image. It is essential to consult with a qualified and experienced plastic surgeon to determine the most suitable approach for achieving desired results while ensuring patient safety and satisfaction.
Consultation: Dr. Mirabal will assess your health and discuss your desired outcome to create a personalized treatment plan.
Surgery and Anesthesia: The package covers the surgical procedure and the necessary anesthesia for a safe and comfortable experience.
Hospital Stay: The package includes a specified duration of hospital stay for post-surgery recovery and monitoring.
Post-Op Care: You'll receive follow-up consultations and aftercare instructions to ensure a smooth recovery process.
Transportation and Accommodation: Convenient transportation and comfortable accommodation options are provided to make your stay stress-free.
Additional Procedures: Any additional treatments or medical services beyond the tummy tuck package are not included.
Travel Expenses: Costs related to flights and travel to Santiago are not part of the package.
Personal Expenses: Personal items and expenses during your stay, such as meals and sightseeing, are not covered.
Complications: Treatment for unexpected complications, if any, may not be included in the package.
Medication: The cost of prescribed medications during the recovery period is not part of the package.
Tummy Tuck Surgery Pre-Op Tests
Blood Tests: To evaluate your overall health and ensure you are fit for surgery.
Physical Examination: An assessment to identify any potential risks or complications.
Medical History Review: Dr. Mirabal will review your medical history to tailor the procedure to your specific needs.
Imaging Studies: X-rays or ultrasound to provide a comprehensive view of your abdominal area.
Cardiac Evaluation: A cardiac assessment to ensure your heart health before undergoing surgery.
Meet Dr. Rafael Mirabal, a distinguished and board-certified plastic surgeon in Santiago, Dominican Republic, with a specialization in tummy tuck procedures. With years of experience under his belt, Dr. Mirabal has earned a stellar reputation for consistently delivering outstanding results and ensuring patient satisfaction.
His exceptional skills and attention to detail have made him a trusted and sought-after choice among individuals seeking transformative abdominal contouring. Dr. Mirabal's genuine commitment to providing personalized care and creating a comfortable surgical experience further enhances his standing as a top plastic surgeon in the region. Entrust your tummy tuck journey to Dr. Rafael Mirabal and take the first step towards achieving your desired physique with confidence.
Tummy Tuck Surgeon in Santiago, Dominican Republic

• Sep. 2007- Aug. 2009 Fellow in Invasive Aesthetic Surgery and Non-Invasive Aesthetic Surgery, Uriburu Medical Center, Buenos Aires, Argentina.

• Jul. 2006- Jun. 2009 Universidad del Salvador, Specialization in Plastic and Reconstructive Surgery, Buenos Aires, Argentina.

• 2010 – Present member of the Dominican Medical Association.

• 2010 – Present Member of the Dominican Society of Plastic, Reconstructive and Aesthetic Surgery.
Is Tummy Tuck Right for You?
You have loose, sagging skin and excess fat in the abdominal area.

Your abdominal muscles have weakened due to factors like pregnancy or weight loss.

You are in good overall health and have realistic expectations about the outcome.
What to Expect During the Tummy Tuck Surgery
Pre-surgery preparations and discussions with Dr. Mirabal to understand the procedure.

Anesthesia will be administered for a pain-free experience.

The surgery itself, which typically takes a few hours, depending on the extent of the procedure.

Post-surgery recovery and hospital stay for monitoring and care.

Follow-up consultations to track progress and address any concerns.
Q: What is a tummy tuck, and how does it work?
A: A tummy tuck, or abdominoplasty, is a cosmetic surgery that removes excess skin and fat from the abdomen, tightens abdominal muscles, and contours the waistline for a more toned appearance.
Q: How long does the tummy tuck procedure take?
A: The duration of a tummy tuck surgery varies depending on the complexity of the procedure, but it typically takes around 2 to 4 hours to complete.
Q: Is tummy tuck surgery safe in Santiago, Dominican Republic?
A: Yes, tummy tuck surgeries in Santiago are safe when performed by experienced and qualified surgeons like Dr. Rafael Mirabal. The city follows international healthcare standards, ensuring patient safety.
Q: What is the recovery time for a tummy tuck?
A: The recovery period after a tummy tuck can range from 2 to 4 weeks. Patients should avoid strenuous activities during this time and follow post-operative care instructions for optimal healing.
Q: Are there any age restrictions for undergoing a tummy tuck?
A: While age is a factor, the primary consideration is a patient's overall health and medical history. As long as you are in good health and meet other criteria, you may be eligible for a tummy tuck procedure in Santiago. Consultation with Dr. Rafael Mirabal will determine your suitability for the surgery.
Don't wait to achieve the body of your dreams with tummy tuck procedure. Book your consultation with Dr. Rafael Mirabal in Santiago, Dominican Republic, through PlacidWay Medical Tourism and take the first step toward a confident, new you. Click contact us button below to get started.

Related Experiences:
Tummy Tuck in Dominican Republic
Tummy Tuck in Mexico City
Tummy Tuck in Ankara, Turkey
Tummy Tuck in South Korea
Tummy Tuck in Croatia
Tummy Tuck in Izmir, Turkey
---