CIPLA Clinic Mommy Makeover in Santo Domingo, Dominican Republic
Package price starting from:
$8050
Treatment:
Cosmetic/Plastic Surgery, Mommy Makeover
Location:
Avenida Pedro Henriquez Urena #137, Consultorio 202, La esperilla, Santo Domingo, Republica Dominicana, Santo Domingo , Dominican Republic
Focus Area:
Cosmetic Surgery | Mommy Makeover | Mommy Makeover Abroad | Santo Domingo, Dominican Republic | CIPLA Clinic
---
Mommy Makeover in Santo Domingo, Dominican Republic by Centro Internacional de Cirugia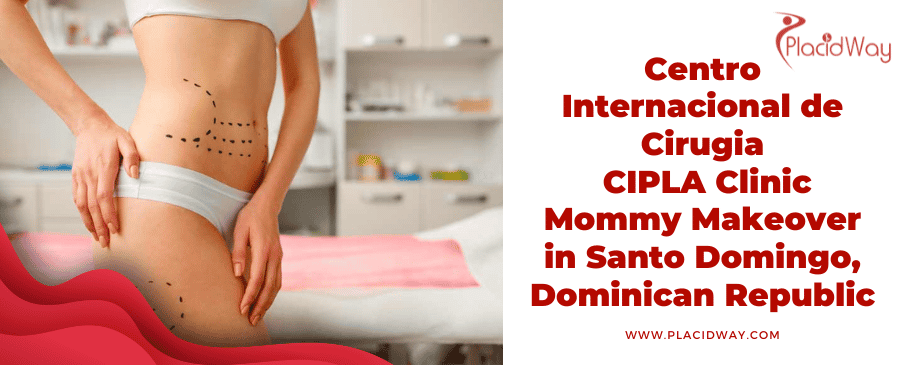 At Centro Internacional de Cirugia CIPLA Clinic, we understand the transformative journey that motherhood brings and recognize the desire to regain confidence and beauty after pregnancy and childbirth. Our exclusive Mommy Makeover Package offers a comprehensive and personalized set of procedures that aim to rejuvenate and enhance your natural beauty, helping you reclaim your self-assurance and glow.
With our team of highly skilled surgeons, state-of-the-art facilities, and a dedication to delivering exceptional results, we invite you to embark on a life-changing experience that combines the best in medical expertise with the allure of a tropical paradise. Discover the ultimate destination for your post-pregnancy transformation at CIPLA Clinic in Santo Domingo, where we prioritize your well-being and dreams of a renewed, radiant you.
Experience the life-changing Mommy Makeover package at CIPLA Clinic in Santo Domingo, Dominican Republic, offered at a competitive rate starting from just 8,050 USD without implants and 8,650 USD with implants. Tailored to meet your unique post-pregnancy needs, our comprehensive procedures aim to restore your confidence and enhance your natural beauty.
With a team of skilled surgeons and state-of-the-art facilities, CIPLA Clinic ensures a safe and successful experience, giving you the opportunity to embrace motherhood while feeling radiant and rejuvenated in the stunning tropical paradise of Santo Domingo.
| | |
| --- | --- |
| Location | Cost in USD |
| Santo Domingo, Dominican Republic | 8,050 USD  |
| United States | 15,050 USD  |
Note: price may change and vary depends on complexity of procedures and patient condition. Click free quote button below to learn more:

Inclusion
Surgery: All surgical procedures included in the Mommy Makeover package.

Hospitalization Expenses: Costs related to your stay at the clinic during the procedure and initial recovery period.

Cures and Postoperative Check-ups: Necessary treatments and follow-up appointments to monitor your recovery progress.

Surgeon, Anesthesiologist, and Assistant Fees: Professional fees for the surgical team involved in your procedure.

First Position Belt and Anti-embolic Stockings: Post-surgery garments to aid in healing and reduce the risk of blood clots.
Exclusion
Complication Insurance: Optional insurance covering unexpected complications, available for an additional cost of 200 dollars.

Cardiologist and Pulmonology Evaluation: Analysis and assessment by specialists, averaging around 400 dollars.

Liposuction Massages: Additional cost for post-liposuction massages, averaging approximately 250 dollars.
Pre-op Test
The laboratory tests should be done at least 7-10 days prior to the procedure. The particular tests are prescribed after a complete physical evaluation of the patient. The pre-op tests required for Mommy Makeover are:
PTT

PT

Complete blood count

Urea and creatinine

Glucose

Fibrinogen
Before and After Mommy Makeover at CIPLA Clinic
Embark on a visual journey of stunning transformations with the captivating before and after images showcasing the remarkable Mommy Makeover results at CIPLA Clinic. Witness the profound rejuvenation and restoration of mothers' bodies as they reclaim their confidence and natural beauty. These images stand as testaments to the expertise of CIPLA Clinic's skilled surgeons and the personalized care provided to each patient. From breast enhancements and tummy tucks to body contouring and more, these visual narratives encapsulate the transformative power of a Mommy Makeover at CIPLA Clinic, where aspirations are turned into reality, and self-assurance is reignited.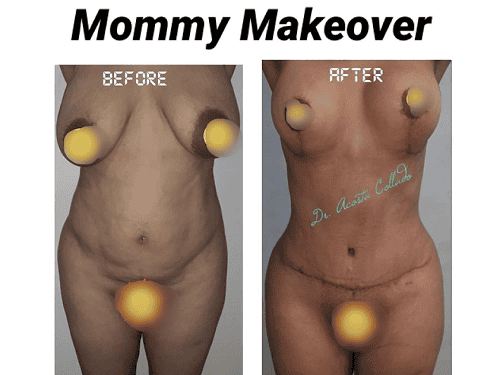 Comprehensive transformation addressing multiple areas of concern.

Customized procedures tailored to individual needs and goals.

Highly skilled and experienced surgeons ensuring quality care.

State-of-the-art facilities meeting international safety standards.

Enhanced self-confidence and comfort in one's appearance.

Affordable packages for quality cosmetic procedures.

Serene recovery setting in the beautiful Santo Domingo.

Supportive and caring staff dedicated to patient well-being.
Discover the expertise of Dr. Jose Luis Acosta Collado, the best Mommy Makeover doctor at CIPLA Clinic in Santo Domingo, Dominican Republic. Experience exceptional results and personalized care under his skilled hands for a transformative post-pregnancy journey.
Mommy Makeover Surgeon in Santo Domingo, Dominican Republic

Dr. Jose Luis Acosta Collado

• Studied at UNPHU

• Studied at Universidad Central de Venezuelaz

• Member of SODOCIPRE

• Member of FILACP

• Member of The American Society of Plastic Surgeons (ASPS)
FAQs (Frequently Asked Questions)
Who is a good candidate for a Mommy Makeover?
Ideal candidates are women who have completed their childbearing, are in good health, and desire to rejuvenate their body contours after pregnancy and breastfeeding.
What can I expect during recovery after a Mommy Makeover?
Recovery times vary, but generally, you can expect some discomfort, swelling, and limited mobility initially. Full recovery may take a few weeks to months, depending on the extent of the procedures.
How do I choose the right Mommy Makeover surgeon in Santo Domingo?
Research extensively, review surgeons' credentials, education, experience, and patient testimonials. Dr. Jose Leon, with his expertise and memberships in prestigious plastic surgery organizations, is a reputable choice.
Are the results of a Mommy Makeover permanent?
While the procedures can provide long-lasting results, maintaining a healthy lifestyle through proper diet and exercise is crucial to sustaining the benefits of your Mommy Makeover over time.
What are the risks associated with a Mommy Makeover?
Like any surgical procedure, Mommy Makeovers carry inherent risks such as infection, bleeding, scarring, and adverse reactions to anesthesia. Dr. Jose Leon and his experienced team prioritize safety to minimize these risks.
How do I prepare for a Mommy Makeover at Santo Domingo?
Preparations may include quitting smoking, maintaining a stable weight, staying hydrated, and arranging for a support system during your recovery. PlacidWay will provide you with detailed pre-operative instructions to ensure a smooth process.
Are you ready to reclaim your confidence and rejuvenate your post-pregnancy body with a Mommy Makeover at CIPLA Clinic in Santo Domingo, Dominican Republic? Don't wait any longer! Take the first step towards your transformation today. Click here to book your appointment with PlacidWay and embark on this life-changing journey in a tropical paradise with expert surgeons and top-notch facilities. Don't miss out on this opportunity to feel radiant and confident once again!

Related Experiences:
Mommy Makeover in Dominican Republic
Mommy Makeover in Nuevo Progreso Mexico
Mommy Makeover in Mexico City, Mexico
Mommy Makeover in Guadalajara, Mexico
Mommy Makeover in Antalya, Turkey
Mommy Makeover in Croatia
---