Package Details

Brain tumors are especially complicated tumors which are difficult to treat and operate on simply because of their position and the importance of the organ that they are attached to. Brain tumors, whether they are malignant or not, press onto the brain and can create a host of problems to the person infected by them. However, with the advancement of technology and the advent of new ways of treating cancer in general and brain tumors in particular, those who have developed brain tumor do not need to lose all hope of salvation.
Beijing in China has gained popularity in its ability to offer high-quality affordable Stem Cell Therapy for Cancer (Brain Tumor) over the time. Medical tourists are traveling to this destination to take advantage of their world-class medical care.
Factors that Affect Package Price for Brain Tumor Treatment
You may find that the same provider is offering different Stem Cell Therapy for Cancer (Brain Tumor) packages in Beijing, China. This happens due to relative factors such as:
Age

Intensity of the disease

Body Mass Index

Weight

Follow up and after treatment procedures, etc

Qualification and experience of the doctor

Facilities offered at the medical center
The doctor at the clinic would ask to go for tests to ascertain the condition of your health. Based on that, the doctor may consult over the phone and explain about the Stem Cell Therapy for Cancer (Brain Tumor).
Benefits of Stem Cell Therapy for Cancer (Brain Tumor) in Beijing, China
Stem cells are able to transform and replace damaged cells.

Stem cells are derived from the patient's own adipose tissue, they are completely natural and there are usually no side effects recorded.

Expert and qualified surgeons

Very few side effects

No pain, no anesthesia required

Radiation free

No surgery

No blood loss

Non-invasive method

Exotic holiday at Beijing, China
Complexity Level: High

Cost: The cost of Stem Cell Therapy for Cancer (Brain Tumor) in Beijing, China starts from $30,780 *.
Note: *Final prices are determined after physical evaluation and laboratory reports analysis.
Length of Stay: 10 - 15 days
Note: The length of stay depends on the patient's health condition and the complexities associated with the chosen procedure.
Inclusions
All hospital fees with night stay

Pre and post-operative consultations

All medical fees (doctors, anesthesiologist and nursing staff)

Post-surgery garments
Exclusions
Hotel or recovery house

Preoperative lab work

Airfare
List of Required Pre-Op Tests
Imaging tests

DNA (genetic) testing

Electromyography or nerve conduction tests

Blood enzyme tests

Metabolic tests

Blood tests
Note: The laboratory tests are done at least 7-10 days prior to the procedure. The particular tests are prescribed after a complete physical evaluation of the patient.
Payment Options: Cash, credit card, wire transfer
Note: The center may require a money deposit once a patient decides to book the surgery.
How to Get There for Brain Tumor Stem Cell treatment
Beijing is the capital city of China and one of the largest cities in the world. You can reach Beijing through a number of convenient ways. Beijing Capital International Airport is connected with most of the major cities across the world.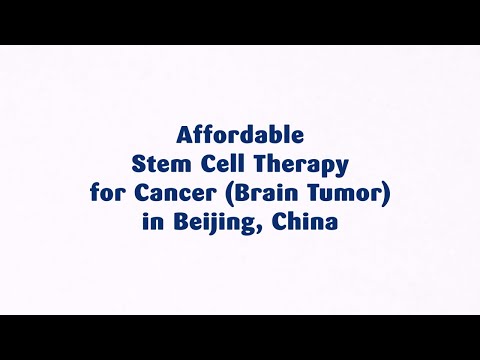 For more details on Stem Cell Therapy for Cancer (Brain Tumor) in Beijing, China, click the button below!