Rhinoplasty Package in Cancun, Mexico by Riviera Institute for Plastic Surgery
Package price starting from:
$4310
Treatment:
Cosmetic/Plastic Surgery, Nose Surgery Rhinoplasty
Location:
Av. Tulum Mza. 1 Lote 1 Sm. 12 Int. 309, 77505 Cancún, Q.R., Mexico Culiacán, Mexico
Focus Area:
Riviera Institute for Plastic Surgery | Cancun | Mexico | Rhinopalasty | Nose Surgery
---
Achieve a Remarkable Nose Surgery in Cancun, Mexico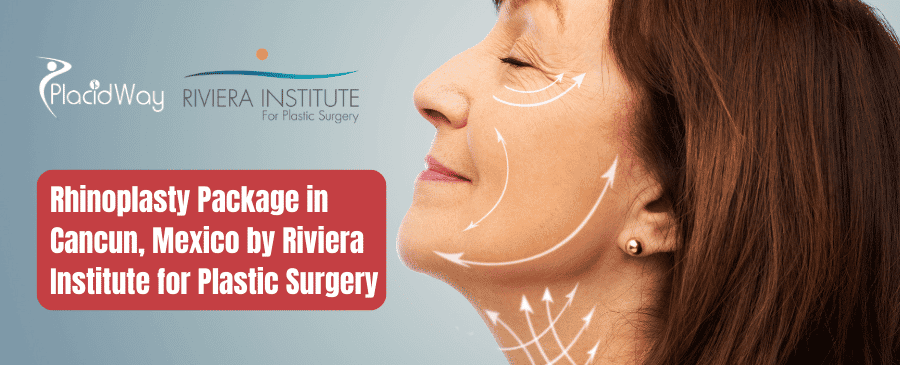 Welcome to the world of aesthetic excellence at the Riviera Institute for Plastic Surgery in Cancun, Mexico. Our Rhinoplasty Package offers a transformative experience that combines the expertise of our skilled surgeons with the allure of a stunning beachside destination. If you've been considering rhinoplasty to enhance your facial features and boost your confidence, look no further. Let's delve into the advantages of choosing Cancun, Mexico for your rhinoplasty treatment, explore the procedures and package inclusions, discuss the pre-op tests, and help you determine if this treatment is the right choice for you. Discover the art of refinement and beauty with Riviera Institute for Plastic Surgery.
You can get rhinoplasty package in Cancun, Mexico by Riviera Institute for Plastic Surgery with the price starts at $4,310. Please refer to our price list table below:
| | |
| --- | --- |
| Location | Cost in USD |
| Cancun, Mexico | $4,310 |
| United States | $10,000 |
| Canada | $16,000 |
Note: price may change and vary depends on complexity of procedures and patient conditions. Click free quote button below to learn more:

Exemplary Medical Facilities: Cancun boasts state-of-the-art medical facilities, and Riviera Institute for Plastic Surgery is at the forefront of providing exceptional patient care and safety standards.
Renowned Surgeons: Our team of experienced and board-certified plastic surgeons has a proven track record of successful rhinoplasty procedures, ensuring you're in expert hands.
Affordable Packages: Cancun offers cost-effective rhinoplasty packages without compromising on quality, making it an attractive option for international patients.
Serene Recovery Environment: After your rhinoplasty, enjoy a relaxing recovery amidst the stunning beaches and tranquil atmosphere of Cancun, promoting a faster healing process.
Medical Tourism Destination: Embrace a unique blend of medical expertise and vacation experience, making Cancun the ideal destination for your rhinoplasty journey.
Rhinoplasty, commonly known as a nose job, is a surgical procedure that aims to reshape and enhance the appearance of the nose. The skilled surgeons at Riviera Institute for Plastic Surgery customize each rhinoplasty to address the individual's specific needs and desires. The procedure can involve modifying the nasal bridge, refining the nasal tip, or adjusting the nostrils. Whether it's for aesthetic reasons or to correct breathing difficulties, our team is committed to achieving natural and beautiful results.
Initial Consultation: A comprehensive one-on-one session with the surgeon to discuss your goals, assess your suitability for rhinoplasty, and create a personalized treatment plan.
Surgical Procedure: The rhinoplasty surgery performed by our skilled surgeons, utilizing advanced techniques to achieve the desired outcome.
Anesthesia and Medications: General anesthesia for a comfortable and pain-free experience during the procedure, along with necessary medications for a smooth recovery.
Post-Operative Care: Close monitoring by our medical team to ensure a safe recovery, along with follow-up consultations as needed.
Airport Transfers and Accommodation: Hassle-free airport transfers and comfortable accommodation options, making your stay in Cancun stress-free and enjoyable.
Travel Expenses: The package cost does not cover your travel expenses to and from Cancun, Mexico.
Additional Medical Procedures: Any supplementary medical treatments required during or after the rhinoplasty procedure are not included in the package.
Personal Expenses: Any expenses related to personal shopping, local sightseeing, or recreational activities are not covered.
Travel Insurance: It is advisable to arrange your travel insurance, as it is not part of the package.
Complications and Revisions: In case of unforeseen complications or revision surgeries, additional costs may apply.
Rhinoplasty Surgery Pre-Op Tests:
Nasal Evaluation: A thorough examination of your nasal structure and breathing to determine the most suitable rhinoplasty approach.
Health Assessment: General health check-up to ensure you are fit for the surgical procedure.
Blood Tests: Comprehensive blood tests to assess your overall health and detect any potential issues.
Imaging Studies: Specialized imaging studies, such as X-rays or CT scans, to aid in planning the surgery.
Allergy Testing: Identification of any allergies that may influence anesthesia or post-operative care.
Discover the expertise of top-notch cosmetic surgeons in Cancun, Mexico, specializing in nose surgery at Riviera Institute for Plastic Surgery. With a reputation for excellence and a commitment to achieving natural-looking results, our skilled surgeons provide personalized care and attention to each patient's unique needs. Whether you seek aesthetic enhancements or functional improvements, trust in the artistry of our surgeons and the allure of Cancun's beauty to make your nose surgery journey a remarkable experience.
Rhinoplasty Surgeon in Cancun, Mexico

Dr. Alicia Benavides

Dr. Nain Maldonado
Is Rhinoplasty Right for You?
Deciding to undergo rhinoplasty is a personal and significant choice. To determine if rhinoplasty is right for you, consider the following factors:
Aesthetic Goals: Are you unhappy with the size, shape, or overall appearance of your nose? Rhinoplasty can address various cosmetic concerns and enhance facial harmony.
Breathing Issues: Do you experience difficulty breathing due to a deviated septum or other structural problems? Rhinoplasty can correct functional issues, improving nasal airflow and quality of life.
Realistic Expectations: Understanding the limitations and potential outcomes of rhinoplasty is crucial. Discuss your expectations with your surgeon to ensure they align with achievable results.
Physical and Emotional Health: Good overall health, both physically and mentally, is essential for a successful rhinoplasty procedure and recovery.
Commitment to Recovery: Rhinoplasty requires a recovery period, during which you'll need to follow post-operative instructions diligently to achieve optimal results.
Consulting with an experienced rhinoplasty surgeon is the best way to determine if this procedure aligns with your goals and suits your unique anatomical considerations. The experts at Riviera Institute for Plastic Surgery in Cancun, Mexico, can guide you through the decision-making process and craft a personalized treatment plan for your ultimate satisfaction.
What to Expect During the Rhinoplasty in Cancun, Mexico
Consultation: Discuss your goals and expectations with the surgeon, who will evaluate your nasal structure and determine the most appropriate approach.
Surgery: The rhinoplasty procedure will be performed under general anesthesia for your comfort and safety.
Recovery: After surgery, you will be monitored closely by our medical team during the initial recovery period.
Follow-Up: Post-operative follow-up consultations will be scheduled to track your progress and address any concerns.
Q: What is rhinoplasty, and how can it improve my appearance?
A: Rhinoplasty, commonly known as a nose job, is a surgical procedure to enhance the appearance of the nose. It can correct proportions, smooth bumps, refine the tip, or adjust nostril size, resulting in a more balanced and harmonious facial appearance.
Q: Is the Riviera Institute for Plastic Surgery in Cancun, Mexico, a reputable facility?
A: Yes, the Riviera Institute for Plastic Surgery is a renowned and trusted medical facility with experienced, board-certified plastic surgeons. The institute prioritizes patient safety, top-notch care, and impressive results.
Q: How long is the typical recovery period after rhinoplasty?
A: Recovery times vary, but most patients can return to regular activities within a week after rhinoplasty. However, it's essential to follow post-operative care instructions provided by the medical team for optimal healing.
Q: What are the benefits of choosing rhinoplasty in Cancun, Mexico, over other destinations?
A: Cancun offers a winning combination of exceptional medical facilities, renowned surgeons, affordability, and a serene recovery environment. It also provides the opportunity to turn your medical journey into an enjoyable medical tourism experience.
Q: Are there any age restrictions for undergoing rhinoplasty at Riviera Institute for Plastic Surgery?
A: Generally, rhinoplasty is suitable for individuals who have completed their facial growth, which typically occurs around the age of 18. However, eligibility for the procedure will be determined during the initial consultation with our expert surgeons.
Take the first step toward your dream nose and enhanced confidence by booking a consultation at Riviera Institute for Plastic Surgery through PlacidWay Medical Tourism. Embrace a life-changing experience, combining the art of aesthetics with the enchanting allure of Cancun, Mexico. Don't wait; contact us today to embark on your rhinoplasty journey!

Related Experiences:
Rhinoplasty in Cancun, Mexico
Rhinoplasty in Guadalajara, Mexico
Rhinoplasty in Tijuana
Nose Job in Mexicali
Rhinoplasty in Mexico – Compare Clinics, Costs and Reviews
Rhinoplasty in Merida, Mexico
---