Mommy Makeover at Top Plastic Surgery Clinic in Tijuana, Mexico
Package price starting from:
$10300
Treatment:
Cosmetic/Plastic Surgery, Mommy Makeover
Location:
Diego Rivera No. 23390-101, Zona Urbana Río, Tijuana Baja California, Mexico
Focus Area:
Advance Health Medical Center | Tijuana | Mexico | Mommy Makeover
---
Mommy Makeover Surgery in Tijuana, Mexico

Mommy Makeover at Top Plastic Surgery Clinic in Tijuana, Mexico
The Mommy Makeover procedure includes areas of the body that women want to improve. Some women may opt for a tummy tuck after losing the baby weight while others may opt for breast augmentation due to the lack of volume following breastfeeding.
This is a combination of surgeries designed to restore various parts of your body, especially after pregnancy. The types of surgeries include tummy tuck which removes loose skin in the abdomen, breast lift in order to lift sagged breasts, breast augmentation to restore breasts' volume, liposuction or liposculpture to help in body contouring or vaginal rejuvenation procedure to improve the appearance of your genitals after childbirth.
The package offered by Dr. Gustavo Yanez includes breast augmentation, tummy tuck and liposculpture, all aimed at helping women recover beautifully from post-pregnancy body changes and breastfeeding.
Note: The estimated cost of Mommy Makeover Surgery at Advance Health Medical Center in Tijuana, Mexico is around $10,300. Final prices are determined after physical evaluation and laboratory reports analysis.

Cost-effectiveness: Tijuana offers significant cost savings compared to the United States and Canada, with mommy makeover packages at Advance Health Medical Center being more affordable without compromising on quality. This makes it a feasible option for individuals seeking aesthetic enhancements.
World-class medical facilities: Advance Health Medical Center boasts modern and well-equipped facilities, adhering to international healthcare standards. Their surgical suites are outfitted with advanced technology, ensuring a safe and comfortable environment for your mommy makeover procedures.
Highly skilled surgeons: The surgeons at Advance Health Medical Center are board-certified and experienced in performing mommy makeovers. They are known for their expertise, precision, and attention to detail, delivering exceptional results tailored to your specific needs.
Personalized care and support: The medical staff at Advance Health Medical Center is dedicated to providing individualized care throughout your mommy makeover journey. From the initial consultation to post-operative follow-ups, you can expect comprehensive support and guidance at every step.
Convenient location: Tijuana is located just across the border from the United States, making it easily accessible for patients from North America. The city has excellent transportation links and is well-connected to major airports, ensuring a hassle-free journey for patients traveling for their mommy makeover procedures.
Before and After Images for MMO in Tijuana, Mexico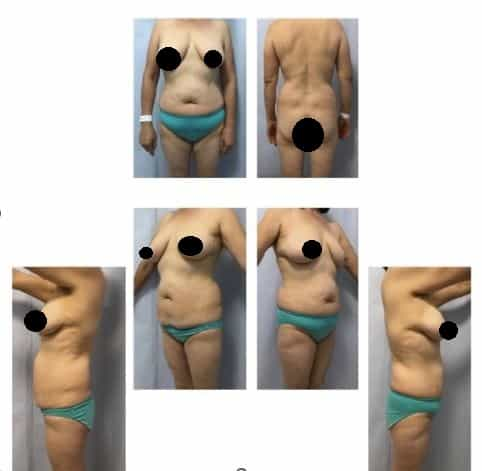 Medical fees

Clinic fees (+1 night stay after your surgery)

Basic blood test + cardiologic evaluation 

Transportation from/to San Diego Airport from/to Clinic

Stay in a hotel. (+1 night before your surgery to avoid complications with schedules and +2 nights to allow you to rest and recover to take your flight back home)

Garments needed after surgery + MENTOR Implants (in case they are needed)

Medicines for seven days after surgery (antibiotics and analgesics)
Preoperative lab work

Airfare
List of Required Pre-Op Tests
PTT

PT

Complete blood count

Urea and creatinine

Glucose

Fibrinogen
Complexity Level: Medium
Note: The laboratory tests are done at least 7-10 days prior to the procedure. The particular tests are prescribed after a complete physical evaluation of the patient.
Factors that Affect Package Price
You may find that the same provider is offering different package prices for Mommy Makeover Surgery in Tijuana, Mexico. This happens due to relative factors such as:
Age

Medical conditions, like diabetes and lupus

Hormonal changes

The response of the body to the pre-op tests

Weight of the body

Experience of the Surgeon

Post-Operative Care
The doctor at the clinic would ask to go for laboratory tests to ascertain the problem and plan your treatment course of action. Based on that, the doctor may consult over the phone and explain the plan for Mommy Makeover Surgery.
Choosing Tijuana for your mommy makeover treatment offers a range of advantages. Besides the affordability, the city is renowned for its exceptional healthcare services, attracting highly qualified medical professionals who provide world-class care. Tijuana also offers a vibrant culture, delicious cuisine, and a welcoming atmosphere, making your medical journey a memorable experience.
Is Tijuana a safe destination for undergoing a mommy makeover?
Tijuana has established itself as a safe and popular destination for medical tourism. Advance Health Medical Center follows strict safety protocols and standards, ensuring a secure environment for all patients.
How long does the recovery process take after a mommy makeover?
The recovery time can vary depending on the specific procedures performed during the mommy makeover. Generally, patients can expect a recovery period of two to four weeks. However, it's important to follow post-operative instructions provided by the medical team for optimal healing.
Will there be visible scarring after a mommy makeover?
While incisions are made during the mommy makeover procedures, the surgeons at Advance Health Medical Center employ advanced techniques to minimize scarring. They strategically place incisions in discreet locations and provide post-operative care instructions to promote proper healing and minimize visible scarring.
What is the recommended timeframe to wait after childbirth before undergoing a mommy makeover?
It is generally advised to wait at least six months after childbirth to allow the body to fully recover and stabilize. This waiting period ensures that the body has healed and hormonal changes have stabilized, providing a safer and more predictable outcome for the mommy makeover procedures.
Can I combine a mommy makeover with other cosmetic procedures?
Yes, it is common for patients to combine a mommy makeover with other cosmetic procedures, such as facial rejuvenation or vaginal rejuvenation. Advance Health Medical Center offers personalized treatment plans, and the surgeons can discuss the options available to achieve your desired results during the consultation.
Book your consultation today at PlacidWay Medical Tourism and embark on your mommy makeover journey at Advance Health Medical Center in Tijuana, Mexico. Reclaim your confidence and enjoy the remarkable results of a comprehensive mommy makeover package in Tijuana. Click contact us button below to get started:

Related Experiences:
Mommy Makeover in Tijuana, Mexico
Mommy Makeover in Nuevo Progreso Mexico
Mommy Makeover in Mexico City, Mexico
Mommy Makeover in Guadalajara, Mexico
Mommy Makeover in Mexico
Mommy Makeover in Merida, Mexico
---