Breast Augmentation in Bangkok Thailand by Bangkok Plastic
Treatment:
Cosmetic/Plastic Surgery, Breast Augmentation
Location:
422-426/1 Indramara Soi, 20 Soothisarn Road Dindaeng District, Bangkok, Thailand, 10400, Thailand
Focus Area:
Breast Augmentation | Bangkok | Thailand | Boob Job | Breast Surgery | Breast Implants | Augmentation Mammoplasty
---
Affordable Package for Breast Augmentation in Bangkok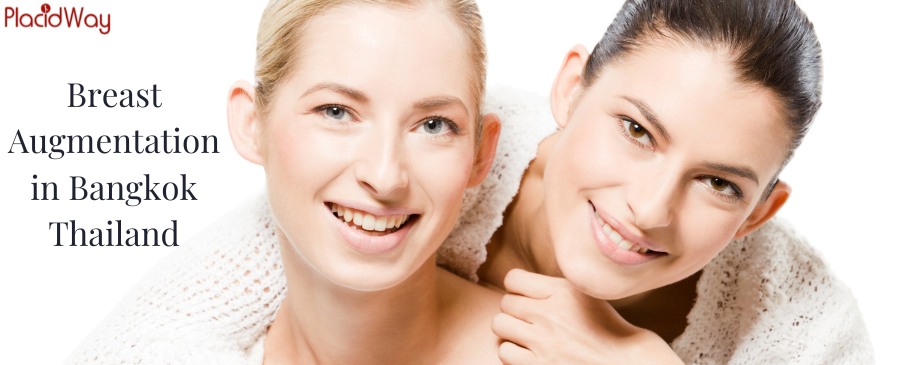 Breast Augmentation Package in Bangkok Thailand
Want to Increase your breasts size? Experienced plastic surgeons in Bangkok will help you by providing effective Breast augmentation procedure at low-cost. These surgeons work at the top clinic in Bangkok named Bangkok Plastic Surgery Clinic.
The clinic is equipped with modern facilities and the latest technology in cosmetic surgery. It works with local and foreign patients providing over 3,000 successful cosmetic procedures so far. 
What is Breast Augmentation Procedure?
Breast augmentation, or augmentation mammoplasty, is a procedure to increase breast size. It involves placing breast implants under the breast tissue or chest muscles.
Breast augmentation helps women to feel more confident or reshape their breasts for various conditions.
Breast Augmentation cost in Bangkok is around $3,200. In America or Australia it is over $5,200 USD. Therefore, you can have a cost-saving of 50% and more in Thailand top clinic.
| | |
| --- | --- |
| Countries | Cost in USD |
| Bangkok, Thailand | $3,200 |
| Australia | $9,000 |
| United States | $5,200 |
Note: For more information about the final price, make sure to contact the clinic directly. The price may vary depending on your condition and the complexity of the surgery.

Advantages of Choosing Bangkok Plastic Surgery clinic:
Boob Job Surgery Package Includes:
Operating room

Recovery room or standard inpatient room

Nursing service

Package food

Medicine

Medical equipment

Medical supply which requires for the specific operation

Home medication

Consultation fee

Surgeon team and anesthesiologist team

Garment 

Follow check-up with or without local transportation from the hotel or your place to a clinic
Boob Job Surgery Package Excludes:
Payment Options: Cash, credit card, wire transfer
Note: The center may require a money deposit once a patient decides to book the surgery.
Why Choose Bangkok, Thailand for Augmentation Mammoplasty?
Lively Bangkok, the capital of Thailand, will enchant you with its diversity. The city is amazing in every sense and has been popular for its vibrant nightlife. During your stay for high-quality boob surgery, spend some time visiting Bangkok's top attractions such as:
Wat Pho To See The Reclining Buddha

Grand Palace

Chatuchak Market

Take a Boat Trip along the Chao Phraya River

Bangkok National Museum
FAQs about Breast Augmentation Surgery in Bangkok, Thailand
What is the recovery time for a boob job in Bangkok?
Recovery time after a boob job in Bangkok can last a couple of weeks. After a week or two after the surgery you can go back to work. It is not recommended that you drive for at least one week. Check with your surgeon regarding the recovery period to know what to expect.
Is it safe to have a boob job in Bangkok?
Bangkok is a safe destination for tourists. In addition, plastic surgery clinics provide safe and effective cosmetic surgery. The city boast of experienced plastic surgeons and accredited clinics.
Therefore, you can stay sure knowing you'll have high-class breast surgery in beautiful Bangkok.
What to Expect after Breast Enlargement procedure in Bangkok?
After the breast surgery, you can feel weak and sore for up to three weeks. You can expect to feel better a couple of days after the surgery, although you may need pain medicine for a while.
Consult with your surgeon to know your options and have realistic expectations of the surgery.
Book Affordable Package for Breast Augmentation in Bangkok, Thailand Today!
Don't hesitate to book your Breast Enlargement package in Bangkok, Thailand at Bangkok Plastic Surgery Clinic today. Save over 50% of your money and spend a wonderful vacation in Thailand. Contact us for more detail on the package.

Related Experiences:
Breast Augmentation in Bangkok, Thailand
Best Breast Augmentation in Thailand
Breast Augmentation in Colombia
Breast Augmentation in Monterrey Mexico
Breast Augmentation in Guadalajara, Mexico
Breast Augmentation in Izmir, Turkey
---
Cosmetic/Plastic-Surgery Related Packages
Cosmetic/Plastic-Surgery Related Experiences