Package Details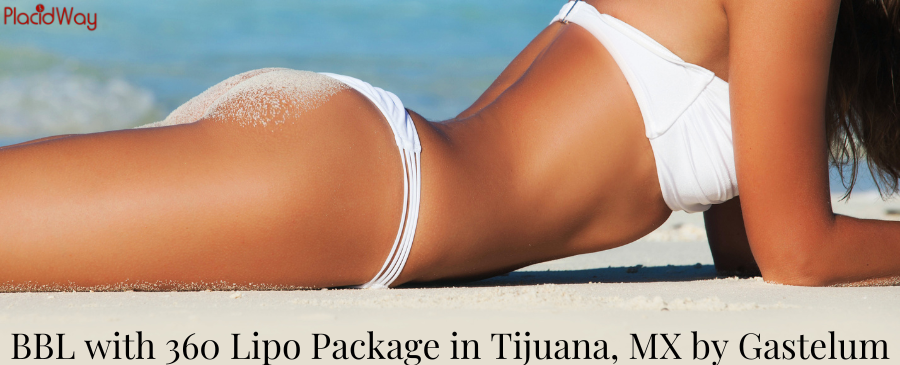 BBL + Liposuction Package in Tijuana, Mexico
Choose an affordable, safe, and quality package for BBL with 360 Lipo at only $4,200 (price includes back, waist and flank, with fat transfer). Improve your physical appearance, eliminate excess fat, and enhance your butt shape with cost-effective Brazilian butt lift and lipo surgery in Tijuana, Mexico.
Gastelum Cosmetic Surgery is a top-rated plastic surgery practice in Mexico. The clinic attracts thousands of American and Canadian patients each year. It is close to the US since its located in a Tijuana border town.
Liposuction helps you remove excess fat deposits from specific areas of the body. It can be done around the hips, abdomen, arms, and buttocks.
Brazilian Butt Lift or BBL is a cosmetic procedure that enhances the look of the buttock area and provides a better shape.
Plastic Surgery Cost in Tijuana by Gastelum Cosmetic Surgery
The cost of lipo and BBL in Tijuana is only $4,200 approximately. In America and Canada, liposuction costs over $6,000.
Note: Contact the clinic directly for more information about the final price. The price may vary depending on your condition and the complexity of the surgery.
Advantages of Choosing Plastic Surgery at Gastelum:
High-success rate of BBL and Lipo

English-speaking medical team

Experienced plastic surgeons

Affordable cosmetic surgery

The latest technology used in a plastic surgery
All related surgical cost: surgeons, anesthesia, equipment, hospital stay, nursing care.

X-Rays, Laboratory works

Pre-surgical Evaluation

Post-surgical medication and follow-up

Medical attention and security 24/7

Surgery in Hospital De Los Archangeles
Payment Options: Cash, Credit Card, or Checks.
Best Plastic

Surgeon

 in Tijuana
Dr. Óscar Leal Gastelum is a board-certified cosmetic surgeon with a long history of experience. He is among the best plastic surgeons in Mexico. These are his credentials:
Specialist in Cosmetic Surgery 

Experience: 10+ years 

Fluent in English
Why Choose Cosmetic Procedures in Tijuana, Mexico?
Tijuana is a US-Mexico border town and is easily reached by patients from North America. Besides quality plastic surgery clinics, Tijuana offers other advantages.
It is also a popular tourist place with numerous attractions such as:
Tijuana Cultural Center
Avenida Revolucion
Mercado El Popo
Playas de Tijuana
Museo de Cera de Tijuana
FAQs about Liposuction and Brazilian Butt Lift in Tijuana
What should I expect after the Liposuction procedure?
First, you should expect bruising, swelling, and soreness for a few weeks after lipo surgery. But long-term results improve your general health, self-esteem, and body shape.
Am I a good candidate for BBL procedure?
You are eligible for a Brazilian butt lift if you fall into these categories:
Have excess fat in other areas of your body

Good skin integrity with some sagging skin on the buttocks

Good overall health

Have realistic expectations

You are a nonsmoker 
Is Tijuana safe for Plastic Surgery?
Yes, Tijuana is a safe place to get your desired cosmetic procedure. Clinics are well-equipped with modern technology. Doctors are certified to perform a high success rate of plastic surgery.
You can rest assured that you'll be safe and comfortable during the treatment and as a tourist in this innovative border town.
Get Now Affordable Liposuction Package in Tijuana, Mexico!
Related Experiences:
Brazilian Butt Lift in Tijuana, Mexico - Your Butt Lift Solution
Liposuction in Tijuana - Choose Mexico for Liposculpture
Brazilian Butt Lift in Mexicali, Mexico
Achieve Beautifully Shaped Body with Liposuction in Mexico!
Choose Attractive Brazilian Butt Lift BBL in Mexico
Brazilian Butt Lift in Cancun, Mexico - Best Prices and Clinics!