Abdominal Etching in Mexicali Mexico by Dr. Alejandro Paredes
Treatment:
Cosmetic/Plastic Surgery, Liposculpture, Liposuction, Abdominal Etching
Focus Area:
Abdominal Etching | Liposculpture | Mexicali, Mexico | Dr. Alejandro Paredes
---
Affordable Package for Six-Pack Liposuction in Mexicali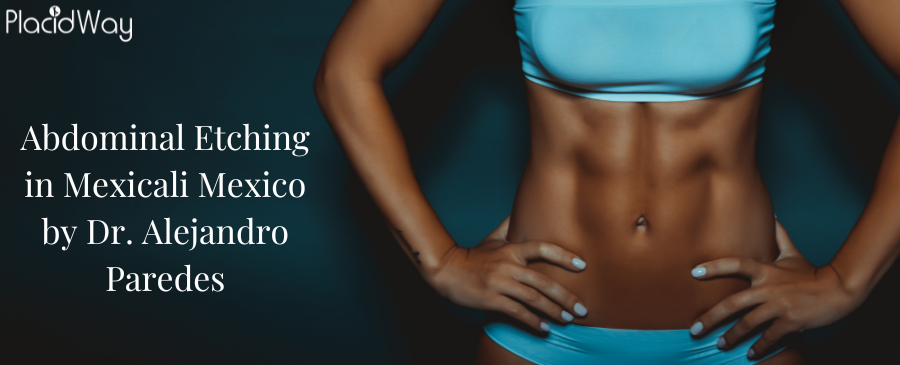 Cost-Effective Body Contouring Surgery in Mexicali, Mexico
Abdominal etching is the least invasive form of body contouring surgery. It will help you achieve the desired six-pack abs by removing stomach fat, allowing your natural abs to stick out and create a fantastic 'six-pack appearance.' You don't need to spend money and endless hours at the gym if you choose the package for Abdominal etching in Mexicali offered by a highly skilled surgeon.
Package Price: $7,700
Dr. Alejandro Paredes owns a world-class plastic surgery clinic in Mexicali. Many international patients come here for affordable, effective lipo or other plastic surgery.
Benefits of Dr. Alejandro Paredes clinic:
Safe and effective plastic surgery

English-speaking medical team

Board-certified plastic surgeon

Affordable liposuction surgery

The latest technology in performing surgery

Modern facilities for patient comfort
What is an abdominal etching Procedure?
Abdominal etching is a type of liposuction procedure. This outpatient procedure is typically performed under local anesthesia with intravenous (IV) sedation. A surgeon uses a suction technique just like in liposuction to remove fat deposits underneath your skin.
However, the results that lipoetching aims to achieve differ from a classic lipo surgery. Abdominal etching molds and shapes your abdominal wall so that your ab muscles look more prominent.
The 

Cost of

 Abdominal etching Package in Mexicali by Dr. Paredes
The all-inclusive package for six-pack liposuction by Dr. Alejandro Paredes cost $7,700. The costs in US and Canada include the surgery only.
Note: For more information about the final price, make sure to contact the clinic directly. The price may vary depending on your condition and the complexity of the surgery.

Advantages

of Abdominal Etching Surgery
Minimally invasive

Performed using local anesthesia on an outpatient basis

Removes stomach fat

Makes your natural abs prominent to create a six-pack appearance

Tightens the abdominal skin

Quick recovery

Reduced risk of post-operative complications

Minimal to no scarring

Minimal pain and discomfort

Washboard abs

Boost confidence

Long-lasting results
Six Pack Surgery

Package in Mexicali Inclusions
All related surgical costs: surgeons, anesthesia, equipment, hospital stay, nursing care.

Consultations with the surgeon

Meals and medications included while stay at Hospital

1 night stay at the Hospital 

Personal host in Mexicali and Hospital dedicated to your travel itinerary.

Case Manager Assistance Bilingual

Transportation service from Yuma Arizona Airport
Six Pack Surgery

Package Exclusions
Payment Options:  Cash, Credit and Debit Cards.
Best Plastic 

Surgeon

 

in

 Mexicali
Dr. Alejandro Paredes is one of the top plastic surgeons in Mexicali and performs the most cosmetic surgeries daily in the city.
Other credentials that make Dr. Paredes the best surgeon are:
Plastic surgery with more than 33 years of experience

Former President and Adviser to the College of Baja California plastic surgery

Graduate of the Institute of reconstructive surgery of Jalisco, Mexico

Association of the Council Mexican from surgeons plastic Mexican

Member of the world society of plastic surgeons.

Practice Specialty: Aesthetic & Reconstructive Surgery
Why Choose 

High-Def Liposuction in Mexicali, Mexico?
Mexicali is famous for its rich history and culture, diverse cuisine, and lively nightlife. The city is also home to several excellent museums, galleries, and parks.
Here are several tourist places you can visit during your stay in Mexicali for lipoetching procedure:
Museo Sol del Nino

Canon de Guadalupe 

Catedral de Nuestra Senora de Guadalupe
FAQs about Abdominal Etching Surgery in Mexicali, Mexico
Am I a candidate for abdominal etching?
You are a good candidate for lipoetching if you are generally fit but can't achieve the athletic-looking muscle definition. You should remember that Abdominal etching is not a weight loss surgery. 
This procedure is indicated for individuals who: 
Have a healthy diet

Exercise regularly

Struggle with 'resistant tummy fat'

Have toned underlying abdominals

Desire more defined abdominal lines

Have realistic expectations

Non-smoker

Doesn't have life-threatening health conditions

Doesn't have obesity.
Before deciding on this surgery, speak to your doctor to discuss whether abdominal etching suits you.
What are the side effects of Abdominal etching?
Abdominal etching is considered a low-risk cosmetic procedure. But it can have some minor risks and side effects such as:
Infection

Damage to nerves

Bleeding 

Swelling

Bruising 

Anesthesia bruising or headaches
Your doctor should be able to tell you about these side effects so that you know how to prepare for the surgery.
What is the difference between liposuction and abdominal etching?
Abdominal etching is equal to traditional liposuction in the preparation for surgery, recovery time, and requirements for the procedure. However, there are a few differences between these two lipo surgeries.
For example, the results of abdominal etching are much more evident than traditional liposuction. Also, Abdominal etching removes fat from your abdomen and nowhere else, while liposuction removes fat from different areas of your body.
If you are still unsure about which procedure is for you, speak to your doctor.
What is Abdominal etching recovery process?
The recovery period after abdominal etching is relatively short. You should wear a compression garment for three to six weeks post-surgery.
During recovery, you may experience discomfort, swelling, and bruising. However, this should subside within a few days to weeks.
Most patients can return to work a few days after the procedure. Lifting heavy items is not recommended.
After all, everyone's recovery will vary depending on an individual's pain tolerance and healing response.
Book Affordable Package for 

Six-Pack Liposculpture

 in Mexicali Mexico Today!
Get your all-inclusive package for Abdominal Etching in Mexicali Mexico at the top clinic! Experienced plastic surgeon Dr. Alejandro Paredes will help you achieve the desired six-pack appearance. Contact us for more details!

Related Experiences:
Liposuction in Mexicali, Mexico
Liposuction in Merida Mexico
Liposuction in Mexico City
Abdominal Etching in Mexico
Liposuction in Tijuana - Choose Mexico for Liposculpture
Achieve Beautifully Shaped Body with Liposuction in Mexico!
---
---
---
---