Liposculpture with BBL Package by Costamed in Cancun, Mexico
Package price starting from:
$5885
Treatment:
Cosmetic/Plastic Surgery, Liposculpture, Brazilian Butt Lift
Location:
Carretera Federal, MZ 285, Lt 7 entre 27 y 23 Edificio Progreso Col. Ejido Sur, Playa del Carmen 77712 Playa del Carmen Quintana Roo, Mexico, Mexico
Focus Area:
Costamed Medical Group | Cancun | Mexico | Liposculpture | BBL
---
Transform Your Figure with Liposculpture & BBL in Cancun, Mexico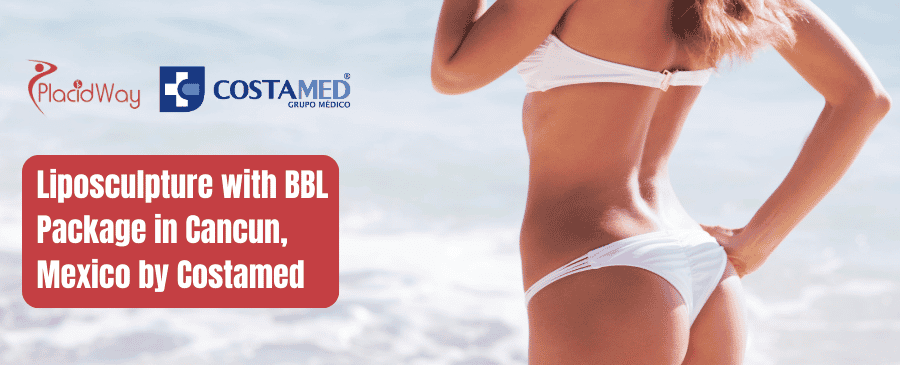 Experience the transformative power of Liposculpture with BBL Package in Cancun, Mexico, offered exclusively by Costamed Medical Group. This comprehensive package delves into the details of this remarkable treatment, highlighting its benefits, procedures, package inclusions/exclusions, pre-op tests, suitability, before-and-after results, and what to expect during the treatment. Discover how you can achieve your desired body contours while enjoying a luxurious getaway in Cancun.
You can get liposculpture with BBL package by Costamed in Cancun, Mexico with the price starts at $5,885. Check our price list table below for more information:
| | |
| --- | --- |
| City, Country | Cost in USD |
| Cancun, Mexico | $5,885 |
| United States | $12,000 |
| Canada | $19,500 |
Note: price may change and vary depends on complexity of procedures and patient conditions. Click free quote button below to learn more:

World-class Facilities: Cancun boasts state-of-the-art medical facilities equipped with advanced technology and highly skilled professionals.
Affordable Prices: Liposculpture with BBL Packages in Cancun are attractively priced, providing excellent value for money without compromising on quality.
Experienced Surgeons: Costamed collaborates with top-tier plastic surgeons who have vast experience in performing successful Liposculpture with BBL procedures.
Exotic Location: Combining your treatment with a vacation in Cancun allows you to relax and recover amidst breathtaking beaches and vibrant culture.
Seamless Medical Tourism Experience: Costamed ensures a smooth journey for international patients, providing comprehensive support, from travel arrangements to post-operative care.
Liposculpture with BBL is a dynamic combination of liposuction and Brazilian Butt Lift. Liposculpture removes excess fat from targeted areas, while BBL enhances the buttocks' shape and volume using purified fat transfer. This two-in-one procedure creates a harmonious balance between a sculpted figure and a curvaceous derriere, resulting in an enhanced overall body profile.
Liposculpture with BBL Package Details

Objective

Improve body contour.

Areas to be treated

Abdomen, back, arms, thighs, hips, and buttocks.

Surgery duration

2-3 hours

Surgery type

Major

Anesthesia

General

Hospitalization

1 night

Candidates

Women and men aged 21-55 who wish to improve the appearance of their body, without pregnancies, with a BMI less than 30, and with a permanent desire for changes in diet and exercise habits.

Discomfort

Moderate

Recovery time

3 weeks

Postoperative care

Relative rest, drains, minimal sitting, post-surgical compression garment, lymphatic drainage, ultrasound, and radiofrequency.

Medical Tourism

Arrive two days before the surgery date. Same-day admission. Approximate fit to fly: 10 days.
Surgeon and anesthesiologist fees, post-surgical compression garment included.

Initial consultation and evaluation by a plastic surgeon

Liposculpture procedure targeting specific areas

Brazilian Butt Lift procedure for buttock enhancement
Laboratory studies, radiology studies, blood and/or platelet transfusions

Travel expenses to and from Cancun, Mexico

Accommodation during the treatment period

Additional medical tests, if required

Medications and post-operative garments

Personal expenses and incidental costs
Liposculpture with BBL Surgery Pre-Op Tests
Before undergoing Liposculpture with BBL, patients are required to undergo several tests to ensure their safety and suitability for the procedure. These tests may include:
Blood tests to evaluate overall health and check for any underlying conditions
Imaging tests, such as X-rays or ultrasounds, to assess the targeted areas and plan the procedure accordingly
Cardiac evaluation to determine if the patient is fit for surgery
Physical examination and medical history review to identify any potential risks or contraindications
Cancun, Mexico is home to a team of experienced plastic surgeons specializing in Liposculpture and BBL, ensuring exceptional expertise and successful outcomes for patients seeking body contouring and buttock enhancement procedures. With their extensive knowledge and skill in the field, these experienced plastic surgeons in Cancun, Mexico are dedicated to providing safe and effective Liposculpture and BBL treatments, helping patients achieve their desired aesthetic goals with confidence.
| | |
| --- | --- |
| Dr. Ricardo de Jesus | Dra. Idolina Michel |
| | |
Is Treatment Liposculpture with BBL Surgery Right for You?
Ideal candidates for Liposculpture with BBL are individuals seeking to enhance their body contours, eliminate stubborn fat, and achieve a shapely, proportionate figure.

Suitable candidates should have good overall health, a stable weight, and realistic expectations about the outcome of the procedure.

Patients should be non-smokers or willing to quit smoking prior to surgery, as smoking can impair healing and increase the risk of complications.

It is crucial to consult with a qualified plastic surgeon who can assess your specific needs and determine if Liposculpture with BBL is the right option for you.
What to Expect During the Liposculpture with BBL Surgery
Consultation: Your plastic surgeon will discuss your goals, evaluate your candidacy, and create a customized treatment plan.
Surgery: Liposculpture involves the removal of excess fat through small incisions, while BBL utilizes the harvested fat for buttock augmentation. The procedures are typically performed under general anesthesia.
Recovery: Following the surgery, you will need to wear compression garments and adhere to the surgeon's post-operative instructions. Recovery time varies, but most patients can return to normal activities within a few weeks.
Results: It may take several weeks for swelling and bruising to subside, but as the healing progresses, you will begin to see the full results of your Liposculpture with BBL treatment, achieving the desired body contours and enhanced buttocks.
Q1: Is Liposculpture with BBL a painful procedure?
A1: Liposculpture with BBL is performed under anesthesia, ensuring a comfortable experience during the procedure. Some discomfort and mild soreness can be expected during the recovery period.
Q2: How long does the recovery process take after Liposculpture with BBL?
A2: The recovery time varies for each individual, but most patients can resume normal activities within a few weeks. It's important to follow the surgeon's post-operative instructions and wear compression garments for optimal healing.
Q3: Will there be noticeable scarring after the procedure?
A3: Liposculpture with BBL involves small incisions that typically result in minimal scarring. The surgeon takes great care to place the incisions strategically, minimizing their visibility.
Q4: Are the results of Liposculpture with BBL permanent?
A4: The results of Liposculpture with BBL can be long-lasting, as long as you maintain a healthy lifestyle. However, natural aging and weight fluctuations can affect the outcome over time.
Q5: Can Liposculpture with BBL be combined with other procedures?
A5: Yes, Liposculpture with BBL can be combined with other cosmetic procedures, such as breast augmentation or tummy tuck, for a comprehensive body transformation. Consult with your plastic surgeon to determine the best treatment plan for your specific goals.
Ready to embark on your transformative journey? Contact PlacidWay Medical Tourism to book your consultation for Liposculpture with BBL in Cancun, Mexico by Costamed. Begin your path to a sculpted figure and an unforgettable experience in the beautiful city of Cancun. Click button below to learn more!

Related Experiences:
Brazilian Butt Lift in Cancun, Mexico
Brazilian Butt Lift in Guadalajara, Mexico
Brazilian Butt Lift in Mexico City, Mexico
Brazilian Butt Lift in Mexicali, Mexico
Brazilian Butt Lift in Tijuana, Mexico - Your Butt Lift Solution
Choose Attractive Brazilian Butt Lift in Mexico
---