Stem Cell Therapy for Cerebral Palsy Package in Guadalajara, Mexico by Stem Health
Package price starting from:
$4000
Treatment:
Stem Cell Therapy, Stem Cell Treatment for Cerebral Palsy
Location:
Avenida Santa Teresa de Jesus 527 Colonia Camino Real, Zapopan, Jalisco, México C.P. 45040 , Mexico
Focus Area:
Stem Health | Guadalajara | Mexico | Stem Cell Therapy for Cerebral Palsy
---
Regenerative Medicine for Cerebral Palsy in Guadalajara, Mexico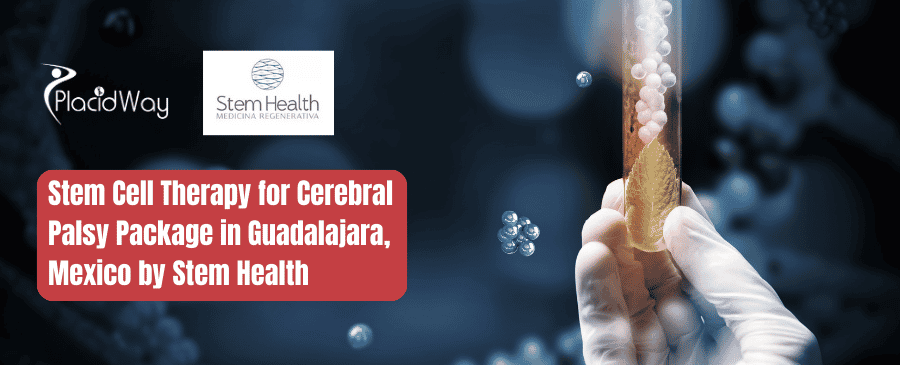 Cerebral Palsy (CP) is a neurological disorder that affects muscle control, movement, and coordination. It often presents itself in early childhood and can significantly impact a person's quality of life. While there is no cure for CP, innovative medical treatments have emerged to alleviate its symptoms and improve the overall well-being of individuals affected by this condition. One such groundbreaking therapy is Stem Cell Therapy by Stem Health, and Guadalajara, Mexico, is emerging as a leading destination for those seeking this revolutionary treatment.
You can get stem cell therapy for cerebral palsy package in Guadalajara, Mexico by Stem Health with the price starts at $4,000. Please refer to our price list table below:
| | |
| --- | --- |
| Location | Cost in USD |
| Guadalajara, Mexico | $4,000 |
| United States | $20,000 |
Note: price may change and vary depends on complexity of procedures and patient conditions. Click free quote button below to learn more:

When considering Stem Cell Therapy for Cerebral Palsy, the choice of the treatment location is crucial. Guadalajara, Mexico, offers several compelling advantages that make it an ideal destination for individuals seeking this innovative therapy:
Cost-Effective Treatment: One of the primary reasons patients opt for Stem Cell Therapy in Guadalajara is its affordability. The cost of medical procedures in Mexico is significantly lower than in many other countries, without compromising the quality of care. Patients can access cutting-edge treatments without the financial burden often associated with healthcare.
Experienced Medical Professionals: Guadalajara boasts a pool of experienced and highly skilled medical professionals specializing in Stem Cell Therapy for Cerebral Palsy. Stem Health's team of experts is at the forefront of this field, ensuring that patients receive the best possible care.
State-of-the-Art Facilities: Stem Health's facilities in Guadalajara are equipped with the latest technology and adhere to international healthcare standards. Patients can expect a comfortable and safe environment for their treatment.
Minimal Waiting Times: Unlike healthcare systems in some other countries, patients in Guadalajara benefit from minimal waiting times. This allows for swift diagnosis and treatment, crucial for individuals with Cerebral Palsy who require timely interventions.
Beautiful Location and Post-Treatment Recovery: Guadalajara's picturesque surroundings offer a tranquil backdrop for post-treatment recovery. Patients can relax and rejuvenate while enjoying the city's culture and natural beauty.
Stem cell therapy for cerebral palsy involves the transplantation of stem cells into the patient's body to repair damaged tissues, reduce inflammation, and improve neurological function. The process typically begins with a comprehensive evaluation of the patient's condition to determine the suitability of the treatment. Once deemed appropriate, the therapy follows a structured protocol, including stem cell extraction, purification, and re-infusion into the patient's body.
The Stem Cell Therapy for Cerebral Palsy package in Guadalajara, Mexico, by Stem Health includes the following key elements:
Comprehensive Medical Assessment: Patients undergo a thorough medical assessment to evaluate their condition and identify the most suitable treatment plan.
Stem Cell Extraction and Processing: Stem cells are harvested from the patient's body, processed, and purified to prepare them for infusion.
Stem Cell Infusion: The purified stem cells are carefully reintroduced into the patient's body, targeting areas affected by Cerebral Palsy.
Post-Treatment Monitoring: Patients receive continuous monitoring and follow-up care to track progress and address any concerns.
Rehabilitation Support: Stem Health provides rehabilitation and physiotherapy support to help patients achieve the best possible outcomes following treatment.
While the Stem Cell Therapy package in Guadalajara, Mexico, offers comprehensive care, there are certain exclusions patients should be aware of:
Travel Expenses: Costs associated with travel, accommodation, and meals are not included in the package and are the responsibility of the patient.
Additional Medical Procedures: Any additional medical procedures or treatments beyond Stem Cell Therapy are not covered by the package.
Personal Expenses: Expenses related to personal items, telephone calls, and other personal needs during the stay are not included.
Complications: In the rare event of unexpected complications or extended hospital stays, additional charges may apply.
Medication Costs: The package does not cover the cost of medications required post-treatment.
Stem Cell Therapy for Cerebral Palsy Pre-Op Tests
Before undergoing Stem Cell Therapy for Cerebral Palsy, patients must complete a series of pre-operative tests to ensure their safety and suitability for the procedure. These tests typically include:
Blood Tests: Comprehensive blood tests assess the patient's overall health and help identify any underlying conditions.
Imaging Scans: MRI or CT scans may be performed to obtain detailed images of the brain and affected areas.
Neurological Evaluations: A neurological examination is conducted to assess the extent of Cerebral Palsy and its impact on motor functions.
Cardiac Evaluation: Patients may undergo cardiac assessments to ensure their cardiovascular health can withstand the procedure.
Bone Density Scans: These scans help evaluate the patient's bone health, which can be important for rehabilitation.
The success of Stem Cell Therapy for Cerebral Palsy largely depends on the expertise of the treating physician. In Guadalajara, Mexico, Stem Health collaborates with renowned doctors and specialists who have extensive experience in administering Stem Cell Therapy. These professionals work closely with patients, ensuring personalized care and a comprehensive treatment plan tailored to each individual's needs.
Best Stem Cell Doctors in Guadalajara, Mexico

 

 
Is Stem Cell Therapy for Cerebral Palsy Right for You?
Before embarking on Stem Cell Therapy for Cerebral Palsy, it's essential to determine if it's the right choice for you or your loved one. Consider the following factors:
Severity of Cerebral Palsy: The therapy is often most beneficial for individuals with moderate to severe CP.
Medical History: Discuss your complete medical history with your healthcare provider to assess suitability for the treatment.
Expectations: Understand the realistic expectations of the therapy, as it may not result in a complete cure but can significantly improve quality of life.
Consultation: Schedule a consultation with the medical team to discuss your specific case and receive personalized recommendations.
Family Support: Ensure you have a strong support system in place for post-treatment care and rehabilitation.
What to Expect During the Stem Cell Therapy for Cerebral Palsy?
During Stem Cell Therapy in Guadalajara, Mexico, patients can expect:
Thorough Assessment: Detailed evaluations to determine the best treatment approach.
Comfortable Facilities: Treatment in state-of-the-art facilities that prioritize patient comfort.
Experienced Care: Care administered by experienced medical professionals with a focus on patient safety.
Rehabilitation: Post-treatment rehabilitation to optimize results and help patients regain function.
Follow-Up: Regular follow-up appointments to monitor progress and make necessary adjustments to the treatment plan.
1. Is Stem Cell Therapy for Cerebral Palsy a cure for the condition?
While it is not a cure, Stem Cell Therapy can significantly improve the quality of life for individuals with Cerebral Palsy by reducing symptoms and enhancing motor function.
2. Why should I choose Guadalajara, Mexico, for Stem Cell Therapy?
Guadalajara offers cost-effective treatment, experienced medical professionals, state-of-the-art facilities, minimal waiting times, and a beautiful recovery environment.
3. Are there any age restrictions for Stem Cell Therapy in Guadalajara?
Age restrictions may vary depending on individual cases. Consultation with the medical team will determine eligibility.
4. What are the potential risks or side effects of Stem Cell Therapy for Cerebral Palsy?
Side effects are generally mild and temporary, including fever and fatigue. Serious complications are rare but can be discussed with the medical team.
5. How long does the recovery process typically take after Stem Cell Therapy?
Recovery times vary but may involve several weeks of rehabilitation and ongoing monitoring to assess progress.
6. What should I expect in terms of post-treatment follow-up and care?
Patients can expect regular follow-up appointments to monitor progress, make adjustments to the treatment plan if necessary, and receive rehabilitation support to optimize results.
If you or a loved one are considering stem cell therapy for cerebral palsy in Guadalajara, Mexico, take the first step towards improved quality of life by booking a consultation with PlacidWay Medical Tourism. Our team will guide you through the process, address your concerns, and connect you with leading healthcare providers like Stem Health to embark on this transformative journey toward better health and well-being. Don't wait; make the choice for a brighter future today.

Related Experiences:
Stem Cell Therapy for Cerebral Palsy in Guadalajara Mexico
Stem Cell Therapy for Cerebral Palsy in Tijuana Mexico
Stem Cell Therapy for Cerebral Palsy in Mexico City
Stem Cell Therapy for Cerebral Palsy: A New Hope in Mexico
Regenerative Medicine for Cerebral Palsy in United States
Stem Cell Therapy for Cerebral Palsy in Thailand
---