MexStemCells Clinic
Mexico City, Mexico
Thiers 42, 11590

Focus Area: Stem Cell Therapy in Mexico City, Mexico | MexStemCells Clinic | Knee Injury | Hip Injury | Herniated discs | Autism | Shoulder injury | COPD | Parkinson | ALS | Diabetes | Kidney failure | Rheumatoid Arthritis | Multiple Sclerosis
Best Regenerative Therapy Center in Mexico City, Mexico
Profile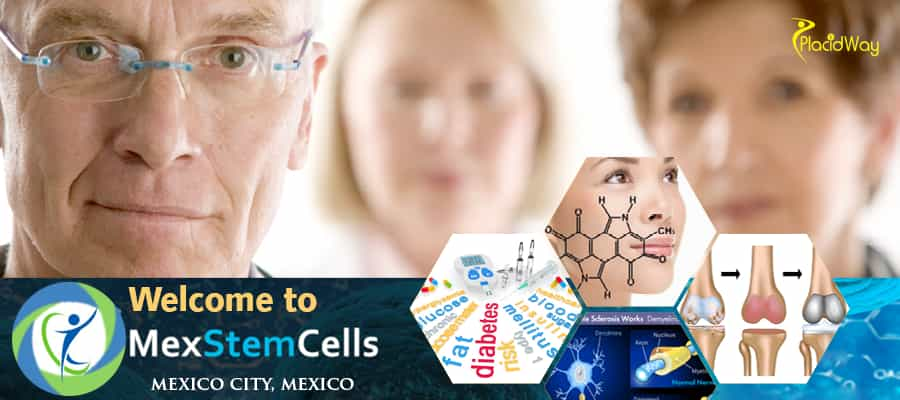 Stem Cell Therapy in Mexico City, Mexico at MexStemCells Clinic
MexStemCells Clinic is a group of medical specialists in Cell Regeneration Therapy using Stem Cells. For more than 10 years the clinic's team, has researched and refined their Cell Regeneration and Regenerative medicine treatments for therapeutic purposes.
MexStemCell providing the best Stem Cell Therapy for advanced treatments of kidney failure, arthritis, multiple sclerosis, COPD, autism, etc in Mexico City, Mexico
Thousands of patients have found relief with MexStemCells Clinic's advanced cell therapy, which offered them a real solution for medical conditions which did not respond to traditional procedures or medication: multiple sclerosis, diabetes, arthritis, kidney failure and many more.
MexStemCells Clinic is certified for stem cell treatment by the Ministry of Health in Mexico for the Treatment of Chronic Degenerative Disorders through Stem Cell Therapy and the clinic's specialists are certified for stem cell transplantation. Each case is evaluated by the clinic's specialists to determine if the patient is a candidate for treatment.
MexStemCells is expert in Stem Cell Regeneration and has an experience of more than 10 years. It is a certified clinic by the Ministry of Health in Mexico for the Treatment of Chronic Degenerative Disorders through Stem Cell Therapy. They have the best financing options for patients so that everyone can avail the treatment. It gives the best facilities like:
Operating Rooms

Infusion Room for Application of Intravenous Therapy

Dressing

Recovery Rooms

Rehabilitation
The center offers effective stem cell treatment along with:
Safety and effectiveness

High-quality services

Professionalism

Highly trained medical team

Innovative medical procedures
Check below for more information about list of procedures available at Stem Cell Therapy in Mexico City, Mexico:
I. Articular diseases
Knee Injury

Hip Injury

Herniated discs

Shoulder injury
2. Heart Conditions
3. COPD
4. Neurodegenerative conditions
5. Chronic degenerative diseases
6. Immunological conditions
Rheumatoid Arthritis

Multiple Sclerosis
7. Rejuvenation and Aesthetic Facial
8. Pervasive developmental disorders in children and Autism
9. Strokes: Ischemic stroke or vascular
10. Facial rejuvenation
11. Improving the overall functioning of the body
Stem Cell Therapy in Mexico City, Mexico by MexStemCells clinic will assure you with top regenerative therapy with affordable cost. Top Stem Cell Specialists in this center will provide you with convenience and new experience of therapy that can give hope for improvement. Click button below to get more information about the latest Cost for Stem Cell Therapy in Mexico City, Mexico by MexStemCells:
Before and After Picture of Child Stem Cell Treatment in Mexico City, Mexico at MexStemCells Clinic
Here you can find more information about before and after picture of Stem Cell Therapy in Mexico City, Mexico at MexStemCells Clinic: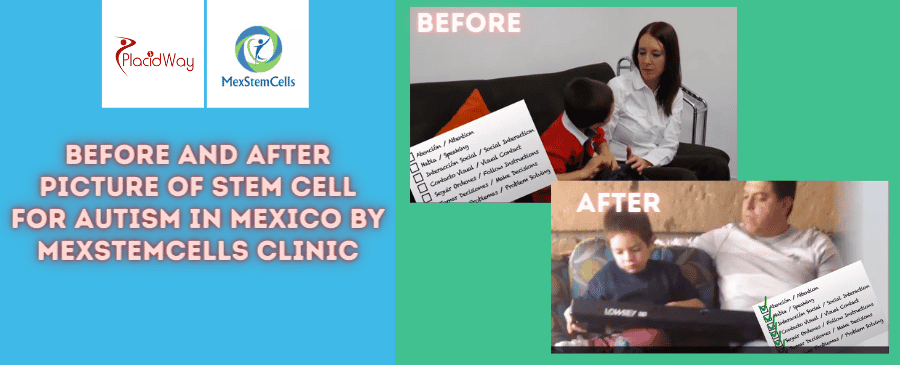 Mexico has quickly grown into a reputed medical tourism hub, not only for high quality and affordable dental treatment but also for innovative treatments and procedures such as Stem Cell. The years of research in this field have shown their results, and now the certified clinics and specialists are able to help people suffering from chronic diseases get back to a healthy and happy life. Thousands of patients undergo stem cell treatments in Mexico every year. This hugely due to the fact that Stem Cell research and practice is in the United States. Stem Cell treatment has gained popularity as stem cells replace damaged tissues; help stroke victims to recover, and helps recover from many vital ailments
Here you can find information about Frequently Asked Questions for Reneragtive Therapy in Mexico City, Mexico
Mexico City is an extraordinary spot for medical care travelers because of its vicinity, cost and openness. Regardless of whether you're a nearby or abroad persistent, Mexico City approaches reasonable and dependable medical care administrations. The city is decisively situated for geographic closeness with cutthroat expenses of medicines that can be gotten rapidly without extended holding up periods between visits.
Stem Cell Therapy in Mexico City can give a large group of advantages to those with muscular issues, torment issues and malignant growth too blood related illnesses. The utilization of stem cells in transfers has upset the battle against malignant growth and different infections. Stem Cell therapy could assist you with feeling better quicker after a medical procedure since it will reestablish work once more into your joints so they as of now not hurt when contacted unexpectedly.
Indeed, stem cell therapy is a protected method. The specialist should follow appropriate procedures to oversee the cells and patients will be evaluated for qualification as all individuals may not qualify at times founded on clinical history or different elements that make them unappealing to treat with this treatment choice.
The utilization of stem cells in medication has seen a critical ascent, with progress rates up to 80%. Stem cell medicines are turning out to be more famous in light of the fact that they offer an effective way for specialists and patients the same. These regenerative clinical procedures exploit from novel natural parts called "Stem Cell Vaccines" which can be utilized as options on the off chance that customary immunizations fizzle or aren't accessible consistently due their restricted store network access.
Stem Cell Therapy in Mexico City, Mexico by MexStemCells Clinic will assure you to get real satisfaction you need as well as best therapy for long lasting result. Book now Stem Cell Packages in Mexico City, Mexico by MexStemCells Clinic to get better quality of life and health by clicking contact us button below:
Details
Top Quality Cell Regeneration Therapy in Mexico City, Mexico at MexStemCells
We are a group of dedicated scientists and clinicians who have been researching the therapeutic benefits cell regeneration therapy can provide. For over 10 years we've refined our treatments, through extensive research into stem cells - how they function in regards to health or disease; what mechanisms cause these problems within your body? We then use this knowledge as leverage for developing new approaches towards regenerative medicine which will help you heal faster with fewer side effects!
With our cutting-edge cell therapy, we have been able to offer a real solution for the treatment of diseases previously considered catastrophic, such as Kidney Failure, Joints and Bones, Arthritis, Diabetes, and Multiple Sclerosis.
In our clinic, we offer specialized medical equipment that can be used in cell therapy, such as Infusion Room for Application of Intravenous Therapy, Operating Rooms, Rehabilitation, and Dressing, Recovery Rooms.
Treatments
Different Regenerative Therapies available in MexStemCells at Mexico City
Here are some lists of stem cell therapy available at MexStemCells Clinic:
Stem Cell for Diabetes
Kidney disease, chronic degenerative disorders caused by various factors such as hypertension and urinary tract infections. In some cases it is hereditary but most people don't know they have this illness until their kidneys start failing them which lead to many more problems with urination. Researchers have found that stem cell therapy can provide hope of improvement for this health issue.
Stem Cell for Osteoarthritis
Osteoarthritis is a painful condition that causes swelling and reduced motion in your joints. The most common site for this type of arthritis occurs are the hands, knees or hips but it can also affect other areas like spine.
Stem Cell for Diabetes
The body produces too little or no insulin, which causes glucose to build up in the blood stream. Insulin is not only responsible for delivering energy throughout our bodies but also helping control blood sugar levels by transporting it where they need go-cellular processes that store fat together with muscle mass leading us towards type 2 diabetes if left unchecked. Stem cell can provide hope for giving improvement from this health issue.
Stem Cell for Multiple Sclerosis (MS)
MS is a disease that affects the nervous system, specifically in your brain and spine. The damage caused by it makes messages between different parts of our body slowly come to an end or be blocked altogether which causes symptoms for those who have been diagnosed with this illness. With the presence of stem cell for MS, patients can receive improvement they need.
Qualifications
Regenerative Medicine Specialists in MexStemCells Clinic at Mexico City
Doctors at MexStemCells Clinic are involved in the progress and new discoveries behind adult stem cell research. The dedicated team of doctors provides the utmost care to the patients by properly diagnosing the underline condition and prescribes the best-suited stem cell treatment to them. Doctors working for the betterment of MexStemCells clinic have made impressive strides in using stem cells to treat some complicated diseases in recent times. This is the reason for people's growing trust in the medical facilities they offer for a complete cure.
Doctor Name:
Dr.Nayeli Trejo Bahena - Rehabilitation and Traumatology
Dr.Edgar Enrique Ramos Diaz - Masters Degree in General Surgery and Transplants
Dr.Rodolfo Lerma - Internist Cardiologist
Dr.Juan Uriarte - Hematologist and High Speciality on Hematopoietic cell transplantation
Javier Sanchez Gonzalez - Masters Degree and Doctorate on Cellular Biology
Certifications and Acreditations:
Stem Cell Transplant - 14-TR-09-016-0004 Cofepris Mexico 5th June 2014
Ambulatory Surgical Procedures - 13-AM-09-016-0009 Cofepris Mexico 16th July 2013
Bood Transfusion Service - 14-TS-09-016-0007 Cofepris Mexico 12th March 2014
Testimonials
Testimonials for Stem Cell Treatment in Mexico City, Mexico at MexStemCells Clinic
Veronica Garcia M – "I am happy with the result and my kidney result and recovery obtained!"
Familia De Claudio – "We started stem cell with great attitude and expectation. Now, my kid can participate interactively in music."
Christina Obregon – "I want to talk about benefits I received from Stem Cell therapy and how it changes my life. I had a problem with joint and it is very painful. The result I received was incredible!"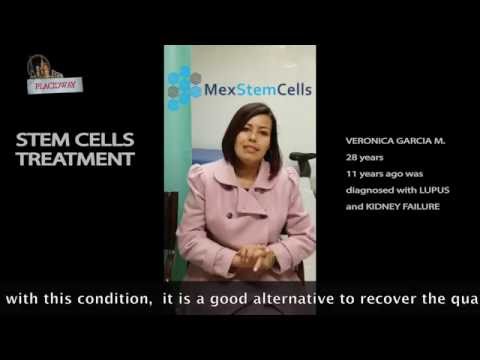 Awards
Destination
Medical Tourism for Stem Cell Therapy in Mexico City, Mexico
There are many ways you can choose if your desire is to visit Mexico City, the beautiful metropolis of Latin America. You have options for getting there with either plane or car; it's all up to what suits best:
By Flight
The best time to travel from North America is during the winter season when airfares are cheaper and there's less competition.
By Train
At the border between Texas and Mexico, US passenger train services reach their final destination.
By Bus
The US bus travel experience can be pretty grim, but you do have a wider range of border posts to choose from.
By Car
If you want to take your car with yourself when traveling abroad, think about how complicated it can be.
Book you appointment Today with MexStemCells Clinic for Regenetive Therapy in Mexico City