State Of The Art BOX technique jaw bone Surgery In Istanbul Turkey
Package price starting from:
$9829
Treatment:
Dentistry, Maxillofacial Surgery
Focus Area:
Dental Surgery Packages Istanbul | BOX Technique Surgery Packages Turkey | Jaw Bone Surgery Center Istanbul | Oral Surgery Clinic Istanbul | Dental Orthodontic Doctors Turkey | Clinical Pediatric Dentistry Turkey | Istanbul, Turkey
---
Dental Surgery Packages, BOX Technique Surgery Packages, Jaw Bone Surgery Center, Oral Surgery Clinic, Dental Orthodontic Doctors, Clinical Pediatric Dentistry Surgeons, Istanbul, Turkey

Box Technique Jaw Bone Replacement in Istanbul, Turkey

Box Technique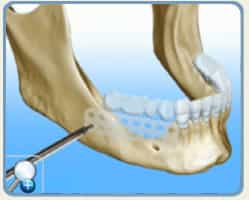 Use of this technique gives the opportunity to locate the natural blocks of bones taken from the animals replacing the lost chin bone with an application known as bioregeneration. Box technique gives the patients, who have their chins dissolved because of the lost teeth, the chance of having a brand new chin. With the implant done after 6 months upon the application of the box technique, the patient can have the comfort of having his/her artificial chin and healthy teeth.
Dr. Nihat Tanfer, who is an oral and maxillofacial surgeon, has made a jaw bone to a patient, whose jaw bone was lost and who has no chance of indentation, through the BOX technique with a bone that is extracted from an animal, which is revolutionary, for the first time in Turkey.
It will be possible to make a whole jaw bone through this technique

Through a new method called biogeneration, natural bone blocks that are taken from an animal has been placed in the jaw through BOX technique instead of the patient's lost bone. With this new technique a new jaw bone in 4 cm length and in 1,5 cm height has been made for the patient named Erol Taktak whose jaw bone was completely zeroized.

Previously denture prosthesis was used to be made to such kind of patients. And these prostheses used to move since there is no bone in the mouth of the patient and the complaints are continuous. For the patients for whom denture prosthesis is not available to be made, the bones that are extracted from the hip or from any other area of the body were used to be placed, which means a second operation for the patient.

Dr. Nihat Tanfer from Tanfer Klinik, who developed the "artificial jaw" technique that has been applied by Dr. Andrea Memoni and Dr. Morella from Italian University for 2 years with his studies that he carried out in Italy, has brought this technique in Turkey and has presented a new opportunity to the patients who have no chance of indentation.

Hope For The Patients Who Has Lost Their Teeth

A totally new jaw bone is made through BOX technique for the patients who lost their teeth and whose jaw bone is lost for this reason. When 53 years old Banker Erol Taktak, who gained the opportunity to have healthy teeth with this technique, neglected the maintenance of his previous banding located on the left side of his mouth, Tatak's jaw bone was lost in time and got infected. It was seen during the examinations that the problems of the patient increased day by day who does not have the chance of implantation since his jaw bone was lost.

Artificial Jaw

Dr. Nihat Tanfer, who restored Erol Taktak with a totally new jaw bone in 4 cm length and 15 mm width through Box technique on the date of July 18 Wednesday (today), at 11.00 o'clock, in Tanfer Klinik, states that an implantation will be applied 4 or 6 months after this application. Thus he points out that the patient will have the first artificial jaw in Turkey and healthy teeth either.

Why Box Technique?
Fixes the lost bone volume
Enables implantation on the jaw to be applied more easily and simply
3 Dimensional bone fixations
Fixes the bone completely and restores it to the initial shape
Fixes the jaw bone not only functionally but also aesthetically
PACKAGES
Renew your ¼ jaw bone from $9,829
Why Choose Us?
Our clinic has adopted world class hygiene and sense of quality.
International quality and standard documents taken from BVQI is the sharpest indication of them.
The patients will be cared by our expert doctors.
Treatment plan includes average treatment duration and treatment costs.
Laboratory processes has been performed as an inhouse operation in our clinic with ISO 9001 quality certificate. So dental prothesis can be provided within short deadlines
Our clinic is located at the center of the city so you will also have an opprtunity to enjoy your holiday in Istanbul. We meet our guests and to transfer from Airport to hotel and Tanfer Clinic as well as giving help to our guests for hotel accommodations and sight seeing tours and city guidance services.
We offer free hotel accommodations for over a certain amount of treatments.

Related Experiences:
All on 8 Dental Implant in Istanbul, Turkey
Dentures in Istanbul
Dental Crowns in Istanbul
Dental Veneers in Istanbul
Dentists in Istanbul, Turkey
Complete Guide for Dental Implants in Istanbul, Turkey
---