KCM Clinic
KCM Clinic, Jelenia Gora, cosmetic surgery, orthopedic, obesity treatments, skin care, gynecology, laparoscopic surgery, fertility treatment

Bankowa 5-758-500, Jelenia Gora, Poland, Jelenia Gora, Poland

Specialty:

Anti Aging, Cosmetic/Plastic Surgery, Gynecology Treatment, Laparoscopic Surgery, Obesity/Bariatric Surgery, Orthopedic/Knee Surgery, Spine Care/Surgery, Urology, Vascular Surgery

Focus Area:

KCM Clinic | Jelenia Gora | Poland | Vascular Surgery | Spine Surgery | Cosmetic Surgery | Laparoscopic Surgery | Obesity | Orthopedic | Fertility | Gynecology | Dentistry
KCM Clinic Profile Overview

Welcome to KCM Clinic!
KCM Hospital located in Jelenia Gora (Karkonosze Mountains) is equipped with modern operating rooms and the best most modern state-of-the-art equipment.
Our qualified specialists, with many years of experience in diagnosis and surgery treatments, use the latest techniques for patient safety, short recovery time, and to reduce the risk of complications.
We provide our patients with comprehensive and professional medical care, starting with quick and accurate diagnostics and a wide spectrum of specialist consultations, through individualized operative minimally invasive treatment, to a successful post-surgery rehabilitation.
At our Hospital, as one of a few centers in Europe, laparoscopic surgery is performed with newest 3D imaging Olympus technology. The newest technique helps to restore the surgeon's natural 3D vision and depth perception for best visualization, patient safety, and precision of surgical treatment.
KCM Hospital is an education center for surgeons worldwide and an organizer of international workshops for advanced bariatric, gynecological laparoscopy 3D, and international conferences for minimally invasive spine surgery with life surgery broadcasts from operating room.
Furthermore, KCM Hospital is a reference center for international leading medical equipment providers like Johnson&Johnson, Olympus, Medtronic, Arthrex, OttoBock, Joimax and Zimmer Biomet.
KCM Clinic is ISO 9001:2009 quality management certified, offering the highest standard medical services.

Treatments at KCM Clinic
in Jelenia Góra, Poland
Specialist Clinics
KCM Plastic Surgery

KCM Weight Loss Surgery

KCM Orthopaedics

KCM Minimally Invasive Spine Surgery

KCM Gynecology

KCM Urology

KCM Dental

KCM Eye Clinic

KCM Diagnostics

KCM Rehabilitation
KCM Clinic's beautifully renovated building is adapted to the requirements of disabled persons. Also, to reduce the patient's stress, the hospital was renovated and made to resemble a comfortable hotel.
Beautifully furnished single and double rooms with bathrooms and TV make the postoperative stay very pleasant.
Our Guarantee to You:
Professional healthcare

Short waitlist

Exceptional service
Why Choose KCM Clinic?
Modern equipment

Highly qualified

personnel

Doctor's commitment and care for our Patients

Round the clock access to health care
Diagnostic Laboratories
Cardiology diagnostic

Eye imaging diagnostics

EEG

EMG

Eye laser therapy

Radiography

Urodynamics

Diagnostic sonography

Doppler sonography

Video gastroscopy

Radiographic diagnostics

Video colonoscopy

Rectoscopy
KCM Hospital Services
Pediatric Surgery

General Surgery​

Laparoscopic Surgery

Obesity Surgery

Vascular Surgery

Laser Surgery

Minimally Invasive Surgery

Plastic Surgery

Non-Invasive Cosmetics

Maxillofacial Surgery

Dental Treatments

Orthodontics​

Eye Surgery

LASIK Surgery

Urology

Gynecology

Laryngology

Neurosurgery

Orthopedic Surgery

Rehabilitation Center

Vaccination Center

Imaging center
We highly recommend our services to all who want to take care of their health and beauty.
In all our actions, we are thorough and professional, taking care of every little detail.
We will make every effort to ensure that your time spent at KCM Hospital, pictoresque Jelenia Gora and Karkonosze Mountains provide you with reason to smile.
​
Are you ready to experience advanced healthcare?
Click below to get treated by KCM Clinic professionals!

---
KCM Clinic, Jelenia Gora, Poland Profile Details

About KCM Clinics
Jelenia Gora, Poland
KCM Clinic was first setup in a beautiful 19th-century building, recently renovated, located in the very center of Jelenia Góra, Poland. During the renovations, special attention was paid for developing access to the disabled persons, resulting in an easy-access clinic.
KCM Clinic, originally founded in 2006 under the name Karkonoskie Centrum Medyczne, changed its name in 2009 to KCM Clinic.
In 2010 an expansion was needed to be able to cater to many more patients, therefore, the construction of the hospital building began. At the end of 2011 the modern highly specialist KCM Hospital was officially opened. The newly opened hospital building houses, among others, a modern multimedia operating theatre, in-patient units, the 1-Day surgery clinic, the rehabilitation complex and the dental clinic with equipment of the highest class.
Patients are offered high-standard single and double rooms with bathrooms, TV, Internet and unlimited Wi-Fi access.
What Distinguishes KCM Clinic?
KCM's Comprehensive Care
We emphasize the comprehensive care, which means that from the first contact in the admission room you will be taken care of every step of the way - through visits arrangement, referring for specialist tests for quick diagnosis, when necessary, admission to the hospital, up to post-op rehabilitation.
Each patient is approached individually by the attending specialist and highly trained personnel, who strive to make each treatment at KCM Clinic quick and efficient.
KCM's Professional Staff
The team of KCM Clinic is comprised of experienced specialists with high professional qualifications.
Due to a great partnership with USA's Sanford Health Center and multiple health conferences and medical training within Poland and abroad, they are continuously expanding their knowledge and increasing their skills.
Commitment and passion ensures the highest level of specialist medical care in almost all fields of medicine and treatments.
KCM's Global Standard Modern Medical Equipment
KCM Clinic houses the latest advancements and developments in medical and diagnostic equipment. Conducting numerous procedures in the hospital with very modern equipment and in comfortable conditions, KCM abide by the European Union standards for both safety and high quality of provided services.
KCM's Cooperation with Sanford Health, USA
Cooperating with world-class specialists ensures the latest treatments and advancements available for patients. To this scope, the Sanford Health organization including 34 hospitals and 116 clinics in the USA, is a partner of KCM for continuous improvement of KCM's doctors and specialists.
Sanford Health has more than 1000 doctors of 70 specialties that are a partner of KCM Clinic in scientific exchange and so that KCM's doctors expand their knowledge and acquire new medical skills later applied in their work within the clinic.
KCM's Comfortable & Friendly Environment
KCM Clinic meets the highest standards in patient service and is fully adapted for disabled persons' access and needs. KCM has its own car park and ambulance ramp. Furthermore, the location exactly in the center of Jelenia Góra, gives patients convenient access to public transport services, when needed.
Due to the highly equipped operating theaters and patient rooms, patients avoid the stress in KCM's wellbeing atmosphere.
Click below to access the world of medical excellence
at KCM Clinic in Poland!

---
KCM Clinic Treatments Offered
Treatments at KCM Clinics
Jelenia Gora, Poland
Specialist clinics
KCM Minimally Invasive Spine Neurosurgery

KCM Weight Loss Surgery

KCM Orthopaedics

KCM Plastic Surgery

KCM Gynecaology

KCM Urology

KCM Dental

KCM Eye Clinic

KCM Rehabilitation
Diagnostic laboratories
Cardiology

Eye Imaging

EEG Laboratory

EMG Laboratory

Eye Laser Therapy

Radiography

Urodynamics

Diagnostic sonography

Doppler sonography

Video gastroscopy

Radiographic diagnostics

Video colonoscopy

Video

Rectoscopy
Hospital
Pediatric surgery

General surgery

Vascular surgery

Plastic surgery

Gynecology

Laryngology

Neurosurgery

Orthopedic

Ophthalmic

Urology

Maxillofacial Surgery
Bariatrics center
KCM Clinic specializes in minimally invasive laparoscopic surgery and in the treatment of obesity.
Surgical treatment is considered for patients in whom the classic methods of obesity treatment were disappointing, in whom BMI is ≥40 kg/m2 or BMI is >35 kg/m2 with co-existence of risk factors (arterial hypertension, diabetes). Surgical treatment is characterized by providing the highest effectiveness of achieving body mass index and risk factor reduction.
Appropriate treatment and taking care of an obese patient involves cooperation of an internist, diabetologist, cardiologist and metabolic surgeon. The effectiveness and progress in the therapy of obesity depends on the integrity and cooperation of the above- mentioned representatives of those medical disciplines.
Taking into account the low effectiveness of behavioral therapy and obstacles connected with pharmacotherapy (side-effects, lack of discipline in drug intake), surgery remains the only effective therapy for many patients.
Especially due to the fact, that the KCM Clinics laparoscopic surgical techniques applied in metabolic surgery are minimal invasive. Laparoscopic metabolic surgery offers the highest effectiveness in obesity treatment with low complications.
Orthopedic
KCM Orthopaedic Department with our experienced Medical Team, and newest equipment, have satisfied patients coming from countries worldwide. Our orthopedic surgeons are leading authorities in hip and knee replacement surgery, having an astonishing experience of more than 4.500 successful joint replacement surgeries. Their experience and our quality was recognized by insurance company BUPA, and by US implant company Zimmer-Biomet and OttoBock Manufacturer, and we are their Center of excellence in Poland.
Dental care
KCM Clinic provides the most modern comprehensive radiographic diagnostics – 3D cone beam tomography with a wide imaging field, 2D cephalometry, pantomography and radiovisiography.
We offer a wide range of dental procedures in comfortable conditions and a friendly atmosphere.
Painless treatment is ensured by using a unique computerized anaesthetic system The Wand.
Prevention

Aesthetic Dentistry

Air Abrasion

Pediatric dental care

Conservative dentistry

Periodontology

Microscopic Endodontics

Prosthetics

Orthodontics

Implantology

Dental surgery

Teeth whitening

Ozone treatment

Radiology Diagnostics
Rehabilitation
Kinesiotherapy

Physical therapy

Specialist sportsmen rehabilitation

Neurologic and orthopedic rehabilitation

Rehabilitation - fitness

Residential stays
Aesthetic medicine
Wrinkle correction

Grooves correction

Lip modeling

Face modeling

Hand rejuvenation

Botox /

Azzalure

Mesotherapy

Facial cosmetic and care

Microdermabrasion

Rejuvenating treatments
Plastic and Reconstructive Surgery
Treatments usually performed by experts of reconstructive surgery are: breast reduction, breast augmentation, removal of scars or tumors, wounds and injuries.
We use professional equipment and formulations of the leading market brands, guaranteeing the highest quality of treatment. We provide a wide range of plastic surgery treatments, at comfortable hospital conditions of a hotel standard.
We ensure discretion, pleasant atmosphere and comprehensive care throughout the recovery period.
KCM Eye Clinic
Comprehensive Ophthalmology and Eye Care

Eye Microsurgery: cataract, glaucoma, retinal surgery

Eye-Laser center

Diagnostic Eye Center

Multifocal intraocular lens implants
Vaccination center
We offer vaccinations against:
Tetanus (vaccine & serum)

Typhoid

Influenza

Tick-borne encephalitis

Group C meningococcal meningitis

Pneumococcal pneumonia

Poliomyelitis

Cervical cancer

Tetanus and diphtheria for adults

Hepatitis A

Hepatitis B

Hepatitis A and B
In accordance with the Ministry of Health recommendation, we offer consulting services concerning obligatory vaccinations and vaccinations recommended abroad.
Benefit from top treatments in Poland
at KCM Clinic!

---
KCM Clinic Certificates, Accreditations, Qualifications

The staff of KCM Clinics
Jelenia Gora, Poland
The doctors of KCM Clinic are experienced specialists with high qualifications and scientific achievements.
Thanks to their commitment, passion for delivering quality, regular training abroad and scientific research we provide medical care at the highest level.
Our doctors participate in numerous symposia and congresses. Furthermore, KCM Clinic has a collaboration with Sanford Health in the USA.
We aim to enhance and sustain our world-renowned quality of patient care.
Click below to access the world of medical excellence
at KCM Clinic in Poland!

---
KCM Clinic Testimonials
Jelenia Gora, Poland
More than 30 years of suffering was put to the very end by bariatric surgery at KCM Clinic in Poland.
June 2018
This gentleman is a bus driver in Ireland. His work calls for spending long hours in a sitting position. Moreover, it makes impossible for him to eat regular and healthy meals. That caused him several health problems to which he has found a solution in KCM Clinic in Poland.
April 2018
Sarah was so pleased with KCM that she decided to continue improving her public image at the clinic in Jelenia Gora. Now she is giving her smile a new shine.
April 2018
Yet another successful spinal surgery served with pride to our patient from Canada.
January 2018
Click below to contact us and get more information!

---
KCM Clinic Awards & Recognitions
KCM Clinic Awards and Accreditations
Jelenia Gora, Poland
KCM Clinics Bariatric Surgery Department secured #1 in a ranking of the Top 10 Bariatric Surgery clinics and hospitals in the world.
KCM Clinic's Bariatric Surgery, Gynaecology, and Spine Surgery Departments all received GCR International Accreditation in 2017.
KCM Clinic was a Finalist at the 2018 IMTJ Medical Travel Awards in Athens.
KCM Clinic was a gold sponsor at the 2014 International Medical Travel Exhibition & Conferences in Dubai.
Thanks to a successful partnership with Sanford Health (USA) since 2012, our doctors continue to broaden their medical knowledge and enrich their clinical experience in order to provide our patients with the best care possible.
KCM Clinic together with Lufthansa Airlines offers a comprehensive global route network linking major cities around the world with airports near KCM Clinic. As an airline partner, Lufthansa offers special prices and conditions to international patients or staff members of KCM undergoing medical or wellness treatments and their travel companions.
KCM Clinic is pleased to announce a cooperation with BUPA – a leading international healthcare group. BUPA is the largest private health insurance provider in the UK taking care of 11.8 million customers. It employs 54 000 people mainly in the UK, Australia, Spain, New Zealand and the USA, as well as Hong Kong, Thailand, Saudi Arabia, India, China and across Latin America. Thanks to our agreement, KCM Clinic can provide healthcare for all BUPA ensured members, the costs are covered by BUPA.
---
Jelenia Gora, Poland Destination Overview

Why Travel to Jelenia Gora, Poland?
Karkonosze is one of the most frequently visited regions of Lower Silesia, attracting both tourists seeking peace and tranquillity, as well as sports enthusiasts. Karkonosze Mountains, are rich in an interesting landscape, rock formations, and waterfalls.
Szklarska Porba is a well-known center of winter sports, with numerous routes for skiing and snowboarding enthusiasts.
Harrachov town, 35 km away from Jelenia Góra, is the best-known tourist centre in Czech Karkonosze, and a great place for skiers, with ski jumping facility, at which the World Championships Ski Flying Competition is held.
Valley of Palaces and Gardens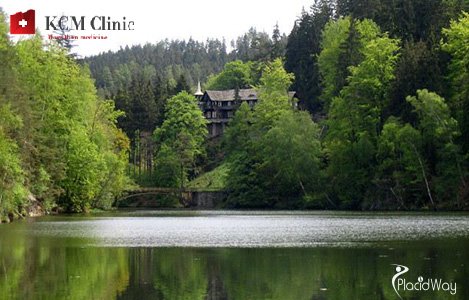 At the feet of Karkonosze lies one of the most unique places - Valley of Palaces and Gardens, sprinkled with Gothic castles, fortified towers, Baroque palaces and Renaissance manors.
About Jelenia Gora
Jelenia Góra is the capital of Karkonosze and the region's transport hub. It is a city with an interesting history, numerous historical monuments and the most beautiful baroque market in Lower Silesia.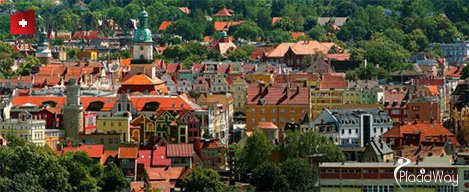 Must see landmarks:
• City Hall – from the beginning of the 16th century, restored in the Classicism form after part of it collapsed in the 18th century.
• Fountain with Baroque Neptune statue, from the middle of the 18th century, symbolizing extensive commercial contacts of the city with the rest of the world.
There are also year-round cultural events which you can attend when visiting Jelenia Gora, such as the International Street Theatres Festival, Jelenia Góra Medieval Fair, International Organ Music Festival "Silesia sonans", International Jazz Music Festival "Krokus Jazz Festiwal", Karkonosze Festival of Light.
During your stay at KCM Clinic we will help you to use the time spent in Karkonosze in the best way possible. Your personal Atendant will arrange trips you are interested in, with an eye to every detail.
We cordially invite you to explore!

---
---
Reviews
Anonymous

Sean had suffered from the low back and bilateral groin pain for the last three years. He searched for professional treatment with even worse results. The only solution was a DIAM Spinal Stabilization System implanted in two levels.


Dec 08 2021

Alice C

No real experience, the site is obscure and ununderstandable. No human lien... a zéro...

Nov 20 2020
---
Anti-Aging Related Packages