Umut Antalya Dental Clinic
Dental Work in Antalya Turkey at Umut Antalya Dental Clinic
Kanal Mahallesi, Antalya Blv. No. 110, 07080 Kepez/Antalya, Turkey, Antalya, Turkey

Focus Area:

Umut Antalya Dental Clinic | Teeth Whitening | Oral Hygiene | Prosthesis | Pediatric Dentistry | Aesthetic Dentistry | Canal Care | Dental Bridges | Dental Bonding | Bone Graft | Antalya | Turkey
Umut Antalya Dental Clinic Profile Overview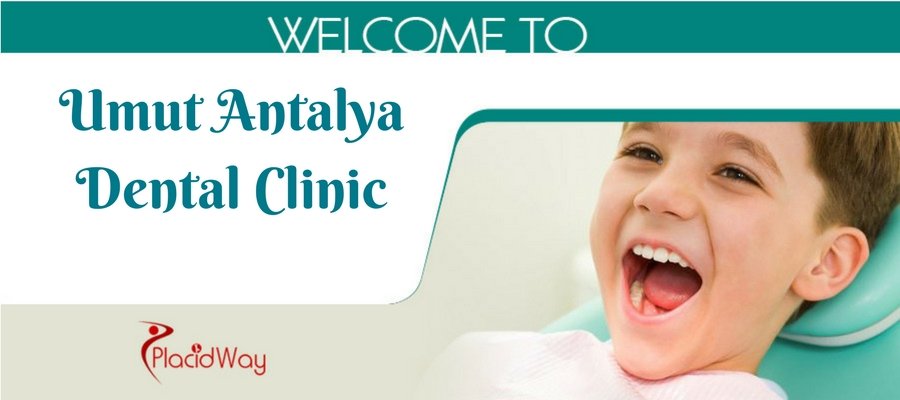 Welcome to Umut Antalya Dental Clinic
The clinic's name means "Hope" in Turkish, and that is exactly what the Umut Antalya Dental Clinic wishes to give you in regards to your dental health. No matter how poorly kept, Umut Antalya will provide a solution to all dental problems.
Located in Antalya, the Umut Antalya's staff operates with many years of experience in the dental field. Their mission is to provide clear, honest, and reliable diagnosis and treatment service, without sacrificing the scientific, conscientious, and ethical principles. At the same time, they wish to benefit from all kinds of scientific and technological development and innovation, and to apply those in treating their patients.
State of the art, modern and hygienic EU standards clinic located in the beautiful Mediterranean resort town of Antalya, Turkey. Famous for its year-round sunshine, azure turquoise waters and golden sandy beaches with vistas of snow-capped mountains in winter.
Delivering a decade of expert dental treatment trusted by thousands of patients travelling from around the world for affordable world-class dental treatment. Enjoy white-glove 'VIP Chauffeur & Chaperone Service' that starts from airport arrival until departure. Inclusive of your after care and everything in between.
Treatments
Prosthesis

Porcelain Laminated Teeth

Pediatric Dentistry

Panoramic X-Ray

Oral Hygiene

Channel Care

Embedded Teeth

Fiber Post

Aesthetic Dentistry

Dental Fillings

Gums Therapy

Tooth and Tissue Injuries Treatment

Tooth Extraction

Teeth Whitening
If you wish to get some of the treatments offered by Umut Antalya Dental Clinic, feel free to contact us and get a FREE quote today!

---
---
Reviews
Mustafa

A very clean, caring and caring institution. I think I am the only one who does not have a fear of dentists. But I would like to thank my doctor Osman Cengiz and his assistants who helped me to make the implant treatment easier and afterwards my doctor Sila. I would like to thank Mr. Elekci and his assistants you are all wonderful.

Facebook

Jan 05 2022

Haydar

Nice and clean center. Their doctors are very competent people

Facebook

Jul 23 2020

Lisa

What a great service from start to finish. Had the 6 on one implants top and bottom. I would definitely recommend them to others thank you so much

Facebook

Mar 17 2022
---
Dentistry Related Packages
Dentistry Related Experiences