Dental Veneers in Izmir, Turkey
Why Choose Izmir Teeth Veneers?
Thousands of dental tourists from Europe choose Dental veneers in Izmir Turkey to get quality care and savings at the same time. If you're dreaming of showing your straight, white teeth, Izmir Teeth Veneers may be the perfect solution. 
Broken, discolored, or misshapen teeth are unpleasant to have or see. This is why teeth veneers have become such a popular cosmetic dentistry treatment that transforms the way you look. But with the high price tag in most European countries and North America, people search for affordable solutions abroad. 
Therefore, saving up to 80% on the prices at home is possible with veneers in Izmir. Another benefit of choosing the Izmir clinic for smile restoration is the opportunity to have a relaxing vacation during your stay here.
This can be cost-effective in terms of getting a new, attractive smile along with a pleasing holiday in the beautiful, historic town of Izmir. In our guide, you will find out how much you can save on veneer in Izmir, what clinics and dentists to choose from, and what to see in Izmir.
So, let's find out together!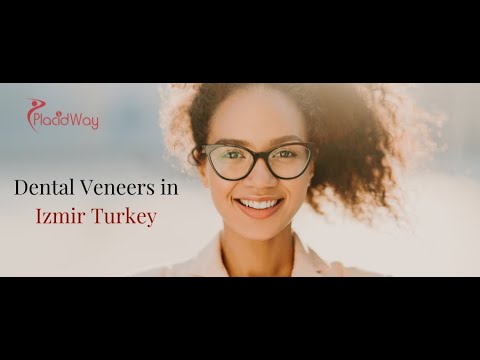 ---
Comprehensive Packages for Teeth Veneers in Izmir
Clinics in Izmir offer all-inclusive packages that can be an ideal choice for you as an international patient. The packages may differ from clinic to clinic, as well as their inclusions and prices. However, saving over 50% by choosing some packages is guaranteed.
You only have to worry about booking a flight to Izmir and paying for the hotel. Therefore, if you want to find out how to select the package for your dental needs, do not hesitate to contact us.
---
Cost of Dental Veneers in Izmir
With the price of around $320 for tooth veneer in Izmir, you can restore your smile while also saving over 50% on UK and USA prices. The price of dental veneers in the UK is over $600, and in the US $1,750.
Izmir veneers price is considerably lower than at home. In fact, you can get a whole row of veneers in Izmir for the price of only one in the United States!
Also, traveling to Izmir is cheap and easy from most world cities by plane. So, coming here will be affordable as your smile makeover will.
Let's find out the veneer prices in various countries.
Dental Veneers Cost Comparison in Turkey

| Country | Procedure | Price |
| --- | --- | --- |
| Germany | Dental Veneers, Dentistry | $4213 |
| Switzerland | Dental Veneers, Dentistry | $1300 |
| Turkey | Dental Veneers, Dentistry | $320 |
| United States | Dental Veneers, Dentistry | $1750 |
| United Kingdom | Dental Veneers, Dentistry | $600 |
---
Popular Dental Clinics in Izmir for Veneers
Some of the best dental clinics in Izmir provide high standards of care that are comparable with international clinics. Izmir clinics use CAD/CAM technology, meaning receiving your veneers in just one day is possible here.
The clinic has a professional medical team who is also bilingual, so communication will go smoothly. Other significant services, as well as patient reviews, you can find in our provider's profiles.
Below are 6 reputable dental clinics in Izmir where you can have your dental veneers:
---
Watch Our Most-Viewed Videos for Dental Clinics in Turkey
The following videos provide the list of top dental clinics in Turkey that offer state-of-the-art technology, facilities, and dental procedures for foreign patients.
---
Dental Work in Izmir Turkey Reviews from Past Patients
---
Dental Veneers in Izmir FAQs
In our answer below, you'll learn more about the average price of dental veneers in Izmir and the best dental clinics in Turkey.
Which are the Best Dental Clinics in Turkey?
Show More
Top 10 Dental Clinics in Turkey offering the Best Dental Care: Turkey is more than a tourist destination. Today this country has more to offer the visitor – the wonderful opportunity to receive cosmetic dental treatment done at some of the best dental clinics in the world. Dental care in Turkey is of a high standard and the country has become a popular destination for dental tourists in recent years. There are a number of reasons for this, including the fact that dental clinics in Turkey offer a wide range of treatments at very competitive prices. In addition, the quality of care is excellent and most clinics use state-of-the-art equipment. As a result, more and more people are choosing to have their dental work done in Turkey. Whether you're looking for a simple check-up or more complex treatment, you can be sure that you'll receive the best possible care at a dental clinic in Turkey. Turkey is nowadays the Mecca for cosmetic dental treatment, owing to the world-renowned expertise offered by the most experienced Turkish dentists, as well as state of the art of facilities, affordability, and convenience they offer. Dental tourism is on the rise in Turkey, as patients from all over the world come to take advantage of the country's high-quality dental care. With so many clinics to choose from, however, it can be difficult to know where to go for treatment. To help you make the best decision for your needs, here is a list of the best dental clinics in Turkey: Bergedent Aesthetic Dental and Implantology Zeynep Isilay Kaya Bilgi Hastanesi Denart Turkey Dental Centre Side Smile Dental Clinic Alanya Dental Center Antlara Dental Clinic CAPA Cerrahi Estetik Dental Clinic Cerrahi Group Dental Clinic Clinic Center Here are some of the most popular dental procedures offered by dental clinics in Turkey: Dental ceramic implants Dental porcelain crowns Dental porcelain veneers Cosmetic dentistry Tooth whitening Tooth extraction If you want to learn more about dental clinics in Turkey contact us now.
What is the Average Cost of Dental Veneers in Izmir, Turkey?
Show More
The cost of Dental Veneers in Izmir, Turkey varies depending on different factors, but the average price is $320 approximately. The factors that can affect Dental Veneers final cost are: A patient's health condition, Type of materials used, A number of visits are needed until the treatment are complete, The equipment used and The clinic you choose. Dental Veneers Cost Comparison With Australia, USA and UK Country Procedure Price Istanbul, Turkey Dental Veneers $320 Australia Dental Veneers $2,000 United States Dental Veneers $1,750 United Kingdom Dental Veneers $600 How Much You Can Save by Receiving the Dental Veneers in Izmir, Turkey? The average price for Dental Veneers in a leading country ranges between $600 to $2,000 approximately, while you can receive the same treatment here in Izmir, Turkey at around $320. Thus, you can save over $1,000 by choosing dental veneers in Izmir. Other Costs to Consider When evaluating your total cost of Dental Veneers in Izmir, Turkey, you have to consider some other associated factors as well. These factors are: Hotels and accommodation Food and drinks during the stay Airfare and transport Travel insurance For Dental Veneers, each patient needs to be treated with care and attention, with a treatment plan developed according to their needs and budget. In Izmir, you can find cutting-edge technology, excellent dental treatments, and highly professional teams of experts. The Dental Veneers packages in Izmir, Turkey offer patients many benefits besides the treatment, such as a Airport pick up, Hotel transfer, Consultation and c Case manager assistance among others. Not taking care of your dental problems can lead to tooth loss and serious health issues. When you choose a dental clinic in Izmir, Turkey make sure that the facility can address your specific needs. Some procedures require besides a steady hand of the dentist, years of expertise and training and specialized equipment. Factors that Affect the Price of Dental Veneers in Izmir, Turkey Before you travel to Izmir, Turkey to receive the treatment of Dental Veneers, you should be aware of the cost as well as the factors that can affect the package price. Have a look at the factors that can affect the overall cost of the treatment. Number of affected teeth Orthodontic setup of the teeth Infection (if any) Chosen procedure Materials Quality of materials used in the process Experience of the dentists What Should I Expect from the Dental Veneers in Izmir, Turkey? Izmir, Turkey is the home of a number of world-class dental care facilities, where you can receive the best Dental veneers treatment at an affordable price. Thus, visit Izmir, Turkey to enjoy the best-in-class Dental Veneers treatment. These are the details of estimated costs and one should not grant it as the final cost of the Dental Veneers treatment in Izmir, Turkey. However, you can always ask for free quotes and check how much you can save by going for Dental Veneers treatment in Izmir, Turkey.
---
Best Dentists in Izmir for Teeth Veneers
Turkey is home to some of the world's best dentists specializing in dental procedures such as smile restoration. Most of these dentists are based in Izmir, working with local and international patients. They are bilingual, board-certified, and highly skilled.
Choosing a dentist for veneers in Izmir can be difficult without having a proper plan for thorough research. But worry not, because our PlacidWay team is here to help.
With us, you'll find only reputable and qualified dentist who will provide you with a happy, long-lasting smile. Contact us to know more.
---
Dental Tourism in Izmir - Top Places to See
If you are unsure about going to Izmir for dental veneers, we promise you won't be disappointed. Our partner clinics offer modern and advanced technology that is widely used at your local dentist and at Izmir dental office. In addition, you'll feel at home once you visit a professional Izmir dentist.
Izmir is also one of the most beautiful Turkish cities with an abundance of historical sites, modern architecture, and local restaurants with tasty food. The city is located on the Aegean Sea's western coast and is easily approachable to western patients.
You can take a short flight to Izmir Adnan Menderes Airport and then travel only about 20 mins to Izmir center. While here for dental veneers procedure, you can enjoy visiting some of the best places in and around Izmir that include
The Yali Mosque and the Hisar Mosque,

Kemeralti Bazaar,

the Ataturk Museum and the Izmir Museum of History and Art,

Ephesus, a UNESCO Heritage Site,

Bodrum and Kusadasi, along the Aegean Sea.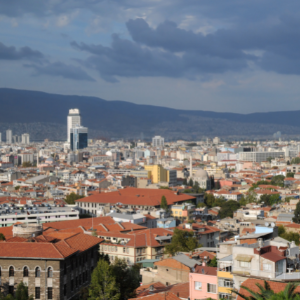 The view of Izmir
---
Get Your Low-Cost Dental Veneers in Izmir Today!
Have you found all that you need to know about Dental Veneers in Izmir? If not, we recommend you contact our friendly PlacidWay Customer Care Team for more information you need.
Let us help you plan your dental trip to Izmir for your new, confident smile!
---