Dt. Emine Tugce Atesh, Dentist, Dental - General Dentistry - Izmir, Turkey
OSMANGAZİ MAHALLESİ YAVUZ CADDESİ NO 310 BAYRAKLI İZMİR
Izmir, Turkey
Speciality:
Dentist, Dental - General Dentistry,
Languages:
English,Russian,French,German,Arabic
Degree:
Ege University Faculty of Dentistry
Focus Area:
Dt Emite Tugce Atesh | Izmir | Turkey | West Dental Clinic Turkey
---
About - Dt. Emine Tugce Atesh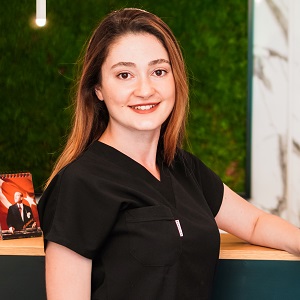 Dt. Emite Tugce Atesh is a highly respected and well-known dentist in Izmir, Turkey. She has been practicing dentistry for over 10 years and is renowned for her skill and experience in the field of aesthetic dentistry, pulp health, root canal therapy, orthodontics, prosthodontics and implantology. Dt. Emite Tugce Atesh has completed her master's degree in dentistry from Ege University Faculty of Dentistry and is currently working at the WestDent Private Oral and Dental Health Polyclinic.
Dt. Emite Tugce Atesh offers a wide range of dental services such as tooth whitening, dental hygiene services, invisalign braces, dental implant procedures and much more. She aims to provide her patients with the highest quality of care, and is dedicated to their treatment in a comfortable and relaxed environment. Her services are tailored according to each patient's individual needs and she takes into account all factors such as lifestyle, medical conditions, age, general health and cosmetic goals.
Dt. Emite Tugce Atesh's commitment to her patients is unparalleled and she strives to ensure that they receive the best possible care in the most efficient manner. She believes in keeping up with the latest advancements and technologies in dentistry so that her patients can benefit from them. Additionally, she regularly attends international conferences to stay ahead of the latest developments in dentistry.
She currently works at the WestDent Private Oral and Dental Health Polyclinic, which provides comprehensive preventive and therapeutic oral health care. With state-of-the-art equipment and highly skilled professionals, the clinic strives to offer quality care at an affordable cost. Click contact us button below to get started for your consultation with Dt. Emite Tugce Atesh in Izmir, Turkey:

Education
Experiences and Educations:
Completed her primary and secondary education in Mugla

Graduate of Mugla Anatolian Highschool

Completed her master's degree at Ege University Faculty of Dentistry

Specializes in aesthetic dentistry and pulp health

Participating in international congresses during her student and professional life.

Currently work at WestDent Private Oral and Dental Health Polyclinic

Prices
| WestDent Clinic Turkey Prices in Izmir Turkey | Prices | Enquire |
| --- | --- | --- |
| Dental Implants in Izmir, Turkey | $250 | Enquire |
| Dental Crowns in Izmir, Turkey | $95 | Enquire |
| Braces in Izmir, Turkey | $2500 | Enquire |
| Dental Fillings (LED Composite per tooth) in Izmir, Turkey | $85 | Enquire |
| Dental Veneers  (per tooth) in Izmir, Turkey | $200 | Enquire |
| Teeth Whitening in Izmir, Turkey | $160 | Enquire |
| Root Canal (per tooth) in Izmir, Turkey | $110 | Enquire |
| Dental Fillings in Izmir, Turkey | $45 | Enquire |
| Tooth Extraction in Izmir, Turkey | $85 | Enquire |
| Tooth Extraction in Izmir, Turkey | $185 | Enquire |
---
WestDent Clinic Turkey reviews
Erica

I already had veneers which I had had fitted in 2007 by a dentist in Izmir. 15 years on, I wanted replacements as the ageing process meant my gums had shrunk and my veneers did not fit as well as previously. I could not find my original dentist, so considered three other dental practices in Izmir. After considerable correspondence with these clinics, I chose West Dent based on reviews and price. From the moment I arrived in Izmir, Cavit, my driver and liaison for the whole of my stay, made sure I was collected and returned to my hotel for each clinic visit until he dropped me at the airport for my journey home.
The staff at the West Dent Clinic were wonderful-nothing was too much trouble and they were a cheerful and efficient team. I had an impression taken of my mouth and my veneers were delivered two days later. When the lovely dentist fitted them in place, before I could comment that I thought they were too big, she immediately took them out of my mouth and said she would not permanently fix them as she was not happy with them! No fuss, no drama! She took a new impression and had the technician make me new (porcelain) veneers. When the new ones arrived and they were cemented in place, I felt they were too long and straight. She agreed with me and proceeded to shorten slightly and adjusted eye-teeth to my satisfaction. I was delighted with them.
I stayed in Izmir for ten days, so I had plenty of time to allow for any unforeseen delays. I used Turkish Airlines for my trip and had porcelain veneers fitted.
I would not hesitate in recommending West Dent-they are a young, busy and vibrant practice wanting to ensure they gain new business from foreign markets by offering first class and flexible services. I would thoroughly recommend them, based on my experience. Such a lovely team☺️

Trustpilot

Oct 07 2022

Tali W

I chose Westdent because their office is very responsive to questions and provide a very comprehensive service. The dentists are young, so very knowledgeable about the latest technology.
On arrival they arrange airport pickups and very good hotel accommodations.
Their offices are modern with all latest equipment.
My dentist was kind, patient and very thorough. I had 20 veneers done, we discussed the best finish during the multiple appointments and the results are excellent. Everyone has commented on how natural they look.
I also had old metal fillings replaced, this was also very well done.
Guliz, the English speaking consultant and Cavitz who always picked me up fir appointments and worked as a dental assistant made everything so easy and comfortable.
Great experience

Trustpilot

Oct 17 2022

Serhiy D

I visited West Dental Clinic Turkey in purpose to sort out my teeth problems!
So I trusted clinic's team to make for me entire bottom jaw!
I suppose, I am very HAPPY with entire dental work being done!
I felt professionalism, extremely good attitude to me!
I am happy with my new teeth, and feel lucky to meet such a nice guys!!

Trustpilot

Sep 22 2022

Chuck

Hi my name is Chuck from London UK
I HAD ALL OF MY 24 teeth

Trustpilot

Sep 16 2022

Happy

I'm very happy that I found this amazing clinic, West Dental Clinic. It's such a beautiful place to get your new smile here. I love my doctor. She's a really good professional and all her team is such amazing people that for a short time, I got my new smile that I can show for everybody and they can smile for me back and I'm really happy. I'm really glad that I met her. I love her doctor she's Susan Aktash and I wish for everybody to enjoy the such a new in your face.

Facebook

Dec 02 2022

Comfortable

Okay so I came from Australia to do my teeth here in Izmir and I was a bit nervous first but as soon as I came here I was made to feel comfortable and I was relaxed and from start to finish everything was great and I would recommend this to everybody. Um this place is definitely everyone should come and do their teeth.

Facebook

Nov 09 2022
---
Dentistry Related Packages
Dentistry Related Experiences
PlacidWay.com provides information and travel related services. We do not provide health care services. We provide information solely for informational purposes and do not endorse any particular health care provider or facility or any particular health care service or treatment. We are not affiliated with any health care provider or service and we are not responsible for any health care service. Please consult with your own domestic licensed health care provider before seeking the services of any health care provider you learn about via our site.
---