Adaport Dental Clinic
Best Dental Treatments in Izmir, Turkey Led by Dr. Mehmet KOSE
Turkmen Mahallesi Ataturk Bulvari Yat Sitesi, D:No:212/1, 09400 Kusadasi/Aydin, Izmir 09400, Turkey

Focus Area:

Adaport Dental Clinic | Izmir | Turkey | Dr Mehmet KOSE | Dr Fatma KOSE | Dental Implants | Hollywood Smile | Zirconium Crowns | Zirconium Bridges
Adaport Dental Clinic Profile Overview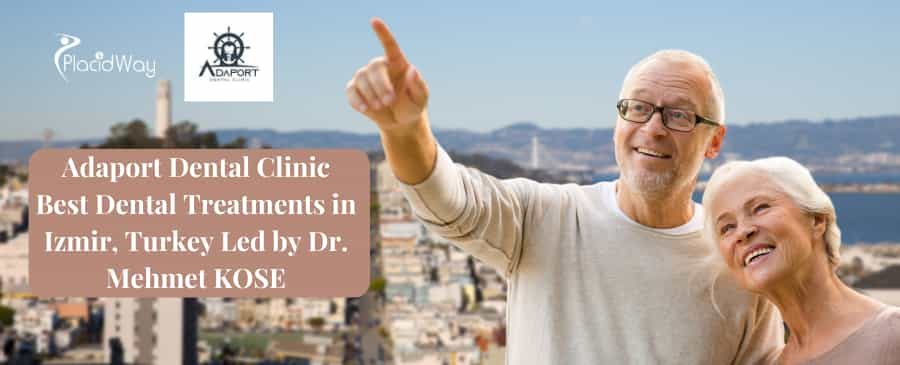 Experience the Latest Dental Technology at Adaport Dental Clinic
Adaport Dental Clinic in Izmir, Turkey is equipped with state-of-the-art facilities to provide patients with the best dental care possible. Our teams of experienced dentists use the latest technology to create personalized treatment plans that cater to the individual needs of each patient. With advanced equipment such as digital x-rays, CAD/CAM systems, and 3D imaging, we ensure accurate diagnoses and efficient treatments. Visit us today and experience the difference that modern technology can make in your dental care.
Trust in Our Experienced Dentists
At Adaport Dental Clinic, we pride ourselves on having a highly skilled team of dental professionals. Our specialists have years of experience and are dedicated to providing the highest level of care to our patients. Led by Dr. Mehmet KOSE, a Prosthodontist with a specialization in prosthodontics, and Dr. Fatma KOSE, our team is committed to providing comprehensive treatment options using the latest techniques and technology. You can trust us to take care of all your dental needs.
Convenient Location in Izmir, Turkey
Located in the heart of Izmir, Adaport Dental Clinic is easily accessible by both public transportation and private vehicles. Our clinic is conveniently located near popular tourist destinations and accommodations, making it easy for our patients to combine their dental treatments with a relaxing holiday. Contact us today to schedule your appointment and discover why Adaport Dental Clinic is the premier choice for dental care in Izmir, Turkey.
Comprehensive Treatment Options at Adaport Dental Clinic
At Adaport Dental Clinic, we offer a wide range of comprehensive dental treatments to address all your dental concerns. From zirconium crowns and bridges to Hollywood Smile with Emax veneers, we have a solution for every dental problem. Our team of dental experts also specializes in dental implants, wisdom tooth extraction, and teeth whitening. We work closely with our patients to create personalized treatment plans that cater to their specific needs and budget. Trust us to give you a healthy and beautiful smile.
Personalized Care for Every Patient
At Adaport Dental Clinic, we believe that personalized care is the key to achieving the best dental outcomes for our patients. That's why we take the time to get to know our patients and understand their unique dental needs. We work closely with each patient to create customized treatment plans that are tailored to their individual needs and budget. Our goal is to ensure that our patients receive the best possible dental care in a comfortable and welcoming environment in Izmir, Turkey.
Affordable Dental Services at Adaport Dental Clinic
We understand that dental treatments can be expensive, which is why we offer affordable dental services to our patients. Our clinic is committed to providing high-quality dental treatments at a reasonable cost, without compromising on the quality of care. We offer flexible payment options and work with our patients to find a dental treatment option in Izmir, Turkey that fits their budget. Trust us to provide you with excellent dental care that won't break the bank.
Our customer representative at PlacidWay will help you connect with Adaport Dental Clinic in Izmir, Turkey. Click contact us button below to get started:

---
---