Dental Implants in Ankara, Turkey
Restore Your Beautiful Smile with Teeth Implants in Ankara
Searching for the best place where you can go to fix missing teeth at a reasonable price? Dental Implants in Ankara, Turkey may be just what you need. The capital of Turkey offers exclusive dental care at reputable clinics where you'd restore your smile at a low cost.
Thousands of Europeans go to Turkey Ankara for dental treatment such as tooth implant and to save 70% on a smile makeover. Our guide will help you find the best clinic in Ankara for your dental needs. Continue reading to explore your options!
Best Clinic: Dental Estetik Center
Best Dentist: Güzin Kirsaçlioglu
Procedure: Dental Implant
Cost in Ankara: $270
Cost in Other Countries: From $1,130
Cost Savings: Up to 80%
Top Tourist Spots: Antikabir the mausoleum of Atatürk, Gençlik Park, Citadel Neighborhood, and others.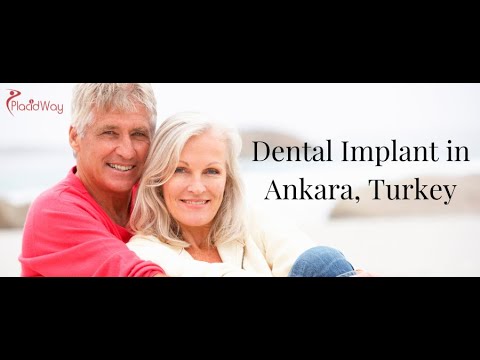 ---
Cost-Effective Dental Implants Packages in Ankara Turkey
If you need a budget-friendly and stress-free trip, our team will assist you in receiving the dental care you deserve. Therefore, we can design an all-inclusive package that includes dental implants procedure and other services Ankara clinic offers for its international clientele.
You will only have to take care of traveling to Ankara and paying for the hotel stay and tourist tours. These prices will not significantly affect the overall expenses. While choosing a package deal can certainly help you stay within your budget.
---
Cost of Dental Implants in Ankara, Turkey
On average, a Dental Implant cost in Ankara $270. This price is up to 80% cheaper than in the West. For instance, in the USA a patient must pay $3,500 out-of-pocket. In contrast, in more developed European countries a tooth implant cost over $1,100.
Britains visit Ankara dental clinics because they'd have to pay over $2,500 per tooth implant at a local dentist. Even when you factor in the travel and accommodation expenses, Ankara remains a more affordable choice.
Let's look at the price comparison table showing average prices in Ankara compared to prices in the West:
Dental Implants Cost Comparison in Turkey

| Country | Procedure | Price |
| --- | --- | --- |
| Germany | Dental Implants, Dentistry | $2750 |
| Spain | Dental Implants, Dentistry | $1137 |
| United States | Dental Implants, Dentistry | $3500 |
| United Kingdom | Dental Implants, Dentistry | $2500 |
---
Best Dental Clinic in Ankara for Dental Implant
Looking for the best dental clinics in Ankara for dental implants? Here you'll find an accredited and top-rated dental office that serves international patients for over 5 years.
This clinic provides mostly aesthetic dental care to improve the smiles of its clientele. A highly skilled team collaborates to deliver the most advanced results for local and foreign patients.
The well-trained medical staff ensures patients receive quality care and safe treatment at their state-of-the-art facility. Let's find out more about our dental provider in Ankara from their profile below.
Top Center
Dental Estetik Center, located in Ankara, Turkey, is one of the best dental clinics in the country. The highly experienced medical team uses safe and modern materials and medical equipment, to offer local and international patients the best services when it comes to dental care.
---
Dental Work in Ankara Turkey Reviews
---
Dental Implants in Ankara FAQs
Need more information about dental work in Ankara? Here you'll find our answers to patients' common questions like which are the best Turkish dental clinics and what is the price of a dental implant in Ankara.
Top 20 Dental Treatment Clinics in Turkey
Show More
Affordable Dental Clinics in Turkey Turkey is a well-known tourist and medical destination in the world. International travellers take advantage of the historic sights to explore and medical expertise to avail of. Turkish medical care is one of the best and safest providers of dental and medical care especially in cities like Istanbul and Ankara. Dental clinics in Turkey are considered to be among the best in the world. This is due to the high quality of care and service that these clinics provide. In addition, the cost of dental treatment in Turkey is significantly lower than in other countries. As a result, many people from all over the world choose to have their dental work done in Turkey. Dental clinics in Turkey offer a wide range of services, including general dentistry, cosmetic dentistry, and orthodontics. They also provide emergency dental care, so you can be sure that you will receive the treatment you need when you need it. If you are looking for high-quality dental care at an affordable price, then a dental clinic in Turkey is the perfect choice for you. Top 20 Dental Clinics You Can Visit in Turkey Dental clinics in Turkey offer a wide range of services and are known for their high quality. They provide both general and specialized dental care, and their staff is composed of highly trained professionals. In addition, they use state-of-the-art equipment and techniques, which ensures that their patients receive the best possible care. Here are 20 of the best dental clinics in Turkey: Bergedent Aesthetic Dental and Implantology Zeynep Isilay Kaya Denart Turkey Dental Centre Side Smile Dental Clinic Alanya Dental Center Antlara Dental Clinic Bestify Group CAPA Cerrahi Estetik Dental Clinic Cerrahi Group Dental Clinic Clinichub DENT ART PORT Dent Clinic Turkey Dent Laracity Dent Nova Dental Clinic Dentaglobal Dental Clinic Dentakademi Oral and Dental Healthcare Center Dental Estetik Center Dentalays Dental Center Dentnis Abdulkadir Narin Estetik Dis Hekimi DentaVita Dental Clinique Which Dental Clinics to Choose in Turkey? Are JCI accredited- practicing international quality standards in treating patients. Has one of the most advanced healthcare technology worldwide. Has an expert medical and dental team who are licensed and experienced. Has an International Patient Center to cater the needs of medical tourists or travellers. Offers a "one-stop" service for international travellers that includes: a comprehensive range of healthcare services for international patients such as diagnostic needs, physician consultations, insurance and billing assistance, travel and accommodations, language interpretation and cultural mediation services. Specializes in Aesthetic Dentistry, Orthodontics (braces and bite problems), General Dental Treatments (oral prophylaxis, cleanings), Oral and Maxillofacial Surgery (Oral Surgery and Tooth Extraction), Pediatric Dentistry (dentistry for children), Endodontistry (Root Canal Treatments), Periodontistry (Gingivitis and dental implants), and Prosthodontistry or Restorative Dentistry Specialist (Dentures, Restoration of Dental Implants, Porcelain Crowns & Fixed Bridges, Inlays, Onlays & Veneers and Tooth-Colored Dental Fillings). Find out more about the best dental clinics in Izmir, Turkey! Contact us and choose the best dental clinic in Turkey!
What is the Cost of Dental Implants in Ankara, Turkey?
Show More
If you need Dental Implants then Ankara, Turkey is an option that you might want to consider. Prices for Dental Implants start at $800. The final cost depends on the complexity of the procedure, the clinic and doctor that you choose, the materials and equipment needed, and the duration of the treatment. Dental Implants Procedures Ankara, Turkey Cost UK Cost Dental Implants $800 $2,500 All on 4 Dental implants $3,250 $24,400 All on 6 Dental implants $4,200 $28,000 All on 8 Dental implants $6,000 $33,000 Are There Good Clinics for Dental Implants in Ankara, Turkey? There are many dental clinics in Ankara, Turkey that offer Dental Implants packages for international patients, which include transportation from the airport to the hotel and clinic, translators (if needed), consultation, second opinion diagnostic, and case manager assistance. What is the Benefits of Dental Implants? Dental Implants will help you restore your oral health, teeth function, and smile. Now you have no reason to postpone your dental treatment. With the affordable Dentistry prices in Ankara, Turkey, and the expertise of the dentists, you will have your teeth fixed in no time, without spending a fortune. What is the Scope of Dental Tourism in Turkey? Turkey is renowned for its dental tourism. Many medical tourists actually go for major dental work because of the cost advantages, so it's common to see patients having multiple crowns, implants, and other dental cosmetic procedures. Thanks to modern technology some procedures which were done several days before, can now be performed in just one day. You will go home with a brand new smile and restored confidence. To make sure that you choose the best dentist in Ankara, Turkey, you will have to know exactly what to look for. What are the Questions You Should Ask your Dentist Before Tooth Replacment? Are you certified in performing Dental Implants? Are you a member of any Dentistry association or society? How many years of experience do you have performing Dental Implants? How often have you performed this procedure? How many years of experience do you have performing Dentistry? What are the advantages and disadvantages of Dental Implants? What about the risks and complications? What if something goes wrong during the Dental Implants procedure? What if I am not happy with Dental Implants results? Visiting Turkey is Safe or Not? There is a misconception among Americans that it is dangerous to visit Turkey. Of course, there are some areas that you should avoid, but that is also true for places in the US. As long as you do your research beforehand, you will find that visiting Turkey is relatively safe. Find out more about the best dental implants in Ankara, Turkey! Contact us and choose the best dental specialist!
---
Best Dentists in Ankara for Dental Implants
Our provider clinic in Ankara has world-renewed dentists who deliver exceptional results to their patients. Dentists in Ankara adhere to international standards of dental work that can be found in USA or UK clinics.
They are experts in aesthetic and restorative dentistry and apply the newest techniques in dental procedures like dental implants surgery. Ankara dentists speak English very well so you will understand your dentist during the treatment. Also, you can have a pre-surgery consultation via video call where you'll discuss your options in English.
Ankara dentists are proud members of these institutions:
Turkish Dental Association (TDB)
European Academy of Esthetic Dentistry (EAED)
American Dental Association (ADA)
American Academy of Cosmetic Dentistry (AAD)
European Association for Osseointegration (EAO)
Ready to meet your dentist in Ankara? Contact us for more details.
---
Dental Tourism in Ankara - Places to Visit before Dental Implant Surgery
Ankara is Turkey's capital, making it a main economic, political, and administrative hub. Ankara offers a wide range of state-of-the-art dental clinics with prices up to 70% less than in the West.
This modern, charming city boasts endless museums, restaurants, shops, cafes, and nightlife options. There are cheap direct flights from the major European and US cities with an approximate flight duration of 2-6 hours. The Ankara Esenboga Airport (IATA: ESB) receives a number of daily flights worldwide.
So, coming to Ankara will be easy and stress-free which will benefit you from getting your new smile at the prices you can afford.
Since you're in this amazing city for teeth implants, we suggest you walk Ankara's streets and meet its top attractions that include:
The Museum of Anatolian Civilizations

Antikabir the mausoleum of Atatürk

Haci Bayram Veli

The ruins of Hattusa, the capital of Anatolia's Bronze Age Hittite empire

Sunny Beypazari town

Gençlik Park

Eymir Lake

Citadel Neighborhood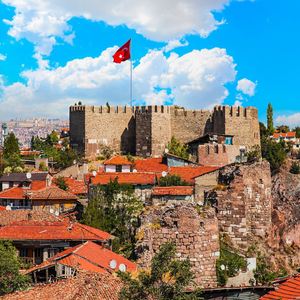 Ankara's citadel (kale) district
---
Get Started by Booking Dental Implants in Ankara with PlacidWay!
You can simply contact our Customer Care team directly or fill out the form on your right to get a FREE quote for Dental Implants in Ankara.
We are happy to assist you in finding the best dentist and having a memorable dental experience in the Turkish capital.
---