Sonrisa Perfecta Dental
Top Dental Clinic in Cartagena, Colombia by Sonrisa Perfecta Dental
Bocagrande av 3 # 6-128, Edificio Centro De Negocios Piso 2 Cartagena Bolivar, Cartagena, Colombia

Focus Area:

Orthodontic Treatment in Colombia | Cosmetic Dentistry in Cartagena | Nasal Aesthetics | Child Dental Care | Sonrisa Perfecta Dental | Cartagena | Colombia
Sonrisa Perfecta Dental Profile Overview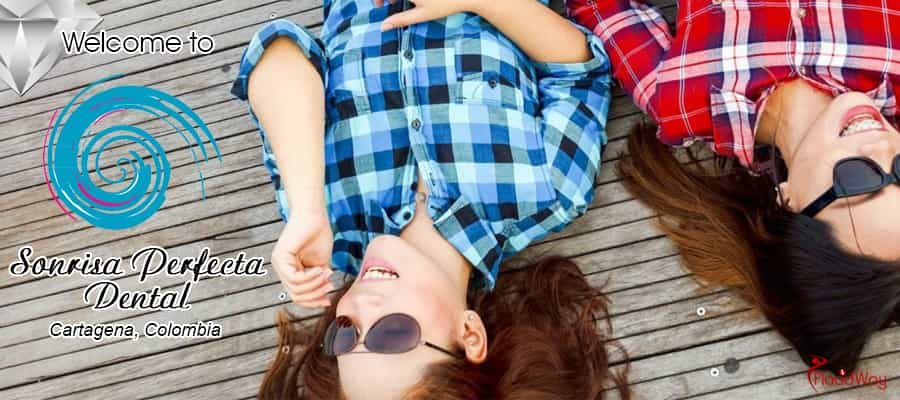 About Sonrisa Perfecta Dental in Cartagena, Colombia
Discover Sonrisa Perfecta Dental, the exclusive spa-like dental clinic nestled in Cartagena de Indias, Colombia. Led by our General Director, Tarsys Loayza Roys, a distinguished professional with postgraduate degrees from the world's best universities, we bring over three decades of expertise to modern dental and Cosmetic Medicine procedures. As a member of esteemed organizations such as the American Dental Association and the American Academy of Cosmetic, Tarsys Loayza Roys ensures the highest standards of professionalism. To tailor our services to your specific needs, share details about your desired procedure, preferred timing, budget, and any questions you have for our physicians. We are dedicated to providing you with the best package and look forward to welcoming you to our clinic for a transformative experience.
At Sonrisa Perfecta Dental, we welcome you to a unique dental experience where cutting-edge technology meets spa-like comfort. Our Colombian Dentist, Tarsys Loayza Roys, is globally recognized, having received special distinction in Europe, the USA, and Latin America. With over 30 years of expertise, she leads a team dedicated to creating perfect smiles through a range of services, including veneers, teeth whitening, LASER treatments, crowns, Lumineers, and implants. Experience a Smile Makeover Renaissance Hollywood® style starting from $350 for veneers and $370 for each teeth crown. Enjoy the benefit of up to 80% off USA prices with no deposit required. Contact us for a free quote through our Biolink or direct message us with your questions. Let us guide you through the process and help you achieve the smile and look you've always desired!
Dr. Tarsys Loayza, the founder and a distinguished Master in Dental Aesthetic Medicine based in Cartagena, Colombia, extends a warm welcome to potential patients. With over 30 years of experience and recognition in Europe, the USA, and Latin America, Dr. Loayza is committed to providing the finest treatment and service possible. As the patient coordinator, Dr. Loayza ensures a seamless experience for individuals seeking dental and Aesthetic Medicine procedures, assisting with all aspects of treatment and planning their visit to the enchanting city of Cartagena de Indias. By choosing Sonrisa Perfecta Dental, patients opt for excellence in transformative procedures, aimed at achieving the desired smile and look. The clinic looks forward to welcoming visitors and ensuring their time in Cartagena is both enjoyable and memorable.
Academic background:
Degree in Dentistry from the University of Cartagena (Colombia).

Master in Medical and Oral Microbiology at the University of Cartagena (Colombia) 1992.

Training in Dental Aesthetics and Oral Rehabilitation at the Military University C.I.E.O. (Colombia) 1994.

Training in Implantology at the University of Cartagena (Colombia) 2000.

Training in Oral Rehabilitation and Dental Aesthetics at the University of Cartagena (Colombia) 2005.

Master's Degree in Implantology and Oral Surgery at the University CEU Cardenal Herrera (Spain) 2021.

Master in Aesthetic Medicine at the Institución Universitaria Tecnológica TECH (Spain) 2023.

University Expert in Dermo-aesthetic and Facial Medicine at the Technological University Institution TECH (Spain) 2023.

University Expert in Aesthetic Body Medicine at the Technological University Institution TECH (Spain) 2023.

University Expert in Main Techniques and Tools in Aesthetic Medicine at the Technological University Institution TECH (Spain) 2023.
Work experience:
General Director of the Sonrisa Perfecta Dental Spa Clinic.

University professor in undergraduate and graduate courses.

Advisor to the Colombian Institute for the Evaluation of Education (ICFES).

National and international lecturer.

Member of the Colombian Society of Prosthodontics.
Specialties:
Oral Rehabilitation.

Implantology.

Laser surgery.

Laser Therapy.

Laser Technology (All procedures).

Plastic and Aesthetic Dentistry.

Smile Design.

Aesthetic Medicine.
Some international endorsements and recognitions:
Member of the British and American Academies of Cosmetic Dentistry - AACD.

Member of the American Dental Association - ADA.

Member of the European Medical Association - EMA.

Member of International Academic Aesthetic.

Top Doctors Certificate of Medical Excellence.
Explore the innovative realm of non-surgical nasal embellishment at Sonrisa Perfecta Dental, where we introduce Nasal Bioplastia utilizing high cross-linking hyaluronic acid. This groundbreaking procedure ensures natural and immediate results for individuals seeking nasal aesthetics without undergoing surgery. As one of the top dental clinics in the country, Sonrisa Perfecta Dental is committed to providing a comfortable environment and delivering first-class dental care to both local and international patients. Our clinic is equipped with state-of-the-art facilities and a team of experts dedicated to offering precise and comfortable dental treatments.
Not only do we excel in adult dental care, but our staff is also adept at pediatric dentistry, demonstrating expertise in the prevention, diagnosis, and treatment of children's dental needs. With a focus on buccal structure from both functional and biological perspectives, our qualified and experienced team ensures world-class care for patients of all ages. Our comprehensive range of dental treatments includes Oral Rehabilitation, Endodontic Procedures, Orthodontics, Maxillofacial Surgery, and specialized Pediatric Dentistry, making Sonrisa Perfecta Dental your trusted destination for a wide spectrum of dental services.
Exclusive Dental Packages at Sonrisa Perfecta Dental in Cartagena, Colombia
Explore the exclusive dental treatment packages offered by Sonrisa Perfecta Dental in Cartagena, Colombia, where state-of-the-art technology meets personalized care. Whether you're seeking a radiant smile through Laser Tooth Whitening, a restored smile with High-Quality Titanium Dental Implants, flawless aesthetics with Porcelain Dental Veneers, or advanced Gum Contouring solutions, our packages cater to diverse dental needs. Below are details of each specialized treatment package:
Laser Tooth Whitening Treatment Package:
Priced from $200 USD

Additional options: Deep Cleaning with laser technology ($100 USD), Scaling and Root Planing/Quadrant Scaling ($150 USD), Laser or Zoom Whitening (Choice depends on clinical needs and requirements) from $200 USD.
High-Quality Titanium Dental Implant Package:
Priced at $890 USD

Additional options: Zirconia (ceramic) implant with abutment starting at $1,600 USD, Titanium Implant (Including abutment and crown) from $1,300 USD, Bone graft (Per unit) from $550 USD.
Porcelain Dental Veneer Package:
Priced from $350 USD per unit

Additional options: Veneers and Lumineers from $350 USD, Ceramic Dental Crown from $370 USD, Prosthesis on 4 or 6 implants (All on 4 or All on 6) from $8,000 USD.
Gum Contouring Package:
Antibiotic application and root scaling if required, all with laser technology for periodontal disease starting at $300 USD.

Computer anesthesia and assisted sedation available for all treatments (conditions apply).
Unlock the path to your dream smile with a complimentary consultation for dental treatment in Cartagena, Colombia, offered by Sonrisa Perfecta Dental through PlacidWay. Take advantage of this opportunity to discuss your dental needs, explore personalized treatment options, and gain insights from experienced professionals. Sonrisa Perfecta Dental, known for its spa-like ambiance and cutting-edge technology, invites you to embark on a journey to optimal oral health. Contact us through PlacidWay to schedule your free consultation and discover how our team can tailor a comprehensive dental solution to meet your unique requirements. Your journey to a radiant and healthy smile begins with Sonrisa Perfecta Dental in the captivating city of Cartagena.

---
---