International Polyclinic of Rabat
International Polyclinic of Rabat, Cardiology, Oncology, Gynecology, Neurology, ENT, Sports Medicine, Obesity, Orthopedics, Reconstructive Surgery, Morocco

8. tunis street hassan Rabat Morocco 10020 Rabat RABAT, Rabat, Morocco

Specialty:

Cancer Treatment, ENT, General Medicine, Gynecology Treatment, Heart Care/Surgery, Neurology, Obesity/Bariatric Surgery, Orthopedic/Knee Surgery, Pediatric Treatment, Urology

Focus Area:

International Polyclinic of Rabat | Cardiology | Oncology | Gynecology | Neurology | ENT | Sports Medicine | Obesity | Orthopedics | Reconstructive Surgery | Morocco
International Polyclinic of Rabat Profile Overview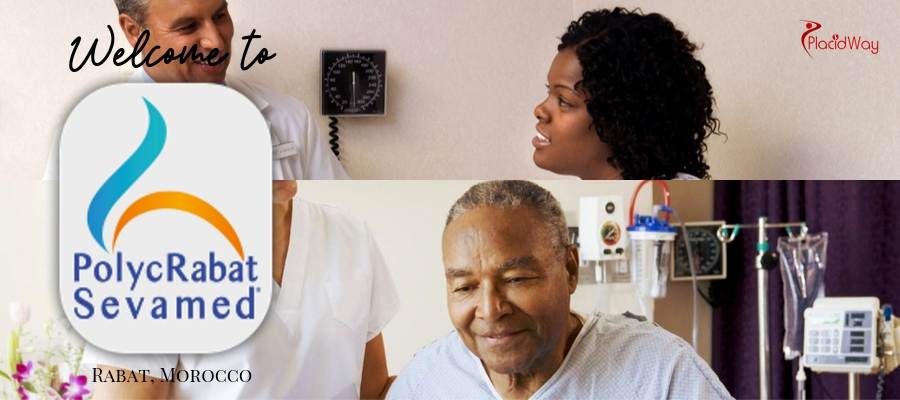 International Polyclinic of Rabat- Best Cardiology, Oncology and Other Healthcare Solutions in Morocco
International Polyclinic of Rabat is one of the most renowned healthcare centers in Morocco. The clinic has been serving local and international patients for more than 20 years. The International Polyclinic of Rabat is a part of Morocco's rapidly growing medical tourism industry and thousands of patients visit the clinic every year to get effective and affordable healthcare solutions.
The rising cost of healthcare facilities in most of the developed countries have forced people to rely on the medical tourism industry and Morocco has become a major medical tourism destination for international patients. The International Polyclinic of Rabat is an ISO 9001-2000 certified organization, where you can receive a range of healthcare solutions.
The clinic features a dedicated center for heart and vessels. It is a cardiovascular center designed to take care of patients who come with different cardiovascular issues. The center houses innovative and highly effective equipment for cardiovascular diseases. Here, you can get solutions like heart rhythm pacemaker implantation, electrophysiology, valve replacement, aortocoronary bypasses, beating heart surgery, surgery of cardiac tumor, surgery of cardiac congenital malformations of the child and more.
Likewise, they have dedicated centers for oncology and lithotripsy, where patients can get solutions for a number of health disorders. Their oncology department features
Surgery unit

Brachytherapy unit

Extra radiotherapy unit

Chemotherapy unit

Centering-simulation unit

Iratherapy unit

Outpatient hospitalization unit
The center of Lithotripsy is equipped with an apparatus for the fragmentation of kidney and urinary stones. The apparatus comes with many other advantages and it helps patients to tolerate the difficulties during treatment.
Medical Specialties of the International Polyclinic of Rabat:
Neurology

Cardiology

Chemotherapy

Brachytherapy, Radiotherapy (VMAT), PetSCAN

Gastroenterology

Internal Medicine and Rheumatology

Ear, Nose, Throat

Adult Resuscitation

Pediatric and Neonatal Resuscitation

Functional Rehabilitation and Sports Medicine

Medical Emergency

Nephrology and Dialysis

Angiography and Pace Maker

Pain Medicine

Treatment with PRP (Platelet Rich Plasma)

Obesity

Traumatology Orthopedics

Nephrology and Dialysis

Lithotripsy

Pathology laboratory

Radio Neurosurgery (Gamma Knife)

Ophthalmology

Gynecology

Urology

Pediatrics

Pneumology
Surgical Specialties of the Clinic are:
Neurosurgery

Surgical oncology

Heart surgery

Hand Surgery and Reconstructive Surgery

Endoscopic surgery

Maxillofacial Surgery

Thoracic surgery

Visceral surgery

Pediatric surgery

Obstetrics and Gynecology

Traumatology Orthopedics

War surgery
Medical and Surgical Emergency Services:
A phone line dedicated exclusively to respond to emergency calls,

Doctors on duty 24h / 24h, holidays and weekends,

Home consultation provided by emergency doctors,

Biological laboratory 24h / 24h,

Childbirth emergencies,

Emergency operating room 24 / 24h,

Adult resuscitation,

Pediatric and Neonatal Resuscitation
In addition, an ambulatory medical care service is provided by The International Polyclinic of Rabat for medical and surgical treatments that do not necessarily require hospitalization and/or others that require both hospitalization and ambulatory. Patients admitted to ambulatory service receive diagnostic examinations, specialized medical consultations or regular treatments.
To know more about the International Polyclinic of Rabat and their treatments and services, click below.

---
---
Reviews
Mustapha

A very average clinic, the staff was really helpful and caring, the nurses are very kind and competent as well, the food is not really so good, thanks to god my father surgery was successful, would lik to thank Doctor dehayni for his help and professionalism, the facilities are clean, in sum, its a quiet good clinic but not the best in Rabat honestly.


Google

Sep 15 2022

Abdul

Hospital serious and very professional

Google

Sep 15 2018

Philans

Place I would recommend any day for quality healthcare delivery and a great blend of professionalism, expertise and decency.

Google

Sep 15 2018
---
Cancer-Treatment Related Packages