Jangdeuk Hospital
Seoul, South Korea
42, Seochojungang-ro 8-gil, Seocho-gu, Seoul, Republic of Korea, Seoul

Focus Area: Cancer Treatment | Cancer Diagnosis | Oncologists in Seoul, South Korea | Jangdeuk Hospital | Oncology | Liver Cancer | Stomach Cancer | Ovarian Cancer | Breast Cancer | Cervical Cancer
Cancer Treatment in Seoul, South Korea, Best Cancer Treatment, Cancer Diagnosis, Oncologists in Seoul, South Korea, Jangdeuk Hospital, South Korea Oncology, Liver Cancer, Stomach Cancer, Ovarian Cancer, Breast Cancer, Cervical Cancer
Profile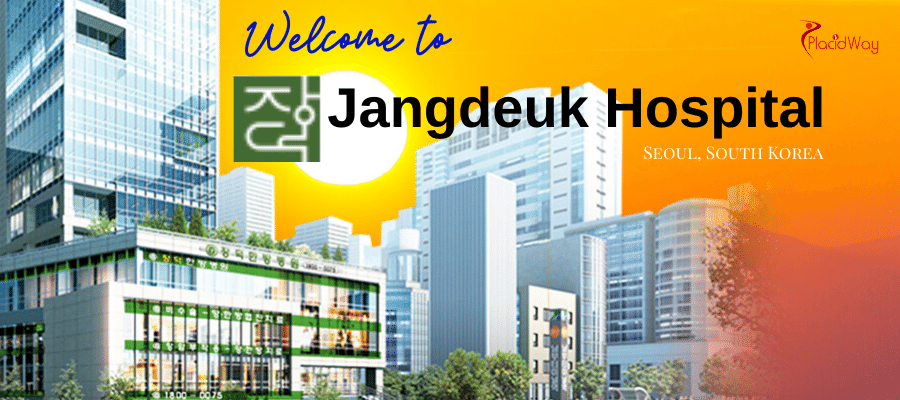 Life Saving Cancer Treatment at Jangdeuk Hospital, Seoul, South Korea
Jangdeuk Hospital, located in Seoul, South Korea is one of the superior cancer treatment centers supported by experienced oncologists specialized in cancer treatment. The center has facilities to treat multiple types of cancer ranging from the most common to the rarest forms. Jangdeuk Hospital offers Immune Cancer Treatment and services for cancer diagnosis. The team of doctors, radiation oncologists, and surgical experts are of national and international repute. The team works in cohesion with the specialists of other departments of the hospital. It ensures the best comprehensive care to the patients. Jangdeuk Hospital believes in the fact that "Immunity is at the heart of cancer treatment". Hence, phased immunotherapy works to activate the immune cell.
The hospital has green wall installed to provide patients with a pleasant hospital environment and air purification. It has single, dual and multiple rooms for patients. The hospital floor is made of ondol that makes the environment warm and comfortable. Four dedicated chefs and nutritionists are there to provide meals to the patients. The in-house clinical pathology laboratory works promptly towards the right diagnosis and treatment of cancer patients.
Treatments and Procedures
Immune Cancer Treatment
Radiofrequency cancer treatment

High Concentration Vitamin Therapy

Selenium therapy

Mistletoe therapy

Gerson therapy

Biophoton therapy

Thymosin alpha 1 therapy

Immune acupuncture

Immune Fermentation Herbal Medicine

Immune non-therapy

Immune thermotherapy

Immunodeficiency therapy

Psychological counseling

Music therapy

Forest walk
Cancer Treatment
Liver cancer

Stomach cancer

Colorectal / Rectal Cancer

Gallbladder / Biliary Tract / Pancreatic Cancer

Esophageal Cancer

Thyroid cancer

Neuroendocrine cancer

Lung cancer

Thymic cancer

Metastatic cancer

Rare and Hematological Cancers

Head and Neck Tumors

Kidney cancer

Bladder Cancer / Shinwoo Cancer

Prostate cancer

Ovarian Cancer

Breast cancer

Cervical cancer

Cervical dysplasia

Immunity Statistics

Recurrence after surgery

Cancer index

Anticancer index
If you want to know more about Jangdeuk Hospital or want to request for any information, just click the contact tab below!
Reviews