Advanced Cabo Dentistry
Advanced Cabo Dentistry - Centre of Best Dentist in Cabo San Lucas Mexico
Tourist Corridor, Mira Vista Office Building. Mira Vista 40 MLS #18-2760, Zona Hotelera, C.P. 23406 San José Del Cabo, B.C.S. Mexico. Chetumal , Cabo San Lucas, Mexico

Focus Area:

Advanced Cabo Dentistry | Dental Care | Dental Implants | Bridges | Crowns | Endodontics |Smile Makeover | Fillings | Braces | Teeth Whitening | Best dentist in Cabo San Lucas, Mexico
Advanced Cabo Dentistry Profile Overview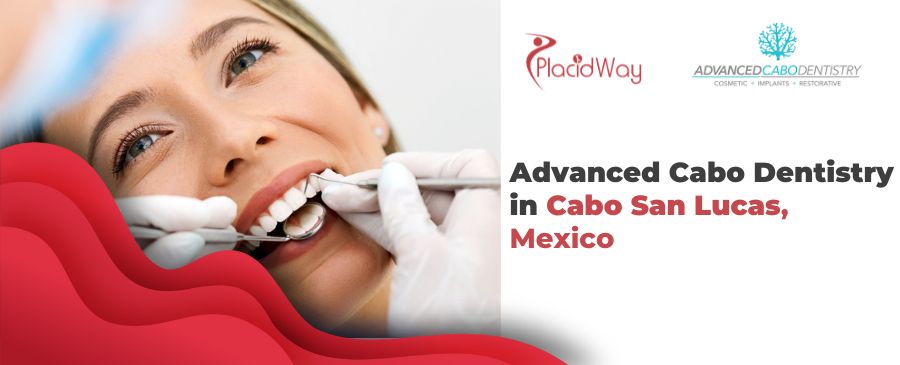 Advanced Cabo Dentistry Offering Complete Solutions for Dental Problems in Cabo San Lucas, Mexico
Advanced Cabo Dentistry in San Jose Del Cabo is one of the top international clinics that offer Restorative Dentistry and Cosmetic dentistry solutions. Getting restorative dental treatments and dental implantology can cost big money, but patients can save considerably by choosing Advanced Cabo Dentistry in Mexico.
The clinic is run by Dr. H.C. Thomas Koty who is known for his expertise in science for cosmetic and restorative dentistry and he has more than 25 years of experience. He has kept updating his knowledge over the years. His vast knowledge base comprises of international postgraduate education, including Harvard training. he also has written several postgraduate books on the subject of implantology. His clinics have ranked number one multiple times of customer service and satisfaction.
The clinic is fully equipped with the latest equipment and facilities and people can avail the best in class dental services from the experts. The clinic has a full in-house laboratory that is laden with intraoral scanners (reduced chair time), CAD/CAM technology. The quality of treatment and professionalism has helped the clinic to expand its boundary. Patients can enjoy world-class facilities while getting the treatment.
Denal Treatments and Services at Advanced Cabo Dentistry
Bridges

Crowns

Endodontics

Oral Surgery

Periodontology

Same-Day Teeth

Dental Prosthetics

Metal-free Crowns

Dental Laser Therapy

Gum Disease Treatment

Fillings

Ceramic Braces

Dental Anxiety Management

Dental Implants

Metal Braces

Teeth straightening using orthodontic braces

Teeth straightening without braces

Teeth Whitening

Wisdom Teeth Removal
Why Choose Advanced Cabo Dentistry for Dental Work?
Advanced Cabo Dentistry is a state-of-the-art dental facility located in Cabo San Lucas, Mexico. We offer a wide range of dental services, from simple teeth cleanings to complex dental implants. Our highly trained staff is dedicated to providing the highest quality of care to our patients. We use the latest technologies and techniques to ensure that our patients receive the best possible treatment. In addition, we offer competitive prices for our services. We accept most major insurance plans, and we offer financing options for those who need it. For more information about our dental services, or to schedule an appointment, please contact us today. Thank you for choosing Advanced Cabo Dentistry!
To know more about the clinic and its treatments, click below:

---
---
Reviews
Paige

Advance Cabo Dentistry is amazing. The staff are wonderful, the technology is state of the art, clean, beautiful views of the ocean, very reasonable pricing. They helped whiten my teeth and then put in 6 crowns. I will always go to them.

Google

Jun 16 2022

Kerri

I went to Cabo to have some stitches removed from another dentist in Cancun from a root canal bone graph. When I got to the office, everyone was very professional. I met Dr. Koty, I let him know that I had 2 teeth still bothering me. He suggested a X-ray so he could take a better look. He then informed me that my root canal that, I had gotten done a few weeks back needed to be redone. Take this in mind I was on vacation in Cabo. He then said they could redo it tomorrow. I agreed, they did a fantastic job. I wished I would of used them for all of my work! The entire office and staff were top notch in my book! Dr. Koty is a blessing. I'm glad I found a dentist I can trust, who is honest and professional. I'm from Texas and it's worth every penny and the time to use him. I will be returning in Aug for ck up and to have a cavity filled. I have referred my best friend to him and hopefully she will be on that trip too. If your scared or 2nd guessing. Stop here!! I'm telling you from a person who has had a lot of dental work done! They are the BEST!!

Google

Jun 17 2022

Steve

Sometimes the best dental surgery is no surgery at all. My American dentist and an endodontist she referred me to both urged me to get an expensive root canal treatment. I went to Dr Koty at Advanced Cabo Dentistry to get the procedure for a fraction of the cost in the US. He examined me and said the procedure was unnecessary. Returning to the US, I consulted the head of a leading dental school to break the tie. He concurred with Dr Koty. Muchas gracias Doctor Koty!

Google

Jun 22 2022
---
---